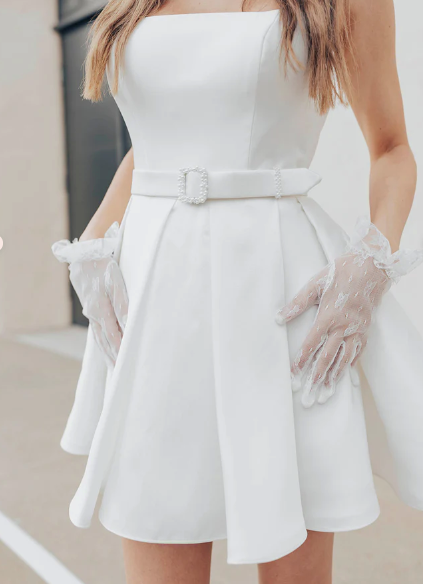 While your
 wedding dress
 most important piece in your bridal wardrobe, your after party dress is undoubtedly the most fun. That's because after-party outfits are all about sparkly fabrics, sexy, shorty hemlines and carefree silhouettes. Plus, these party-ready dresses are the perfect way to showcase your personal style while hitting that dance-floor.
Interested to see our top seven favorites right now? Keep scrolling for our well-researched, fully linked FAVS!
1. Bronx and Banco Anna Blanc Strapless Belted Tulle Mini Dress - $650
Let's kick it off with this adorable tulle mini dress from Bronx and Banco!! Not only is this dress perfect for your after-ceremony look, but it also doubles well as a dress for your bachelorette party! The best part? It comes with a sparkling, rhinestone belt for added glam. Don't believe me? Click here to access the Bronx and Banco Anna Blanc Strapless Mini Dress (currently available on the Anthropologie website!)
2. The Retrofete Mich Sequin Cowl-Neck Mini Dress - $485
I think it's time we all admit it- when it comes to sparkling sequin dresses, no one does it quite like Retrofete. It comes as no surprise then...that one of the best all-sequin after party dresses for your wedding is made by this darling, ultra-trendy brand. One thousand dollars says Taylor Swift would approve. Interested to see more of this cowl-necked number? Click here to be directed to the listing on the Anthropologie website like yesterday.
3. Audrey Adele Adelaide Feather & Sequin Mini Dress - $698
I am going to be completely honest here: never in my life have I heard of the brand Audrey Adele Adelaide, but as soon as I saw this incredible sequin + feather dress on the Anthropologie website, I just knew that it HAD to be included in the round up!! Not only is this dress incredibly chic, but it also emanates a sort of Great-Gatsby-Meets-2023 energy and I AM HERE FOR IT. The only downside is that I am fairly sure the cat is not included. Click here to access the Audrey Adele Adelaide Feather and Sequin Mini Dress!
4. Alice + Olivia Fifi Sequin & Fringe Fitted Mini Dress - $597
A deep love of gold sparkle is undeniable. No-- seriously-- there are those who like gold and then those who ADORE gold. I don't know about you, but lately I have been falling into the latter category. With that said, I would one thousand percent choose this gold sparkling STUNNER of a mini dress over a similar version in silver. Call me crazy, but when it comes to sparkle, I say go big or go home. (Bonus points for finding a way to wear this dress to an Oscars-related party or maybe just the Oscars themselves.) Interested to go gold with me? Say yes say yes say yes say yes by clicking here to access the Fifi Sequin and Fringe Fitted Mini dress on the Alice and Olivia website!
5. Love Shack Fancy's Vima 2 Piece Top and Bottom Set - $210
IT'S MY WEDDING AND I'LL WEAR PINK IF I WANT TO. Truth indeed. This 2 piece set from Love Shack Fancy is giving some MAJOR Pretty in Pink vibes from the 80s, and I would just about die if you were bold enough to wear this as your after party dress! (Ten ten recommend pairing it with a darling pair of bridal sunnies!) Interested to make this set your own? Click here to access the Vima top by Love Shack Fancy and here to access the darling skirt!
6. Untamed Petals Theodore Mini Dress With Belt - $638
Full confession: this dress is my absolute favorite from this entire round up. I don't know what it is about a classy belted dress, but they just get me every time. And when you pair gloves with it? STahhhhp. I am dead before I can even get the darn thing zipped! With that said, don't you just LOVE this classy, Audrey-Hepburn-inspired dress from Untamed Petals?!! If you don't, I am floored. The best part is that this dress is that you can easily wear this dress again after the wedding for all kinds of summer/spring events! (Why am I seeing a church right now?!) All kidding aside though, click here to catch more images of this dress in all of its timeless glamour. 
7. The Nadine Merabi Louisa White Dress - $570
Alright folks. We are polishing off this blog tonight with the biggest showstopper of them all: The Louisa White Dress from Nadine Merabi. Pull your jaw off of the floor when you have a moment, because this dress is just waiting for you to look back at it. Interested to see more? Click here to head to the Nadine Merabi website!