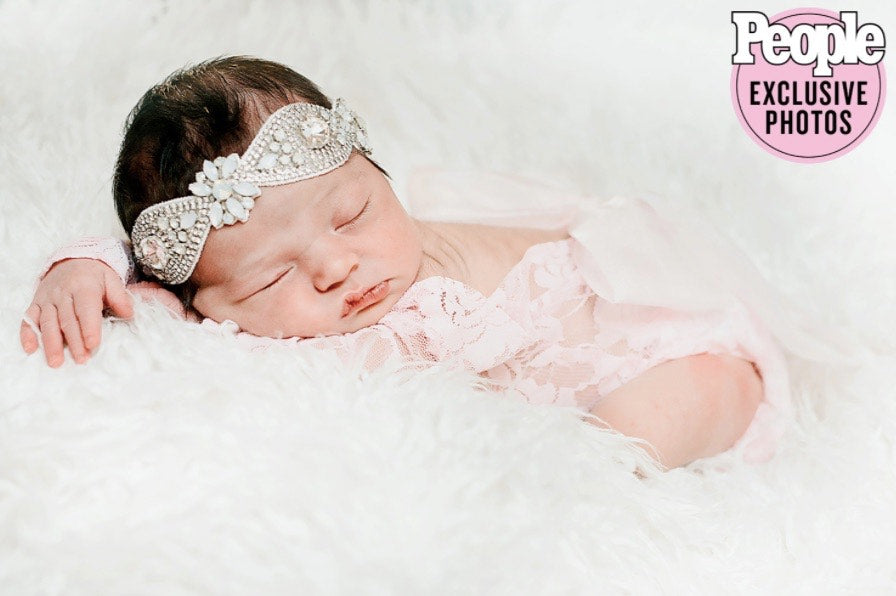 Years ago, a trend started among our clients that we couldn't believe! Our customer's had decided to keep their garters after the wedding and re-purpose them as baby headbands in their children's newborn photos! 
The first time I saw this, I almost dropped my phone. Seriously, what special kind of genius is this? And the fact that our customer's did this with no prompting at all from us made me even more mind-blown. After posting about this idea a few times, it quickly became a trend among our brides. Today, over 1/2 of our brides order their garters to use on their wedding day first, and then with the intention of using it as a baby headband later on. 
All I can say is that we are HERE FOR IT. 
At some point in 2019, this actually started happening so much that we coined the phrase "La Gartier Bebé" to name all of these precious little ones who were sporting our garters as headbands during their newborn photos and/or their 1st birthday photos! 
Here, precious baby Sila Cambridge wears her mommy's Athena garter as a headband along with a darling pink tutu during her newborn photos with Jana Wainsock's infamous photography session! Talk about cuteness overload!
Then, in 2020, something unexpected happened: one of our past brides, Sabrina Bryan of The Cheetah Girls, gave birth to her daughter Comillia Monroe. Comillia made national headlines in People Magazine wearing her celebrity momma's Athen garter as a headband, further intensifying this sparkling new trend that we were already seeing by the dozens. 
Interested to see the story that made this trend go viral? Click
here
to see
Sabrina Bryan's
daughter in all of her tiny, sleeping new human preciousness.  
Here, our beloved past bride Emily used her Hayley garter as a headband just seven days after her little one was born. I can't stop staring at the peaceful look Riley Page's little face!
What I love the most about this trend is that our brides are choosing to use their garters as headbands in their newborn shoots-- yes-- but also, if the time isn't just right, then they are also opting to use them as headbands in their 1st birthday photos like the one you see above. Just promise us that there will be a cake. Must get a cake. ASAP. 
But wait- just one more! Look how cute this newborn session is of baby Mila on a blanket outside! Seriously you guys- if you are on the fence about purchasing one of our garters, then don't be. It can be used for so many other things beyond the wedding itself, which is already a fantastic reason alone! If you adore these photos as much as we do, then check out our collection of high-end, designer wedding garters by clicking
here.
Not interested in purchasing a garter but still want something extra-princess-worthy for your newborn photos? Then you are in luck! Last year, we released a small collection of baby items! Click
here
to see the tiny, bespoke nursery collection that we have appropriately named "La Gartier Bebé"! 
The only thing that we ask is that you tell everyone where you got it. Love you. Mean it.