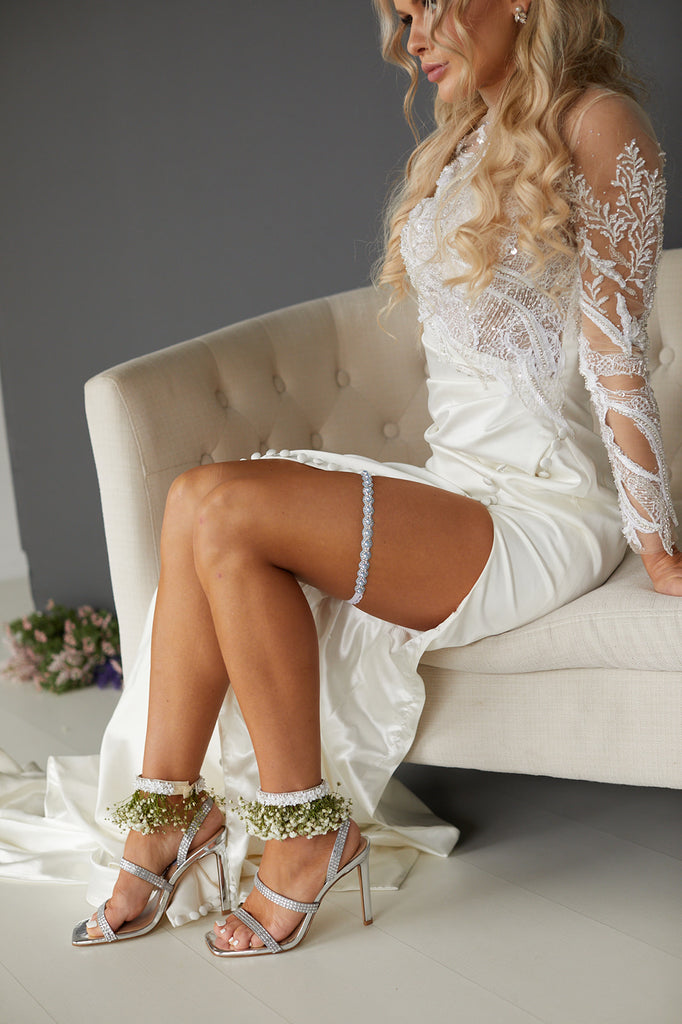 When it comes to something blue wedding garter, our garters are hands-down the best on the market. And while I realize that I sound like a huge braggart right now, the truth is....well, it really is #FACTS. 
I have spent countless hours googling phrases such as "dusty blue wedding garters" and "garters with a hint of blue" and there really isn't
 

anything else
out there that compares to the craftsmanship, the quality, and the pure artfulness that we put into our pieces. 
If you are looking for an heirloom-worthy "something blue" wedding garter, then here are five our our most popular styles, listed in order of popularity! 
1. The 
Ever After garter
 is, well, just impressive. This garter is pure luxury, mixed with tiny dusty blue acrylic 3-D flowers that are truly unlike anything you have ever seen. Worried that there isn't enough blue? We have great news for you! Embroidered on the inside of this garter is a secret message. It says "Happily Ever After" in dusty blue embroidery thread, making for two gorgeous blue elements within one celeb-worthy design! Interested to see the inscription on the inside? Click 
here
 to access the
 

Ever After garter
 listing on our website!
2. The 
Blue Pearl Garter
is a design that has been in our collection since 2015! She features a glistening blue silk satin bow at the forefront with one single sparkling rhinestone at the center! If you adore bows, then this garter would be perfect for you? The best part? She won't break the bank! Click 
here
 to see more of our oh-so-popular Blue Pearl garter!
3. The
Glass Slipper Garter,
inspired by Cinderella, should more appropriately be described as "something princess blue"! Keep scrolling below to catch an up-close-and-personal-glimpse of this jaw-dropping limited-edition design!
This garter was designed for the bride who absolutely adores Cinderella. 🏰 
It features light, translucent blue opal stones mixed with clear swarovski crystals, giving you just the right amount of blue sparkle. The best part? The back band is made using liquid blue satin, meant to mimic Cinderella's iconic blue ballgown. 
Every detail of this garter was inspired by the bride who adores animals and is well-known for her compassionate nature. More likely than not, this bride is not a very loud person. In fact, she might be one of the quietest people at a party, but she is known for carrying herself with a grace that is unparalleled. 💅🏻  Anyone who knows this bride is well aware of the fact that she believes deeply in acts of service, whether it be volunteering to help abandoned animals or assisting the elderly who have become too old to be able to care for themselves anymore. 💗 🧵
Interested to see more of our blue wedding garters? Click here to visit our shop or send us an email at hello@lagartier.com!