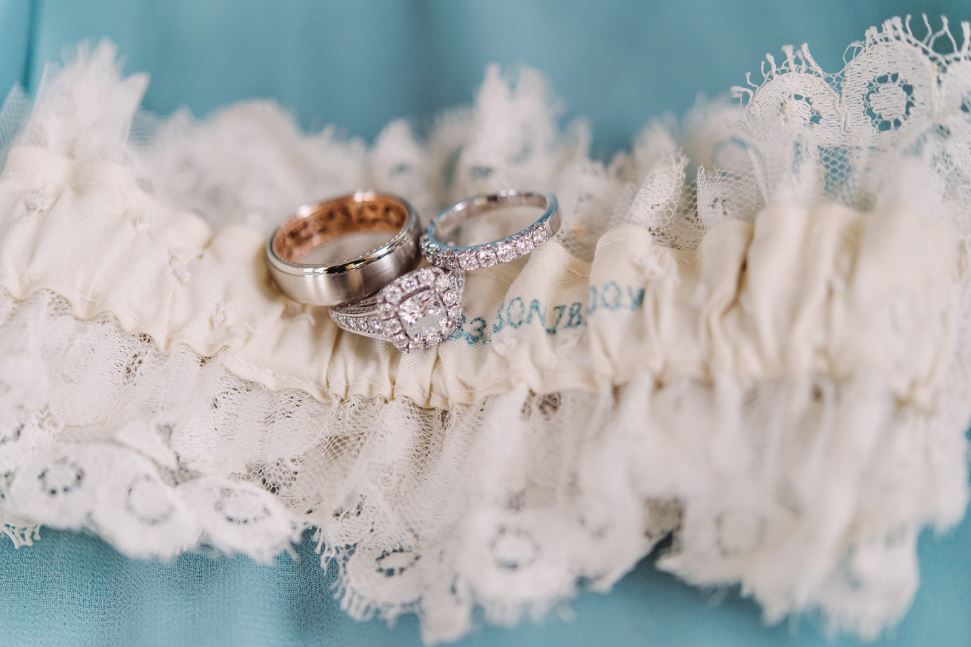 In 2018, we had the pleasure of designing a wedding garter fro Julia Davis Barwick that was created using not only her mother's wedding dress but also fabric from her grandmother's gown. While we have done a TON of "repurposed" custom wedding garters in the past, we had not yet (at this point in 2018) made a custom garter set that incorporated two generations of women in the bride's family. The final product came out absolutely beautiful. I still cannot believe my eyes when I look at all of the special little details!
Above: Julia Davis Barwick's keepsake garter and her toss garter- both made using lace from her mom's wedding dress and her grandmother's wedding dress.
If you look closely, you will see tiny pearl and sequin embellishments sprinkled along the mid-line of Julia's primary keepsake garter. Each one of these were taken from the fabric of her grandmother's wedding gown! How special, right? 
Our favorite detail? We used the tag that was attached to the inside of Julia's mother's dress as a hidden detail along the inside of the band on her toss garter. Dear Suzy Perette, I don't know who you are but you definitely knew how to make a beautiful wedding gown!
The back side of Julia's toss garter featured a SUPER beautiful corset-themed design motif, created by extracting the button loops from her grandmother's gown and re-attaching them at the back of her toss garter. I'll never forget how much concentration this small detail required, or how stunned I was when it was finished! Isn't this sort "lace up" motif just so sexy and beautiful? 
Above: a photo of Julia's toss garter, taken on her wedding day. Do you see the little stitched location coordinates? Those were added to symbolize the exact location of their wedding venue! I simply adore small inside details like this!
Dear Julia, if you are reading this: it was such a pleasure to work with you, your mother, and your grandmother!  As I look back over everything we created, it is really realize just how much magic we created in such a short time span! Thank you for trusting us to create so much meaning for your wedding day. 
Are you someone who is interested in having a custom garter made for yourself or someone you love? Then we would love to hear from you! Click here to view our current customization availability! Currently, as of 1/17/22, we are booked out until March of 2022 for customizations but we have one spot still available in April and two spots in May. 
Please feel free to reach out via the contact from here or send us an email at hello@lagartier to inquire about pricing!