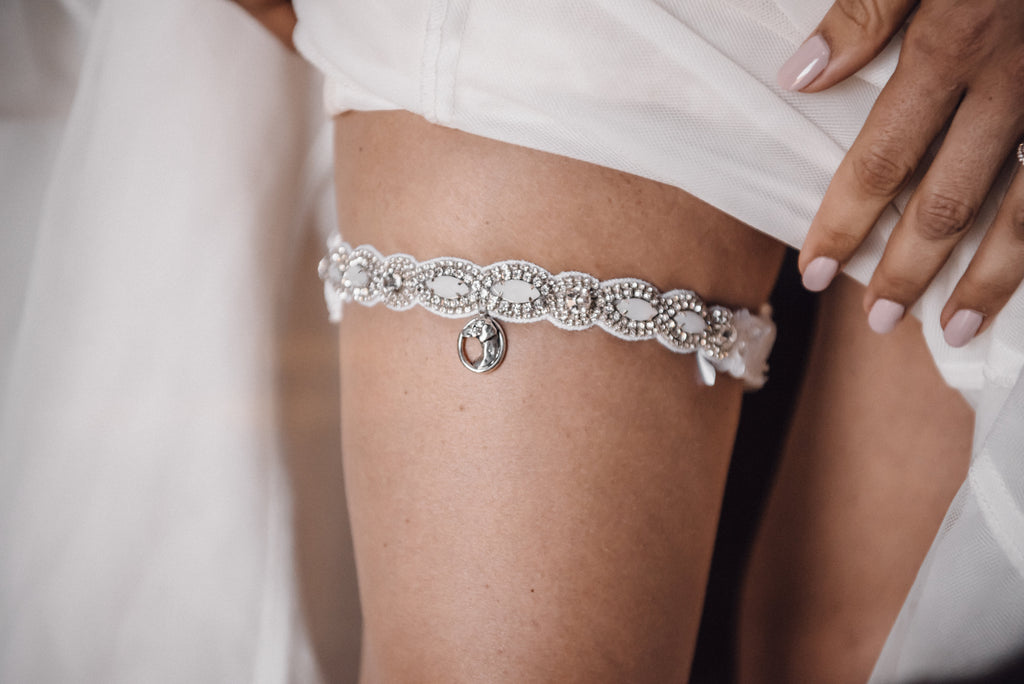 I am going to be flat-out honest. It's not in my nature to brag about which high-profile clients have worn our garters. It just feels cheap to me. Why? Because I honestly believe that every single one of our brides...really anyone who has purchased a La Gartier garter over the past ten years is a truly special human being. Our clients are like angels to me. Just because one or two or three of them is more highly-recognizable than another, doesn't necessarily make her more special to us as a company. ALL OF OUR CLIENTS ARE SUPER SPECIAL TO US.
But, alas, we are living in a celebrity culture unlike anything known to American history....and because I know
for a fact
that people google "Celebrity Wedding Garter" when trying to locate our products, I am sitting down today to write an entire blog dedicated to our past celebrity clients. That way, people can find us when they set off on their google hunt. Yep. I just admitted that. It's all about that SEO folks. 
Below are six celebrities who have worn La Gartier on their wedding day! Let's start with the very first one!
1. Singer/Actress Jamie Lynn Spears 
Jamie Lynn Spears was married on March 14th, of 2014 in Baton Rouge, Louisiana. She wore our beloved Joy garter on her wedding day....which I would be more than happy to include here other than the fact that we don't carry it anymore. It was in our collection for four years, but we decided to transition it out in 2019 to make room for newer styles. Truth fast: Jamie Lynn did not come to us directly for her garter. She was actually shopping at I Do Bridal Couture in Louisiana when she spotted our designs. I'll never forget the day that Ramsey Sims of
I Do Bridal Couture
called me and asked me to make something special for Jamie. To this day, I am filled with gratitude for Ramsey.  Being able to dress Jamie was a dream come true, no matter what today's tabloids have to say about her..and we have Ramsey Sims to thank for the opportunity! 
2. Supermodel Natalie Pack
Natalie Pack, now known as
Natalie Pack O'Connell
, was married on July 21st, 2018 in Lake Como, Italy. To say that this wedding was classy would be a total understatement. But do you know what the craziest thing is? You would assume a supermodel might be a little stuck up or non-accessible. Natalie was the opposite. I can honestly say that she was one of the most down-to-earth, grounded celebrities whom we have ever worked for. Need proof? This incredibly gorgeous woman had only one request for her custom wedding garter set: that
her dog be included
. That happened. Her garters included a special silver Vizla charm to represent her unbearably handsome dog- Fig!
See? Isn't this just the cutest?! I die. 
Just one more because honestly I just love Fig. I love Natalie too. But I really just love that Fig. 
3. Gown Designer Hayley Paige 
If you love the world of bridal, then you most likely know
Hayley Paige.
Creative, witty, and full of sass, this California-bred creative has designed some of the last decade's most creative wedding gowns. She was married in Lake Tahoe on July 11, 2015. Her nuptials were distinctly fairytale in nature, and we had the honor of designer 4 different unicorn-inspired wedding garter for her. Interested to see what they looked like? Keep scrolling!
Now that is what I call a magical wedding garter set. A big thank you to Hayley for...well, just about everything but mainly the inspiration that you have sent my way for years and years. 
A side view of one of her unicorn toss garters. 
4. Actress Anna Camp
Do you remember that movie Pitch Perfect? Or do you remember Pitch Perfect 2? I just heard someone say yes with an exclamation point at the end. If you have seen this cult-classic, then you are familiar with it's lead actress Anna Camp. Anna has starred in quite a few other films, but Pitch Perfect still stands to be her most well-known production to date. In September of 2013, Anna married her Pitch Perfect co-star Skylar Austin..and we are still so thrilled to mention that we created her garters. My favorite part? Her garters included a little charm that read "Partners In Crime." See photo below! 
Interested to see more of Anna's custom wedding garters? Click
here
to read the story that The Knot wrote about them! 
5. Real Housewives of Atlanta Star Kandi Burruss
This one sits near and dear to my heart simply because we are based right here in Atlanta. I have had the opportunity to meet Kandi on multiple occasions. She is a wonderful woman. Beyond that, she owns the cutest little clothing boutique on Peachtree Street called TAGS that I can't get enough of. To be able to say that she wore our Aurora garter on her wedding day is something that I'll treasure forever. Here is a photo of her now-husband taking her La Gartier garter off of her leg during her wedding reception! This moment was captured on national television as apart of the RHOA show and I feel so grateful every time I come across this specific episode. 
Her Aurora garter was such a perfect fit for her wedding day look. If you are interested in seeing more photos of it, the price, or to read about other celebrities who have worn this design, please click
here. 
6. The Bachelor's Lauren Burnham Luyendyk
Full confession: I don't watch Te Bachelor. But if I did, I would only watch Lauren's season on repeat. Creating her wedding garter set was such a blast, that I will forever feel connected to this couple. Not only did we use elements of Arie's race suit within Lauren's garters, but we also paired her keepsake with our brand new, sparkling
Venus Pearl garter. 
Fun fact: I spent the days after Lauren's wedding fighting with People Magazine and other publications for not crediting us in any of her photos. It was an utter mess and something that I regret to this day. But honestly-- it was infuriating. Magazine after magazine after show after show after post after post were talking all about her garters and no one would say who made them. I don't know who needs to hear this, but don't do what I did and make a big stink about little things like that. 
But it still makes me mad. I was literally crying my car in the Target parking lot. You should have seen it. 
*le sigh*
Oh--you might want to know this: Lauren wore a custom version of our
Ever After garter.
We put a little heart from Arie's race suit on the back among other incredibly special details. To get her look, click here to see the
Ever After
garter in our shop! 
Ok, beauties! I think that just about does it for this post! There are more gorgeous, smart, and talented women who have worn our garters over the years, and we can only hope that you will be one of them someday! 
Interested to see more unique wedding garters beyond just what the celebs have worn? I am not even kidding you guys. We have the most artistic and rare wedding garters this side of the equator!  Click here to access our entire shop or email us at hello@lagartier.com so we can help you pick yours out!