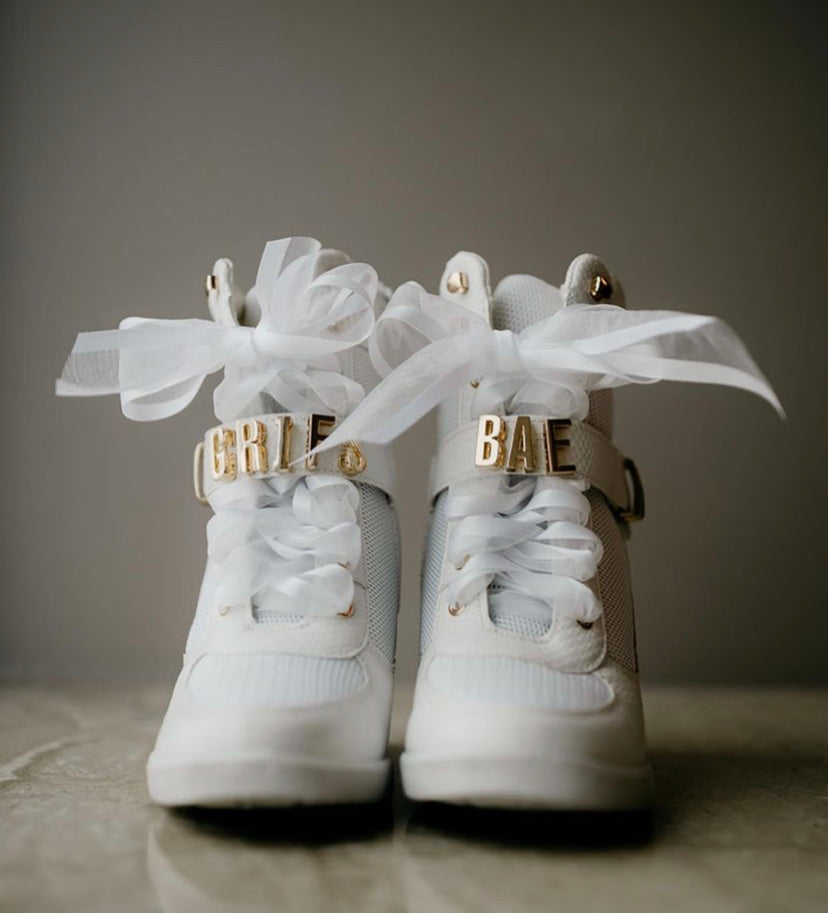 Last year, we had the pleasure of designing an incredibly modern pair of custom wedding sneakers for La Gartier bride Nicole Campbell. Since then, life has been so incredibly busy that we are only now getting around to featuring them here on our blog, but there was NO POSSIBLE WAY we would let time slip by without giving these shoes their proper time to shine!
When Nicole first reached out to us, she told us that she wanted the letters "Grif's Bae" to be on the little velcro straps that went across the tops of the shoes, near her ankles. So, we set to work immediately sourcing the perfect gold letters for her vision. Then, to make things more "bridal" we decided to take the original laces out of the shoes and replace them with gauzy, soft organza ribbon. 
Above: a picture taken from our instagram account on the day that we completed her shoes. Such a special moment. I'll never forget how long I fussed with that little palm tree in the back to get it to look just right. 
Dear Nicole, if you are reading this: it was such a pleasure to work with you and Griffin!  As I look back over these super modern bridal wedges that we created for you, it really HITS ME just how much magic we created in such a short time span! Thank you for trusting us to create so much meaning for your wedding day. 
Are you someone who is interested in having custom sneakers made for yourself or someone you love? Then we would love to hear from you! Click here to view our current customization availability! Currently, as of 1/17/22, we are booked out until March of 2022 for customizations but we have one spot still available in April and two spots in May. 
Please feel free to reach out via the contact from here or send us an email at hello@lagartier to inquire about pricing!