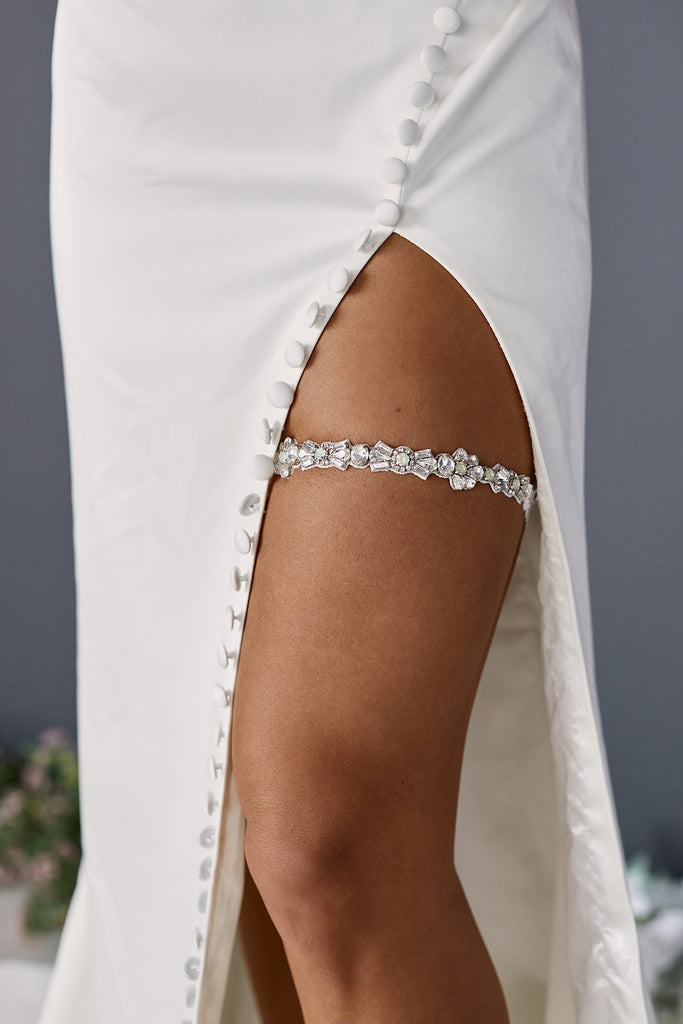 When it comes to dainty, ultra-thin wedding garter designs, no one does it better than La Gartier Wedding Garters. No, seriously, we are known for them. When we started designing wedding garters in 2011, we definitely designed both dainty designs and also voluminous, fabric-full designs..however in recent years, we have grown to LOVE the more slimmed-down designs. Below are a FOUR of our most popular thin and dainty wedding garter designs! 
The Daphne garter is infamous for being not only light-weight, but for also laying extremely flat against the leg. And while she may be small, she is definitely not a design that goes unnoticed. 
As you can see in the photos above, the front band is primarily comprised of tiny sparkling swarovski crystal rhinestones.  Blooming from within the sparkling band are dozens of dainty, daisy-like white flowers (made of a soft acrylic that will bend and mold to the touch.) 🌸  The best part? We added 12 tiny swarovski crystal rhinestones to the middle parts of the flowers, ensuring that your "touch of sparkle" is visible from both the outside and the inside of the band. ✨ Interested to see more? Click
here
to see the Daphne Flower garter listing in our shop!
Arguably our
most sought-after
dainty wedding garter design, the Ariel Opal sparkles in opalescence and barely-there-ness. Click
here
to see more of her beauty. 
An up close look at our beloved Ariel Opal garter
For the pure-clear-sparkle-loving bride, we also offer our iconic rhinestone garter, which is sure to catch more than a few side eyes.
A closer look at our rhinestone garter, which our clients oftentimes wear as either a keepsake garter or a toss garter. 
For the pearl-loving bride, we also offer our iconic Ivory Pearl garter, set within brilliant swarovski crystal for just the right amount of sparkle. Interested to see more of her pearl-brilliance? Click
here
to visit the ivory pearl garter listing in our shop!
Another glimpse at our oh-so beautiful ivory pearl garter. She gleams like eternal moons. 
One last glimpse at our ivory pearl garter. Interested to see more? Click
here
to access the listing on our website!