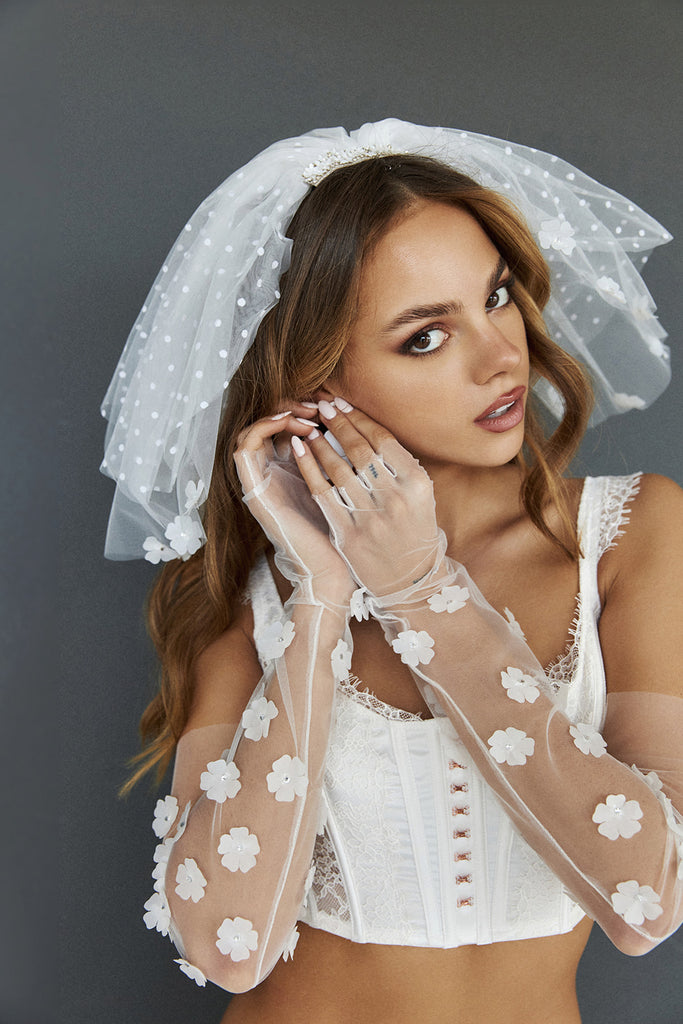 We have been waiting to release these gloves for over two months! And the time is finally here! Eeepp! 
Created for
YOU.
....so that you can make a statement on your wedding day, your rehearsal dinner, or even during your bridal shower, our new
sheer floral bridal gloves
feature over 30 tiny white soft organza flowers over the surface! The best part? At the center of each flower is one tiny sparkling swarovski crystal rhinestone, making for just the right touch of sparkle. Truth fast: our brand new Floral Sheer Gloves are sure to be
 

just
 the finishing touch that makes you stand out. Don't believe me? Click
here
to access the listing in our shop OR click on any of the photos that you see below! 
Do you see how these gloves are fingerless? We made them this way intentionally so that you can still use your hands when wearing them (ie: texting texting texting)
If you look closely, you'll notice that there is one single super tiny swarovski crystal rhinestones at center of each flower for added sparkle!
Here, our new Floral Sheer Bridal Gloves are pictured with the Atlantis garter...a down-right swoon-worthy combo to say the least. 
The gloves totally complete her look, don't they? If you are interested in shopping any other item she is wearing, please feel free to click on any of the links below! The only thing that we ask is that you tell everyone where you got your outfit idea!
2. Her White Lace Panties: We actually layered two different types of bottoms for this shoot, however if you'd like to buy just the one that she is wearing on the outside, then please click
this link
to be directed to the listing on the Victoria's Secret website!