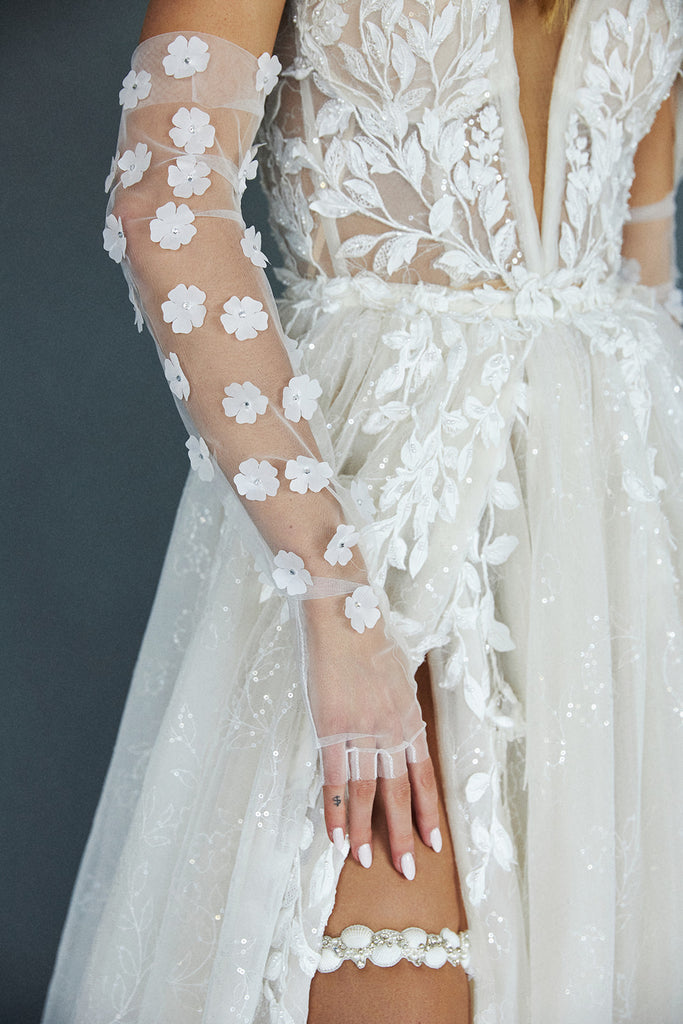 While bridal gloves might be thought of as an accessory only reserved for more formal celebrations, they are trending in a major way this year! From celebrities such as Ariana Grande to Adelle, gloves seem to be everywhere. Plus, they also make for a totally nostalgic and opulent wedding-day look. And they are we to argue with an accessory beloved by the royals and worn by the impossibly chic Carolyn Bessette-Kennedy on her wedding day?
For vintage-inspired brides, wedding gloves are a perfect accent to any style of dress. From delicately embroidered and crocheted pairs to elegant opera-length gloves in silk, there's no shortage of options to choose from. For a more modern take on bridal gloves, long, full-length styles complete with oversized ruffles or edgy embroidery deliver drama to a fashion-forward or minimalist slip dress. While gloves are traditionally worn during the ceremony—from walking down the aisle to the exchanging of vows—trust us, this is one accessory you won't want to skimp on.
If you're going for an unexpected finishing touch, consider one of these pairs of bridal gloves. (Disclaimer: some of theirs are ours and some are not!)
1. Sheer Floral Bridal Gloves (new! from our shop!)
If you are looking for fun, fresh, and modern, our sheer floral bridal gloves are the perfect choice! With over 30 tiny white  3-D flowers on each glove, these see-through tulle gloves are sure to be
 just
 the finishing touch that makes you stand out. The best part? These gloves feature one tiny sparkling swarovski crystal rhinestone at each of your wrists, representing your heart beat. Click
here
to be directed to their listing in our shop!
2. Tea Party Sheer Gloves from Untamed Petals
If it is sparkle that you are after, then consider these irresistibly cute jeweled gloves from California-based designer
Untamed Petals!
 They scream "2022" without ever saying a word. Click
here
to access their listing on the Untamed Petals website! 
3. Two of Hearts Sheer Pearl Gloves (new from our shop!)
When it comes to pearls, we just can't get enough....which is why we recently released these oh-so-lavish
Two Of Hearts gloves
in our shop. Wondering where we got the name? Click
here
to see the two super dainty, secret tiny red heart crystals at the wrist, representing your heart beat...but more importantly-- what it beats for. 
4. Lucrezia Tulle Glove with Bridal Buttons from Cornelia James