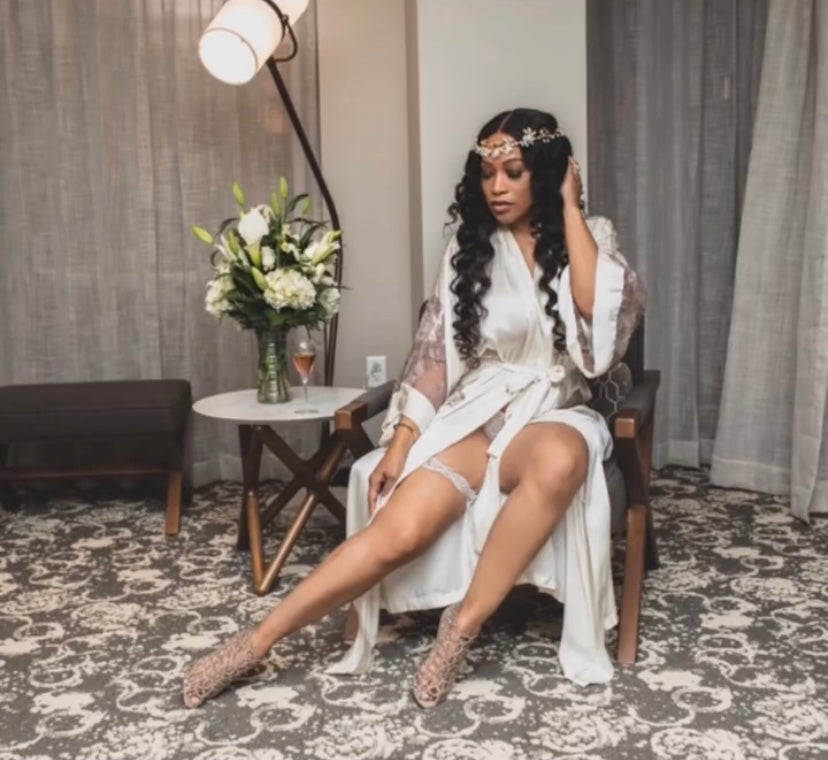 Monyetta Shaw
is now Monyetta Carter, and it has a very nice ring to it.
The entrepreneur and former TV personality wed partner Heath Carter in a star-studded wedding in Atlanta over the weekend. She looked fantastic, saying "I do" in a blush-to-pink gown while her new husband looked dashing in a white and black tuxedo combination. The best part? She wore not one, but two
La Gartier garters
on her wedding day!!! ....And while we are still waiting to get the full photo gallery back from Monyetta, we thought we'd share just a few images that she has sent us already! 
Before her big ceremony,
Monyetta Shaw
sat pretty for a fabulous "getting ready" photoshoot at The Biltmore Hotel. She wore our beloved Vienna garter, a pair of honey comb crosshatched heels and a floor-length satin bridal robe. I die. But get ready for this next one!
If you look closely, you can see her gorgeous Vienna garter sparkling on her left leg. To see more of this celeb-worthy garter, click
here.
But that wasn't it when it comes to the looks that Monyetta was serving on her wedding day! To see the full feature in
Essence Magazine
, click
here!
She wore two Beyonce-worthy gowns on her big day-- one for the ceremony and one for the reception. To see the garter that she wore with her reception dress, click
here!