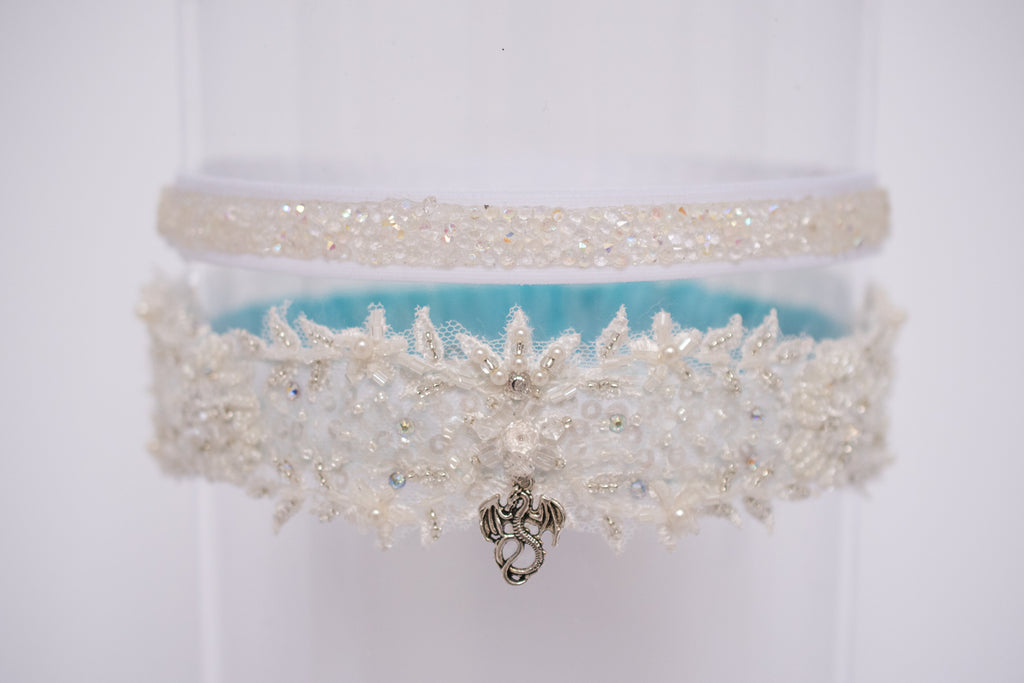 It has been a hot sparkly minute, but we finally did it-- we released a brand new limited edition wedding garter. And this garter isn't just any limited-edition design. This is the FIRST EVER limited edition design that comes with a toss garter, making it the first limited edition wedding garter set this side of the Mississippi. (Ahem-- anywhere on the planet actually. Seriously. I googled it.)
Inspired by the infamous character Khaleesi from Mother of Dragons (a.k.a: Daenerys Targaryen), this
incredible
wedding garter set is literally
filled
with GOT symbolism. Because the details of this design are so complex and special, please allow us to take a moment to bullet point the most alluring of its features:
*The front band of the keepsake garter features exquisite ivory and pearl detailing. Hidden within the beading are over 20 "dragon scale iridescent" rhinestones added for extra sparkle.
*Hanging from the center is a dainty silver dragon pendant. (Please note: this is removable!! We hand-sew each one on ourselves. So, if you would rather have this design without the dragon pendant at the center, please email us at info@lagartier.com OR leave us a note in the "comments" section of your check out.)
*The velvet inner ribbon of this design is "Khaleesi Blue"-- which is meant to be your "something blue" if you do not have it and/or a nod to Khaleesi's signature color. The best part? Embroidered onto each inner ribbon is the number of your design. That is, if you order the third Mother of Dragons garter (there are only ten total) then yours will be marked "three of ten" on the inside. This is the very first time we have ever done this! 
*At the center of the design, just above the silver dragon pendant, you will notice a cluster of three rows of pearls. They are in the shape of a trident. Each one of these lines represents one of Khaleesi's three dragons - Drogon, Rhaegal, and Viserion. 
*This design, unlike any other past LG limited-edition, comes with a toss garter. <insert hayley paige dancing bride emoji> The design of the toss garter was created to resemble dragon scales- slighty iridescent, round and layered. 
*The back band of both the toss garter and the keepsake garter are dotted with tiny rhinestones for added sparkle.
*The back band on the keepsake garter has a faint silver trim on the top and bottom. This is symbolic of Khaleesi's silver white hair. (If you watch the show, you will know that her silvery hair is more prevalent in the later seasons versus the earlier ones. Still, this is an iconic Daenerys color if ever there was one!)
And now for the important how-to-purchase information: Tomorrow, at 12:01 am, this garter will go on sale. We have only ten available and from the look/feel of social media, four of them are already spoken form. If you love this garter and DEFINITELY want to make it yours, we highly recommend placing your garter as early as possible tomorrow. The best part? Tomorrow is Cyber Monday!!! What does this mean might you ask? This means that we will be releasing a 30% off discount code for you to use towards anything you want on our website. For the Mother Of Dragons garter, this means you could save as much as sixty dollars!! Please stay tuned for our coupon code on ALL of our social media platforms at 12:01a.m. MST tomorrow. Happy La Gartier everyone!