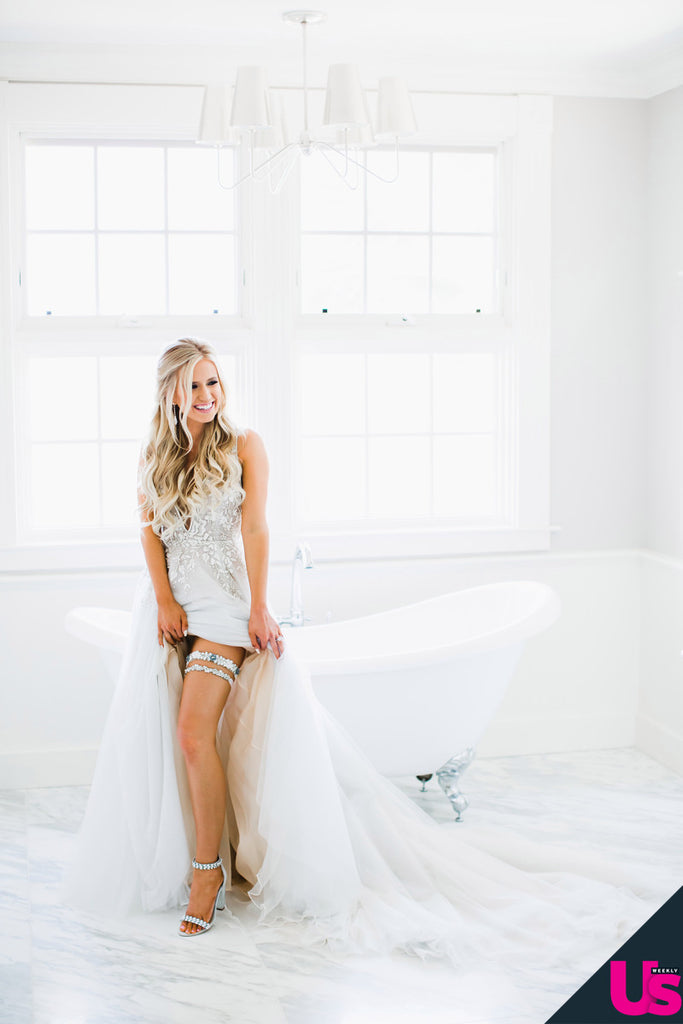 Some days start with coffee. Some days start with coffee and national press coverage. 
We are so proud to announce that we created not one but two beautiful garters for Lauren Burnham on her wedding day. Today, US Weekly was kind enough to post a photo with Lauren wearing her beautiful custom garter set and looking FABULOUS. (click here to read the full Us Weekly article.) 
Interested to learn more about what Lauren's garters looked like? We don't even know where to start in revealing all of the details! Not only did we create Lauren's garters for her, but we also created a pocket square for Arie, a custom handkerchief for Arie's mother, a custom handkerchief for Lauren's mother, handkerchiefs for all of the bridesmaids that read "Happy Tears" and a very very special hankie for Lauren that she can pass down to her daughter in the future. The best part? Almost every single one of these beautiful items was made using fabric and patches from Arie's race suite. Below is a lengthy photo montage for your viewing pleasure!! I think it's safe to say that I got a little carried away with this project. But what's more fun than getting carried away? Nothing really. xoxo, Sarah 
Lauren wore a custom version of our Ever After garter with a piece of Arie's race suit cut into a heart and sewn into the back band of her garter. 
For her toss, Lauren paired her unbelievably beautiful Ever After garter with our brand new Venus Pearl toss garter. (see picture above!)
Can you catch a little glimpse of Lauren's Venus pearl toss garter here? (and yes-- that's Hayley Paige!)
The front side of Lauren's wedding handkerchief. We made sure to choose a phrase that worked for her on her wedding day but that will also work for her daughter on the day that she gets married. #DoubleMeaning
The back side of Lauren's handkerchief -- this was a patch taken from the breast pocket of Arie Luyendyk's race suite. (swarovski crystals were added for extra sparkle.)
hankies for all seven of Lauren's glamorous bridesmaids
Another photos of the custom hankies for Lauren's bridesmaids- each one was embroidered with her wedding date and the phrase "Happy Tears"
This was, by far, my favorite hankie made out of the entire set of heirloom handkerchiefs. This hankie was made for Arie's mother and includes a patch found on the innermost part of his race suite that included his name and race number, written by himself, in a plain ole' ink pen. Since taking on this project, I have learned that each competitor in the world of indie car racing is asked to mark his suite on a special tag that goes on the inside of his/her suite, just near the bottom part of the zipper. Opening up this particular suite of Arie's and finding his name and race number written by the MAN himself with a ballpoint pen was like finding treasure. I knew that his mother would appreciate the tag the most...or so I felt in my heart. So, I snip snipped it off and sewed it by hand to the middle of the prettiest vintage hankie that we had on hand. To this day, I have no idea whether or not Mrs. Luyendyke liked the hankie or not but I truly hope so. It is, after all, her little boy's handwriting. Ok, rant over.
A detailed, up-close photo of Mrs. Luyendyke's custom handkerchief. Can you see the hand-writing? Why is this so PRECIOUS?! WHY do I feel like crying I don't even really know these people. 
The hankie created for Lauren's mother-- very simple, very vintage, full of heirloom integrity. 
This tie was created using my absolute favorite patch from Arie's race suit. As of right now, I am not entirely sure if Lauren gave it to Arie or if she gave it to one of his sponsors (the skull is the logo of his sponsor and they definitely attended the wedding). However, to be completely honest-- I don't mind WHO ended up wearing this fierce little beat of a neck tie. It is just SO.DARN.UNIQUE. Don't you think?! 
A close up view of the custom neck tie. Dear neck tie: where are you now?
Another photo of Lauren looking fabulous in her custom Hayley Paige gown. I would like to take this moment to cyber-thank Hayley for being the reason I met Hayley at all. I would have never met Lauren had you not extended me an invite to your press how last October and I honestly would have never known that the beautiful, cheerful blonde that I met was on The Bachelor had it not been for my good friend Cara Buese. They say timing is everything but I am starting to believe it is a combo of timing + good friends. 
It has definitely occured to me that you all might not want to see behind-the-scenes photos but these polaroids were taken by my mom over christmas and are V special to me so deal.
a little sneak peak insta story that we posted before the suit was transformed.
Arie's pocket square- custom made using one of my favorite tags from his race suit. 
P.S. Why are holograms so cool?!?
Lauren's hankie mid-ideation. 
thanks mom.