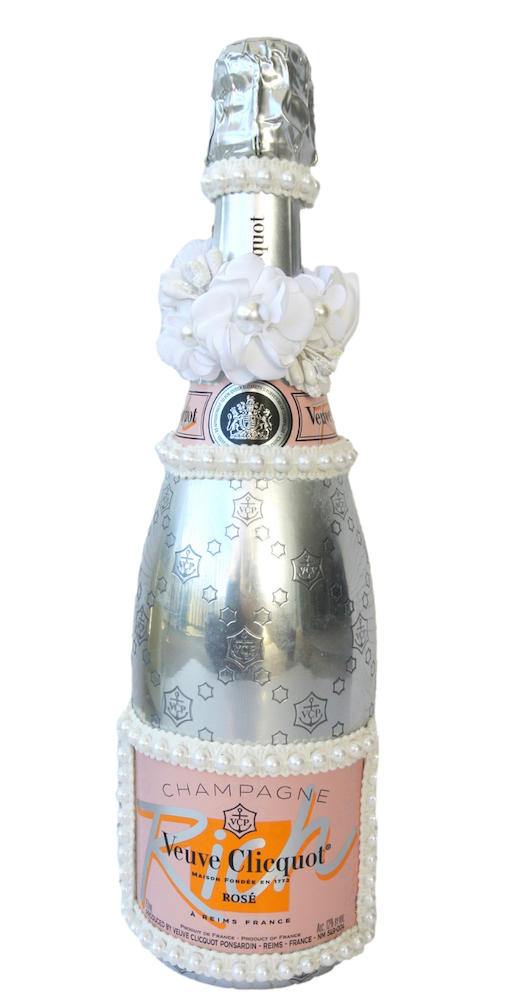 Eeeeep! The winner has been chosen! Biggest congratulations to Jerryca Haller of Stillwater, Oklahoma for winning this year's all-custom Veuve Clicquot bottle! Designed with an excess of pearls, a strong sense of elegance, and light floral touches, this holiday season can be called a TON of things --- but short on pearls isn't one of them! Interested to see more of this bottle? Click
here to be directed to the listing on our website
or scroll down through the photos below!
This bottle is a limited edition 755 millileter Veuve Clicquot Rose bottle! Trimmed with woven, pearl-embellished detailing, we created this bottle to be as demure and polite as Coco Chanel herself. 
Our favorite part? The top neck of this bottle features a 3-D floral design, added to mimic the bouquet of your dreams. To be totally honest, this bottle is by far one of our more simple designs, but I am in LOVE with it's subtle nature, it's commitment to bridal style, and it's utter uniqueness. 
We cannot wait to see what next year's holiday bottle is going to look like! Because why send holiday cards when you can send holiday champs?!!!!!