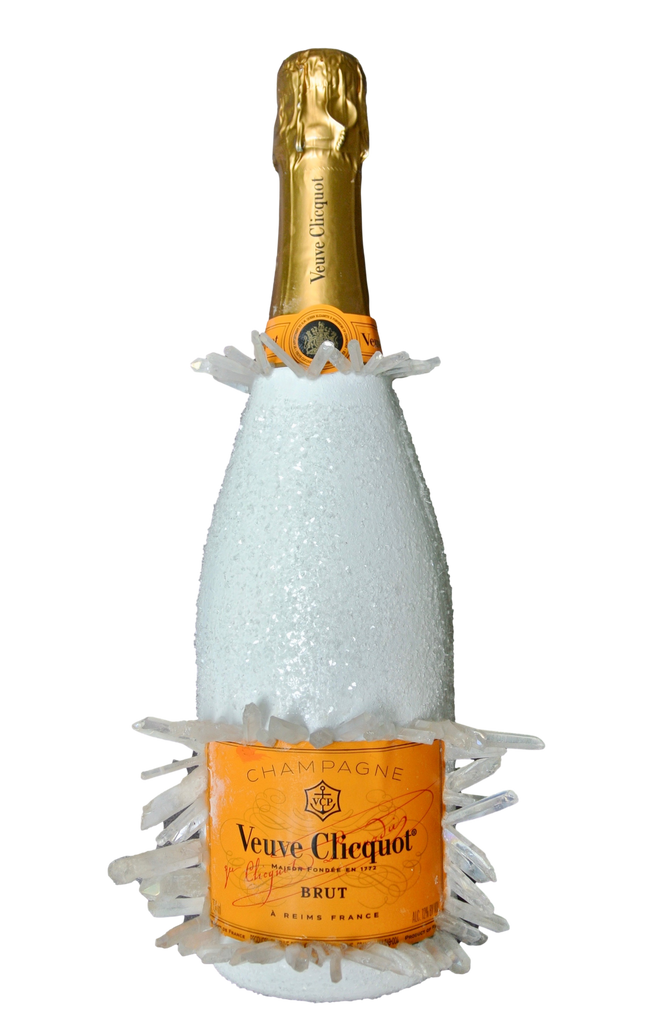 Every once and awhile, when we are not busy creating incredible custom wedding garters, we like to immerse ourselves in inspiring side projects. Recently, we created a mystical, slightly ethereal angel quartz-
inspired Veuve Clicquot bottle
that took exactly ten days to make.
If you follow us on instagram regularly, then you'll know that we lovingly hand-laid each angel quartz stone ourselves, and made references to mystical 80s movies the entire time. After laying each quartz stone individually, we then added a layer of highly luminous glitter dust over the entire surface of the bottle, which was exactly what the design needed to take it from a ten to a full-fledged fifteen. Keep scrolling below to see detailed photos of this incredibly rare Veuve Clicquot champagne bottle!
Interested to see the creation process? Click here to watch how we made this bottle over the course of ten whole days!
The inspiration for this bottle came from various sources. First of all, angel quartz is just plain magnificent. Not only does it lend a feminine, crystallized look to any accessory, but it also has this incredible all-natural iridescent sheen to it. Second of all, the world of cypto currency is filled with quartz-iconography at the moment...which I have been seeing the most in reference to Ethereum. I wanted to create a bottle that spoke to the modernity of today while also bringing in classic 80s quartz-motifs like Shera Princess of Power, The Never Ending Story, The Labyrinth, and others. 
Over thirty different, organically-shaped angel quartz shards line the bottom of the Veuve handle. These were distinctly thinner than the quartz shards that were chosen for the main, forward-facing label.
A view from the top of this gorgeous custom bottle. I can't stop staring at it. I am so in LOVE.
Now the only question is: do we replicate this bottle in the multi-colored rose quartz and lavender quartz shards?! Say yes. Say yes. Say yes. Say yes.