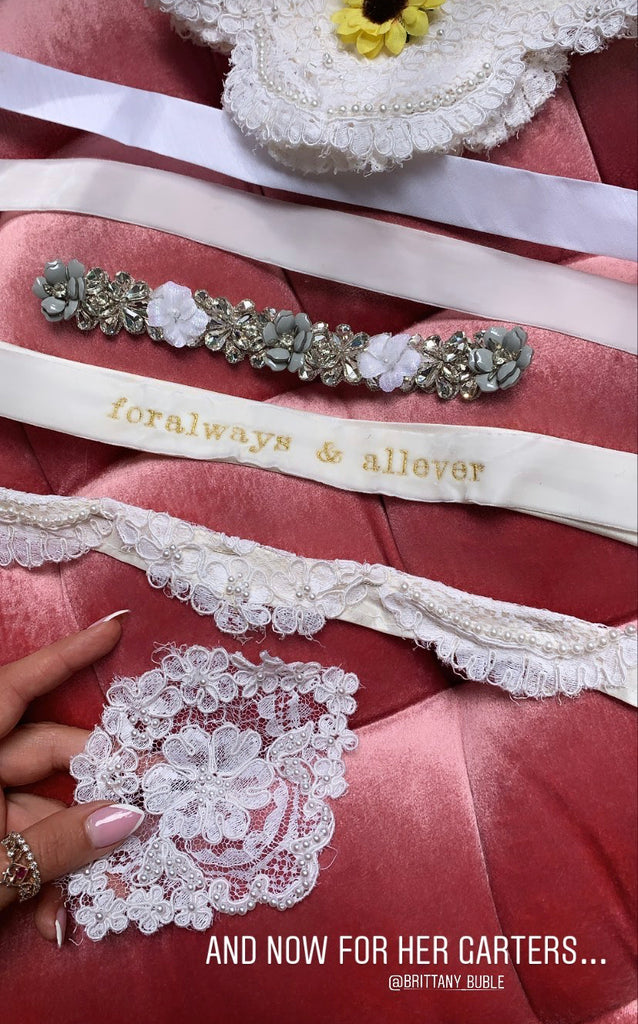 Have you ever wondered what kind of transformative possibilities there are for your mother's wedding gown? Or are you a bride whose mother wants you to wear her gown on your big day in some form or another...and you are looking to find an alternative way to work it into your wedding day? 
Well, you have come to the right place! This is exactly what happened last month when La Gartier bride Brittany Sullivan contacted us. She wanted to use her mother's dress fabric in a way that way meaningful, but wasn't quite sure what was possible. After an hour long phone consultation (filled with lots of laughter and brainstorming) we decided to create an heirloom wedding garter set for Brittany as well as two completely custom bridal hankies! Keep reading to see the final product! 
While we had done a TON of "repurposed" custom wedding garters up until this point, we had not yet (at this point in 2018) made a custom garter set that also included two heirloom handkerchiefs! Suffice, to say, I was so excited!  The final product came out absolutely beautiful. I still cannot believe my eyes when I look at all of the special little details!
Pictured above: one hankie for Brittany herself and one hankie for Brittany's mother. All of the ivory satin that you see was taken from Brittany's mom's dress. Then, to infuse even more heirloom-integrity, we also extracted the lace from the train of her gown and used it as the trim along the edge of the hankies. I'll never forget how well-made and elegant this lace was. Did someone say french alencon?!
Above: a close up photo of the heirloom handkerchief that we made for Brittany herself. The expression "ForAlways and Allever" was a special saying that Brittany and her now-husband always said to each other. It was apart of their exclusive love-language, and we just about started crying when we were embroidering it. How special is this? 
Pictured above: Brittany's incredible custom garter set! Brittany was a BIG lover of sunflowers, so we wove a distinct sunflower motif throughout both her hankies and her garters. If you look closely, you will see the phrase "ForAlways and Ellever" embroidered in sunflower gold to the inside back band of her sparkling
Ever After garter.
I die. 
Pictured above: Brittany's toss garter which she, of course, never tossed. All of the lace that we used along the band of her garter was also taken from her mother's wedding dress. My favorite part? The little tiny ivory pearls. All vintage. All sentimental. All perfect. 
Ok, one final photo and I'll stop. Promise. This is by far my favorite photo of Brittany's designs as it features not only one of her hankies but also her garters. The little sunflower details lend the entire project such a cheerful and happy feel. I can't even get over it! What a love-filled, special tribute to her mother! And what an amazing set to pass down to her daughter someday! 
Brittany, if you are reading this, then I want to tell you how happy I am that you reached out to us! When I think of you potentially passing any of these gorgeous designer items down to your daughter someday, I tear up with emotion. I mean, two legacies of Sullivan women is one thing, but three?! Please tell me that this is going to happen! Thank you and your mother for trusting La Gartier with such an serious and love-filled project. We can't wait to work with you again in the future! 
Are you someone who is interested in having a custom garter made for yourself or someone you love? Then we would love to hear from you! Click here to view our current customization availability! Currently, as of 1/17/22, we are booked out until March of 2022 for customizations but we have one spot still available in April and two spots in May. 
Please feel free to reach out via the contact from here or send us an email at hello@lagartier to inquire about pricing!