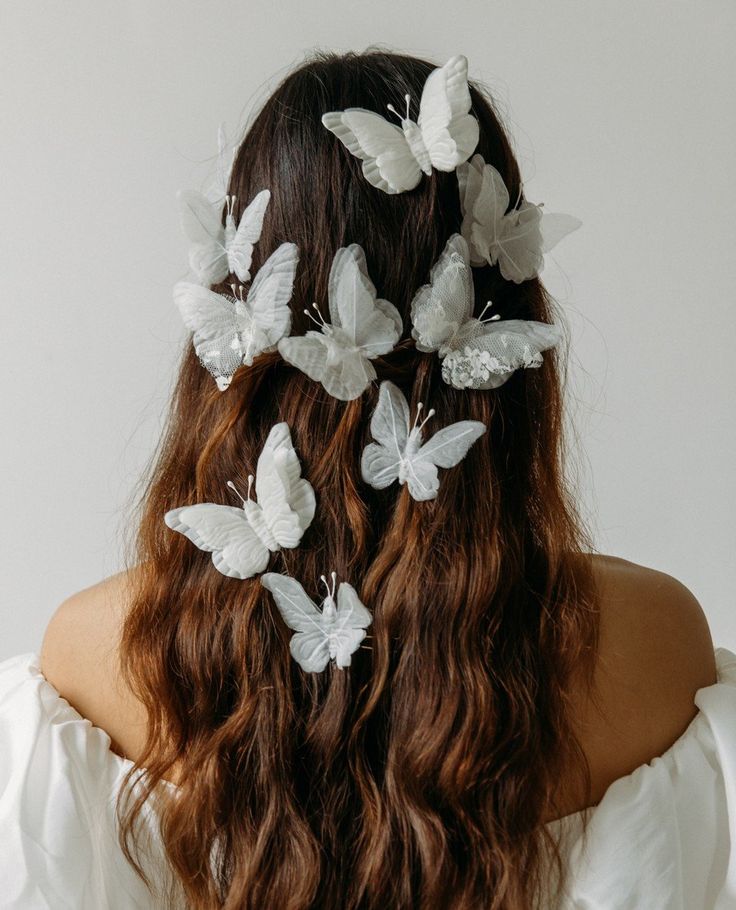 If I had a dollar for every time one of our brides asks me about where to go to find good bridal hair accessories, I would most likely be able to buy a Birkin bag. Just kidding. I don't even like those. BUT SERIOUS TALK: ----> the bridal hair accessory challenge is real. I mean, sure-- there are a million options available on Etsy at any given moment, but if you are looking for truly original, extremely well-crafted wedding hair accessories, then you might find it difficult without any prior knowledge of the wedding industry. Lucky for you, we have been studying the world of bridal for the past ten years and have FIVE suggestions for you regarding where to go to buy the perfect wedding hair accessories-- be it a bow, a comb, a headband or a barrette!! Let's start with number one! 
1. Jennifer Behr Hair Accessories
When it comes to trendy, incredibly well-made bridal hair accessories, look no farther than
Jennifer Behr.
Not only is this company producing some of the best butterfly and pearl-inspired pieces on the market, but they are also
killing
the bridal barrette game. Don't believe me? Just check out their bridal shop
here.
2. Maria Elena Headpieces
Got wedding crowns? Maria Elena Headpieces is the
leading
company for all bridal crown designs, with celebrity endorsements ranging from Paris Hilton to Jackie Cruz. And while Maria Elena is still primirily known for her bridal crown designs, she has recently branched out to other incredibly gorgeous hair options for brides of all styles. Interested to see more? Click here to head on over to the
Maria Elena website! 
3. Twigs & Honey Wedding Hair Accessories
Delicate hair vines, a strong emphasis on dainty floral elements and a heavy touch of gold are the signature design hallmarks of a company called Twigs and Honey. Founded in 2008 in Portland, Oregon,
Twigs & Honey
is the brainchild of a woman named Myra Callan whose designs embody delicacy, floral elegance and all things romantic. Interested to see more of her work? Click here to access the
Twigs and Honey website! 
4. Untamed Petals Bridal Accessories
Most arguably the most popular bridal hair accessories company at the moment,
Untamed Petals
has a little bit of everything. From bridal bows, to bridal hair combs....from bridal barrettes to caged veils.... all the way down to perfectly pearlescent hair ties, this company is dominating the game in terms of getting your hair p
retty.
Interested to see more? Click
here
to access the special section on their website dedicated
TO YOUR PERFECT WEDDING DAY HAIR.
5. Jannie Baltzer Hair Adornments
Ok, so I hope you guys know that I am only recommending the best of the best here. Seriously, every single one of the recommendations on this list are for companies that have been around for a VERY LONG time and have therefore earned their stripes in terms of not only quality but also customer service. Our last and final recommendation, Jannie Baltzer Hair Accessories, checks ALL of those boxes and more! Since the launch of Jannie's first collection, there has been a remarkable hype surrounding the brand
Jannie Baltzer Copenhagen
. All headpieces and veils are handmade in Denmark using the most luxurious materials. The designer graduated from the Scandinavian Academy of International Fashion and Design in Copenhagen, receiving an honorary prize from Her Royal Highness Princess Benedikte for the most creative collection. Our work is regularly featured in magazines like VOGUE, Elle and Harpers Bazaar. Interested to see more? Click
here
to access the
Jannie Baltzer website
and find a retailer in your area! (Because...c'mon...we are definitely not paying for shipping from Denmark anytime soon.) 
Ok friends! I think that that is all for today! If you are on the hunt to find the perfect hair accessory for your wedding day, then we truly hope that this article helped to guide you in the right direction! And if you need any assistance picking out a garter to match/compliment your wedding hair accessory style, then please do not hesitate to reach out to us! Our
bespoke collection of wedding garters
has a little something for everyone! (Er-- should we say a little something for every type of hair accessory?)
Click
here
to check out our collection of bespoke, luxury wedding garters! And email us at hello@lagartier.com if you need help selecting
YOUR
dream garter!