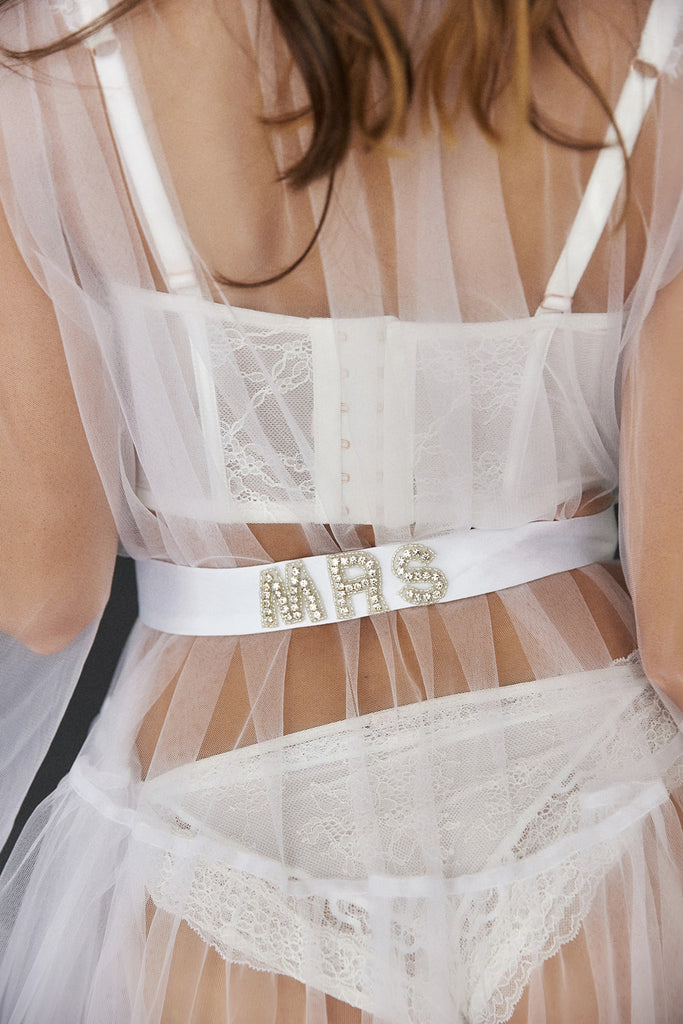 When it comes to bridal robes, it may be easy to pick out which style you like but when it comes to what to wear underneath it, the decision gets a little trickier. Are you a bride who wants to cover up a little bit? Or are you a bride who is comfortable in a bra + panties? Today, we are addressing all of your questions about what to wear under your bridal robe!! In fact, we get this question so often from our brides that we made a concerted effort to give you seven different options regarding what to wear, ranging from "conservative-full-coverage" all the way to "victorias-secret-angel sassy." Let's take a look, starting with number 1!
1. Spanx Suit Your Fancy Bodysuit
If you are a bride who wants something that offers considerable coverage and  also holds you in, then look no farther than this gorgeous nude bodysuit from Spanx! Appropriately titled the
"Suit Your Fancy Plunge Low-Back Bodysuit"
this subtlety sexy skin-colored number will give you a sense of comfort and confidence under your bridal robe, while also allowing you to move freely. The best part? The plunging neckline and the open back is the opposite of frumpy, so you won't feel too too covered up in this perfect
Spanx
bodysuit! 
2. Spanx Suit Your Fancy Strapless Cupped Panty Bodysuit
For the bride who wants to feel semi-covered up, check out this bathing-suit-shaped body suit from
Spanx
!! Personally, I love this option because it gives you the opportunity to show off every bit of your legs while still giving you that held in feeling! The best part? The straps are removable, making this perfect little number a convertible garment. (Bonus points for finding ways to wear this after the wedding with your every day outfits, which I have a feeling you will!) Interested to see more? Click
here
to access the listing on the Spanx website! 
3. LeRose Lace Beaded Bridal Set
Ok. I am not going to lie. This one is expensive. BUT-- in it's defense-- it is truly gorgeous. Created using beaded french lace, this truly original two-piece floral set says CLASSY without ever having to say anything. Note: If you decide to purchase
this set
, make sure that the robe you are wearing is made of satin and not tulle. The reason that I say this is because the exquisite beading that covers this set will catch/snag on anything made of tulle, but if your robe is made of satin, then it will not. Interested to see more? Click
here
to access the listing on the LeRose website! 
4. LeRose Summer Lace Trim Slip 
Nothing says simple and sexy quite like a slip. If you are a bride who is unsure of what garment to wear underneath your bridal robe, then I highly recommend going with a simple white or ivory slip like this one from
 

LeRose Bridal
. You can't go wrong with an option like this. Not only does it cover you up a tad bit, but it is also short enough (and shows enough of your back and arms) to still read as sexy. The best part? The satin material will work well with any sort of bridal robe fabric. Interested to learn more? Click
here
to access the listing on the LeRose website! 
5. Victoria's Secret Wicked Open-Back Babydoll
For the bride who obsesses over all things lingerie-lovely, look no farther than this super hot
lace baby doll
from Victoria's Secret! Not only will the corset-like boning create a super slimming effect, but the back part of the design features the cutest apron-like tie just above your tail bone! This is a must-see! Click
here
to access the listing on the
Victoria's Secret
website!
6. Faye Lace Underwire Bra + Panty Set
For the bride who is comfortable wearing a bra + panty set, this mind-blowing little number from Victoria's Secret is one of my favorite options on the market right now! And guess what?!? It is on sale! The only small annoying thing...is that you have to purchase the panties separate from the bra. So, if you love this option, then click
here
to see more photos of the bra by itself. Then, click
here
to see more photos of the panties by themselves. Add both to cart?? If you do, I fully support your decision. 
7. For Love and Lemons Tossed Daisy Lingerie Set
Last, but not least, this daisy-themed lingerie set from
For Love and Lemons
might stand to the sexiest option possible for your under-the-robe style. The only thing I would recommend is ditching the stockings. The bra, the panties, and the garter belt together would still look absolutely amazing under your bridal robe. Just don't be alarmed when people stare to the point of being rude. Click
here
to add this set to your cart immediately.
Ok friends! That's all for today! As always, we strive to be a resource to you for all things bridal, so if you have any questions at all regarding what would work best under your specific robe, then shoot us a picture via email at hello@lagartier.com and we will be more than happy to give you styling advice!