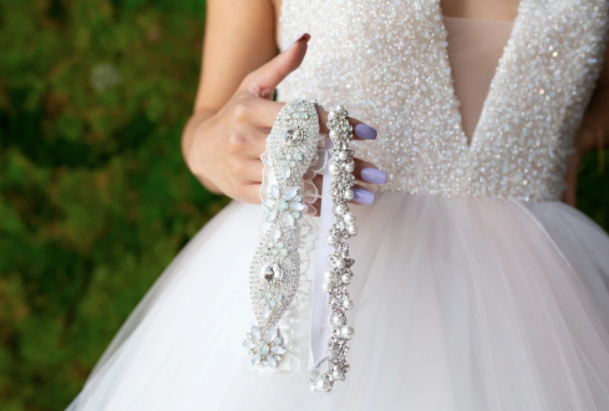 The answer to this question is super simple actually-- the only reason a bride will wear two garters is if she is planning to toss one and planning to keep one. Thus, the term "keepsake garter" and "toss garter." But FUN FACT: a ton of brides these days are option to skip the garter toss, and have just a keepsake garter that they can cherish for years to come, use in their wedding photos, etc etc. So, if you are a bride who is not so keen on the idea of the garter toss, then you don't need to get both. In fact, most of our clients these days purchase a garter simply because they want something incredible in their photos. The garter is also an incredible accesory to keep and pass down through generations. Interested to learn more about the many uses for your wedding garter? Click
here
to read our most recent blog post entitled
"Five Uses For Your Wedding Garter Beyond The Garter Toss"!
However, if you are a bride who is interested in purchasing two (one for the toss segment of your reception and one to keep and cherish forever, then keep scrolling below to see some of our favorite garter combinations from our
shop
! We have over
20 drop dead gorgeous toss garters
and keepsake garters available, created so that you can mix and match to create a set that says
YOU.
Above: The Vienna garter paired with our sparkling Venus Pearl garter. I die.
Above: model Aye Nessa wearing our Vienna garter with our sparkling Ariel Opal toss garter
Above: our super popular Lori garter paired with our "something blue" pearl garter
Above: our moonstone Hayley garter paired with our sparkling rhinestone toss garter