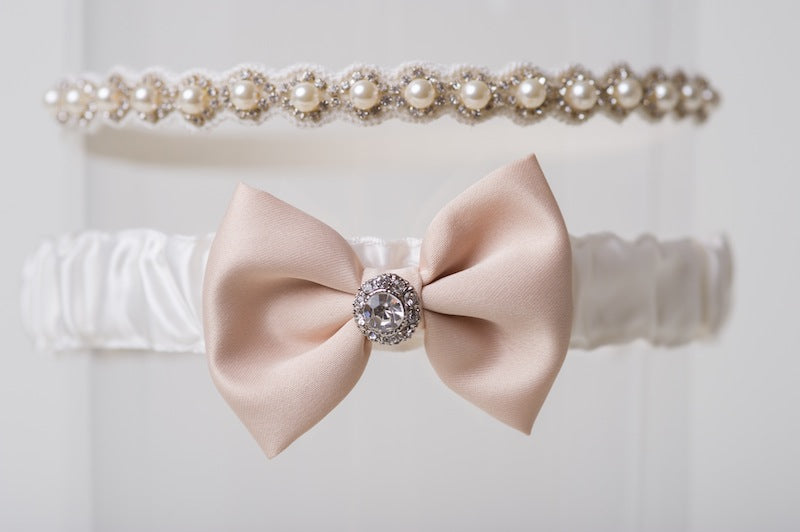 When it comes to bow-inspired garter designs, no one does it better than La Gartier Wedding Garters. No, seriously, we have three in our collection that will blow your mind! From the vintage ivory pearl look, to the fresh & modern bright white pearl look, all the way to the "can I get a something blue" look, I can honestly say we have the BEST on the market. 
 When we started designing wedding garters in 2011, we knew we wanted to incorporate a bow design of some sort. Never in my wildest dreams would I think that in 2022 we would have three!! And do you know what the craziest thing is? All three of them are crazy popular! But honestly- it doesn't surprise me. There is just something so polite and simple about a bow
.
Below are a THREE of our most popular bow wedding garter designs! Which one says YOU the most?
1. The Pink Evelyn Garter
Created for the bride who can't get enough of bows, this simple-but-sweet wedding garter features one single sparkling rhinestone at the center, making for just the right touch of sparkle. The best part? The bow is a soft pink, which means that she is basically your spirit garter if you adore the color pink as we do. 
Interested to see more? Click
here
to go to the
Pearl Evelyn
listing in our shop! 
2. The Blue Evelyn Garter 
Did someone say something blue?! The
Blue Evelyn garter
is a perfect choice for you if you want a garter that has a bow as well as the color blue! Not only is she a powerful something blue statement, but she is also simple enough to not overwhelm your wedding day look. 
3. The Pearl Evelyn Garter
Do you adore pearls? More to the point- do you adore pearls when they create a cluster-like, super organic look? Then this garter is perfect for you. Not only is it modern, but it also features a classic bow motif, making for the cutest little addition to your wedding day ensemble. The best part? It won't break the bank. No, seriously-- it is one of the most affordable garters in our collection as of January of 2022. 
But wait--
below are a few modeled photos of what these three beautiful designs look like when worn! Just in case you need a few more angles to decide which one is right for you!
Ok beauties! That sums up our top suggestions regarding which bow garters are the best in our collection! 
If you have any questions or need help picking out the perfect bow garter to compliment your wedding day look then please email us at hello@lagartier.com! Love you. Mean it.