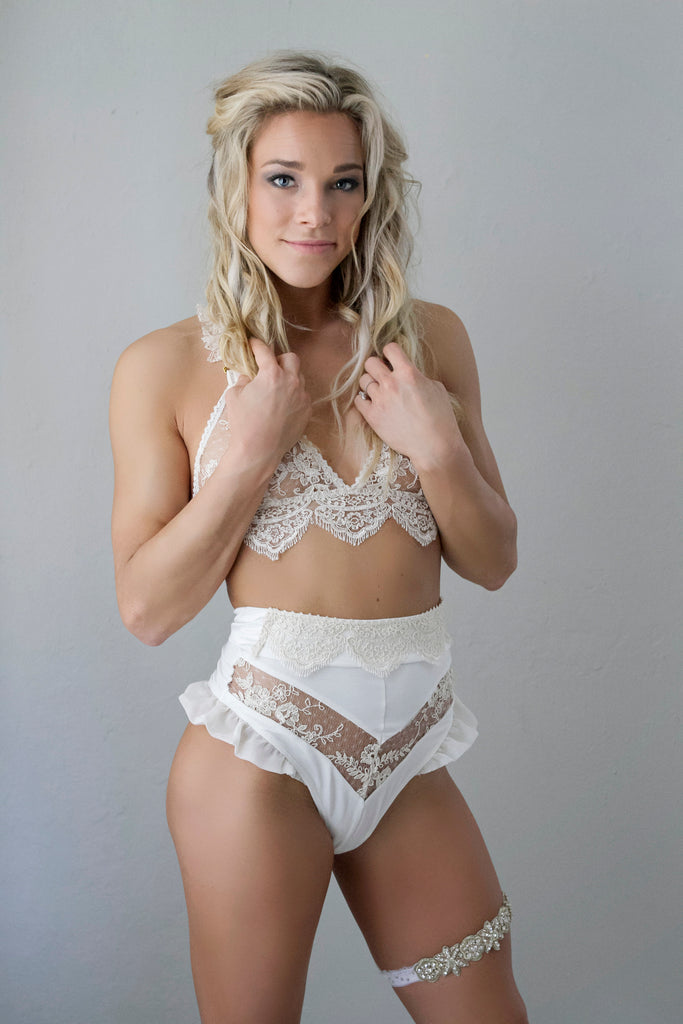 When it comes to bridal boudoir shoots, there are so many options regarding what you can wear and what direction you can take your style. After ten years of styling bridal shoots, here is what I have learned makes for the prettiest pre-wedding boudoir images!  (Hint: there are five things you absolutely must have.)
1.
Wear white or ivory lingerie.
No questions asked. We see so many bridal boudior shoots where the bride has chosen to wear red or black lingerie instead. Just don't do it. While I know it can be tempting to take your lingerie-color-story to something more traditionally racy...and while I know that
he tells you he loves black
all the time, please keep in mind that this shoot is
for your wedding
specifically. You'll have plenty of time to wear that 
titillating 
black or red lingerie on other occasions (such as Valentine's Day) but when it comes to this shoot, you want it to read 
bridal beautiful.
And when you look back on your pictures in five years, you'll definitely want it to read as bridal beautiful. Just trust me. I swear. 
(P.S. BONUS POINTS FOR FINDING SOMETHING THAT IS NOT ONLY WHITE BUT THAT ALSO HAS LACE.)
2. Get a bouquet. Or at least roses of some sort. Flowers will not only make for a beautiful accent within your photos but...... more importantly, they will give you something to do with your hands. The best part? The flowers absolutely do not need to cost you a fortune. In fact, for shoots that we have done in recent years, I usually run up to my nearest grocery store and purchase a few bushels of baby's breath (not expensive!) or a dozen light pink roses. Still, if you have the money to spend on a purchasing a professional bouquet from a local florist, then I say GO FOR IT, but if you are trying to save money here and there for the wedding itself, then you can easily get away with purchasing flowers at your nearby grocery store. BUT wait- pro tip: if you decide to purchase roses or baby's breath at a local grocery store, then grab a pair of scissors and cut off roughly five inches from the bottom of the stems. This will give your flowers a cleaner look and also make them more manageable. And if you decide to go with baby's breath, then remember: more is more. Basically, get a ton of it. 
3. Wear a wedding garter. Ours are hands-down the best on the market, so we would love it if you would choose us as your bridal-boudoir-garter-statement-piece! We have styles that range from $32 to $300, so I can guarantee you that you will be able to find something that fits your budget. The reason that I passionately suggest wearing a garter for your boudoir shoot is because they make for the most eye-catching, unique and utterly sexy detail when it comes to your overall outfit. Plus, you can then use it again for your wedding, giving you more than one occasion to wear it. Just think - on your wedding day, your garter might not be visible due to the skirt of your gown, so your bridal boudoir shoot is an excellent opportunity to show off some major leg luxury. Click here to shop our collection and find a design that compliments your personal style as well as your bridal boudoir ensemble.
4. Wear A Veil. Non-negotiable. Just trust me. It doesn't need to be expensive. And you don't have to wear it for every.single.photo. But please please promise me you will wear a veil. Why? Oh my goodness I don't even know where to start. First of all, the combination of lingerie with a veil is a very special sort of magic. In addition, nothing photographs as beautifully as tulle. Seriously, it has to be experienced to be believed. Plus, veils are just incredible. And what other chance will you have to wear one other than your wedding day? Similarly to wedding garters, the veil is a bridal accessory that will add that distinctly bridal touch to your boudoir photos...and I can promise you that you don't want to do without it. If you don't have the luxury of splurging on a veil that is extra luxurious, or if the veil for your wedding has not yet come in at the time of your boudoir shoot, then jump on Etsy to find something reasonable and simple. 
5. Bring a pair of white or nude heels. Trust me. You are going to want them. While I think that a round of barefoot photos are a must-do, I also know from experience that at least some of your photos should be done wearing heels. Why? Because when it comes to all of the photos that you will take standing up, you will want that extra little lift that high heels give. Plus, let's be real: heels + lingerie are such a sexy combination. From my experience, it is usually smart to do half of your photos barefoot and half of your photos with heels on. Just make sure that the heels are super high and that the color is nude or ivory. (Even something with sparkle will do. 
5. Keep the colors light and airy. From the furniture that you use, so the color of the wall behind you, down to the hue of the flowers that you pick, think light and ethereal. Full confession: this one is more of a personal preference versus a flat out rule, but if there is one thing that I have learned over the course of a decade of styling boudoir shoots, it's that an all-white ...or at most...pastel-like environment is the best for attaining killer photos. In fact, when I first started brainstorming ideas for our very first commercial photoshoot in 2012, I looked to Victoria's Secret for inspiration. In an attempt to give you as much clarity as possible regarding what I think makes for an incredible, high-end bridal boudoir shoot, I am going to include some of those iconic Victoria's Secret photos here.
She has all five things: a garter, white lingerie, a veil, heels, neutral furniture/ a background environment that is not dark, and flowers. 
Ok beauties! That sums up our top suggestions regarding how to slay your bridal boudoir shoot! We hope that you have found this helpful!
If you have any questions or need help picking out a garter to compliment your bridal boudoir outfit, then please email us at hello@lagartier.com! Love you. Mean it.