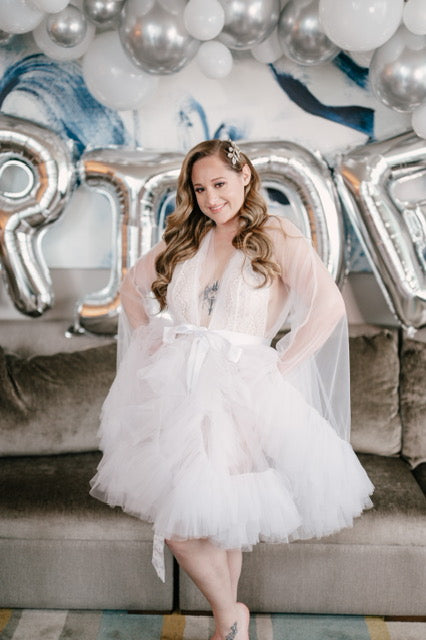 Last night, as I was sitting at the sewing machine, I had the pleasure of receiving the sweetest email from our past client Catherine Dosal. It made the entire day feel like diamonds! In it, she wrote: 
"Just got all the professional edited photos with the robe you rushed over to me. I'm absolutely obsessed! Had to share with you. As well as thank you a zillion times over for making sure it got to me in time. Truly meant the world to me."
I was honestly
so touched
to read what she had wrote, that I didn't even expect to be
even more floored
by the images that she sent. Um. Holy pretty you guys. Are you ready for this?! 
This moment is so special for us because it marks the very first time that one of our clients has sent us photos wearing our new
Mrs. Bridal robe
. We just released it a month ago, so until now, we have yet to glimpse it on one of our bride's in real life. So, suffice to say, when Catherine emailed us these photos, I just about dropped my phone with sheer happiness. But wait! There's more!
This robe looks fantastic whether you are standing, sitting, or (my personal favorite) twirling. Here, La Gartier bride Catherine Dosal is the epitome of fun and flirty wearing our new
Mrs. Robe.
Interested to see more? Click
here
to access the Mrs. Bridal Robe listing on our website. 
Truth fast: the way that Catherine decided to style her Mrs. Robe with that perfect lace onesie and that darling bridal hair comb is max ten level Beyonce-worthy!! I CAN'T GET OVER IT! 
Just one more and I'll stop. Promise. Here, Catherine stands pretty in her Christian Louboutin heels and our new
Mrs. Bridal robe
looking like a true bridal princess. I love this angle because it shows not only the slightest glimpse of her red bottoms, but also the alluring, sexy semi-see-through fabric of the robe from the back. Can I get an amen?!!
Catherine, thank you so much for coming to us last month with your request. I honestly feel like we were meant to meet. The fact that you sent us these photos immediately after your photographer sent them to you really shows me how much you care about La Gartier...and we appreciate you way more than I can express through a blog. Thank you so much.