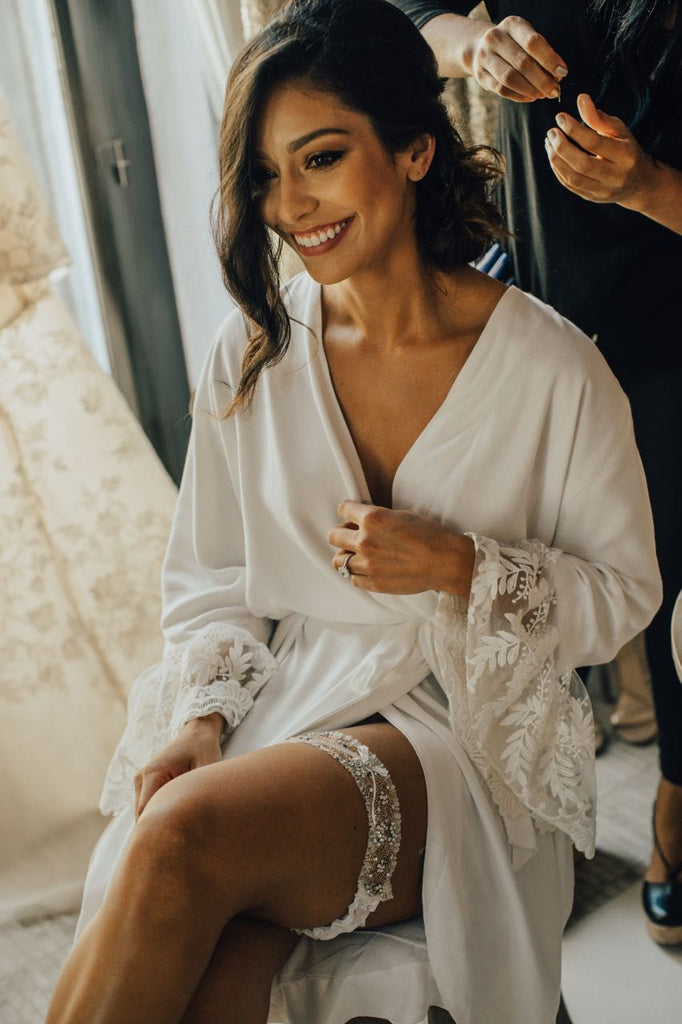 I am not going to even lie. A bridal robe without a wedding garter is like Cher without Sunny. It's like Jenny without Forrest. It's like apple pie without ice cream. It's like a picnic without a blanket. It's like Pam without Tommy. Ok, you get the point. 
What I am trying to say here is that your bridal robe/getting ready photos will look one million times better if you wear a garter! In an attempt to prove my point, I am going to list a
ridiculously
long compilation of images below to prove my point. If you are someone who is wondering how and where to use your garter in your wedding garter photos, then get ready to be convinced. Your getting
ready photos are no complete without a garter...and we are about to show you why
right now. 
Case in point number two: here, Manuela Arbalaez of
The Price Is Right
wears her custom rose gold La Gartier garter with her bridal robe while she gets her hair down. Normally, I would link to the bridal robe and the garter, but the robe is sold out... and the garter was made specifically for Manuela and is not available on our site. 
Case in point number 6: our beautiful client AbbyJo Luquette wearing her custom Spice Girls garter set on her wedding day.
Ok friends! I think that that is all for today. We hope that the images and the links above are enough to convince you to ask your photographer to take a photo of you in your garter and your bridal robe! If you have any questions or comments, please feel free to email us at hello@lagartier.com! And if you are looking for a gorgeous garter, then please click 
here
 to find the garter THAT IS LOOKING FOR YOU.