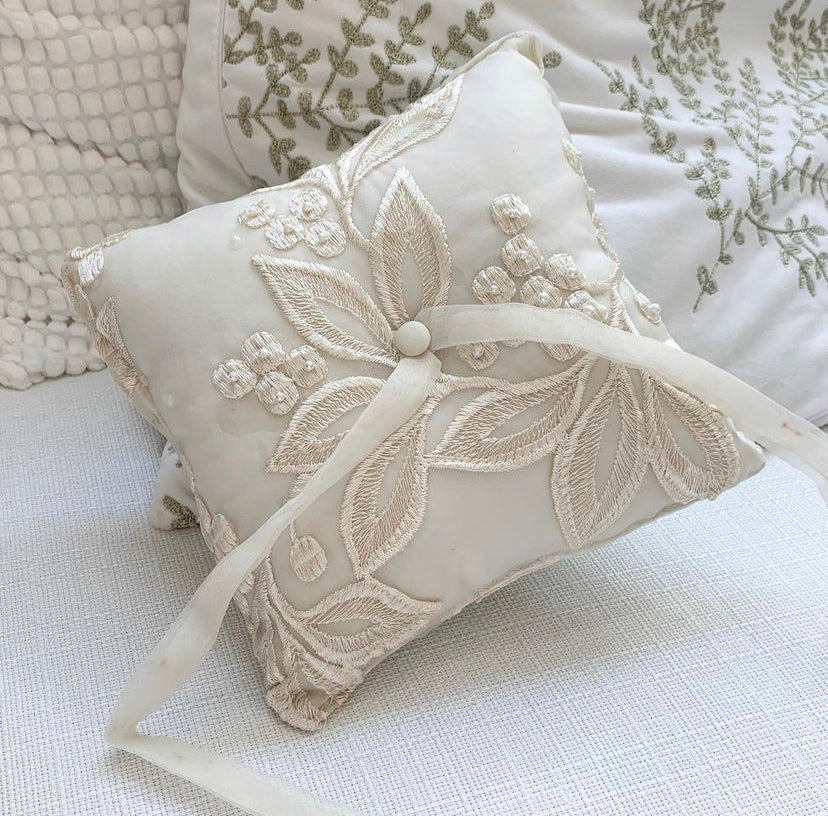 While it is true that we are primarily known for garters, we also design incredible ring bearer pillows from time to time. In fact, we just launched a mini bespoke collection of designer ring bearer pillows that you can shop by. clicking
here.
But that's not the point of this post. This post is dedicated to our darling bride Alexa Radis, who commissioned us to create a custom ring bearer pillow for her last year (among wide array of other custom bridal heirlooms)!
Are you ready for this?!!! Alexa blew our minds last year when she shipped us not one, but two heirloom wedding dresses! One belonged to her mother and the other one belonged to her grandmother! Keep scrolling to see what the final product looked like! 
The little tie strings at the base of the pillow were taken from her grandmother's wedding gown. In fact, they were once the delicate shoulder straps that secured her grandmother's gown! And then..do you see all of that gorgeous lace that covers the pillow? That fabric was taken from the bodice of her mother's gown. I will never forget cutting into it. I was so nervous to be working with such a treasured, highly-loved heirloom piece from her mother's life! 
An aerial view of Alexa's custom ring bearer pillow.
My favorite part? The little ivory pearls that dotted her mother's fabric just so. 
One last photo and I'll stop! This darling pillow stands to be my favorite that we have ever produced on the custom front, so I just can't help myself! If you are interested in seeing the
garters
that we made for her in addition to this gorgeous pillow, then we highly recommend it! Click
here
to see Alexa's full custom blog post! 
Are you someone who is interested in having a custom garter made for yourself or someone you love? Then we would love to hear from you! Click here to view our current customization availability! Currently, as of 1/17/22, we are booked out until March of 2022 for customizations but we have one spot still available in April and two spots in May. 
Please feel free to reach out via the contact from here or send us an email at hello@lagartier to inquire about pricing.