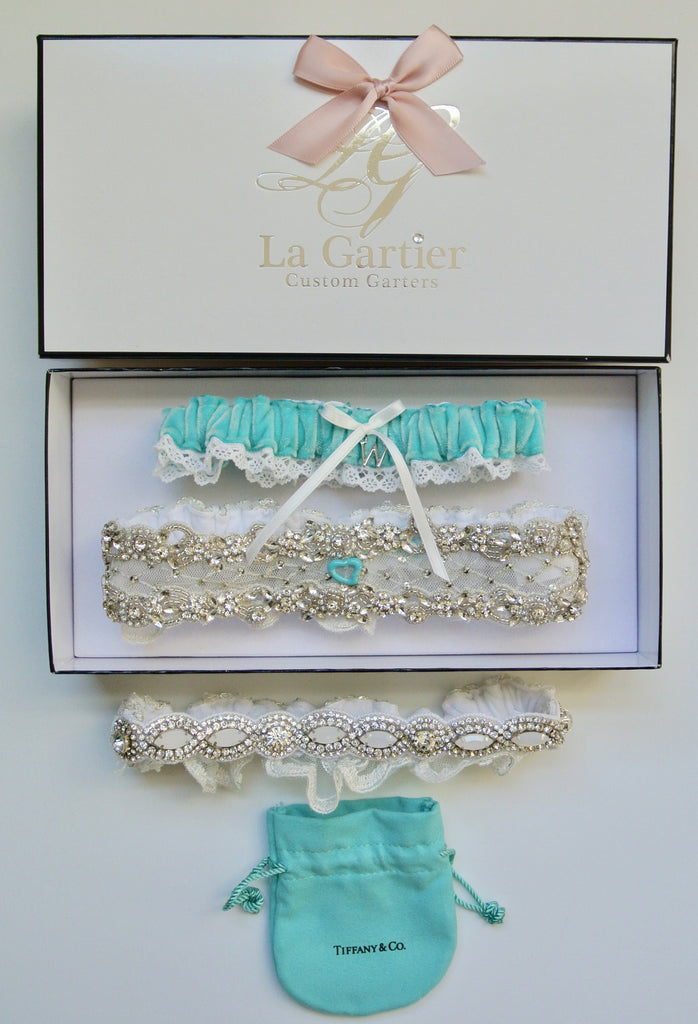 Are you a bride who is thinking about transforming your mother's wedding dress into a garter set? Or maybe you have a special neck tie that once belonged to your grandfather that you'd like to incorporate into your wedding day in some form or another. Whatever the case may be, we have rounded up five of the most breath-taking wedding garter sets from our archive today. For your viewing pleasure....and on the off chance that you need some inspiration, here are five of our most beloved custom garters from years past!
1. La Gartier bride Rachel Bunch's Tiffany and Company Custom Wedding Garter Set
Last year, we had the pleasure of creating a custom Tiffany and Company wedding garter set for La Gartier bride Rachel Bunch. She was in love with a tiny heart-shaped turquoise pendant that her now-husband had given her (as apart of a Tiffany and Company necklace). After getting to know Rachel via telephone and email, we decided that it would be so special to create an entire wedding garter set centered around the Tiffany and Company pendant. What you see above is just one photo of this Beyonce-worthy, ultra-luxurious garter set. But wait-- you have to see just one more photo of it. It's that special.
If you look closely, you'll see the tiny heart-shaped Tiffany and Company pendant that Rachel shipped to us all the way from California. Creating this custom bridal garter set for Rachel was
such a blast.
Interested to see more? Click
here
to read the blog that we wrote in homage to this knock-out garter set. 
But wait.  You have to see the next one! Keep scrolling!
2. La Gartier bride Jordan Coleman's Custom NHL + Dallas Cowboys Cheerleaders Wedding Garter Set 
This custom garter set was made using the bride's mother's wedding dress lace as well as pearls taken from her grandmother's gown. In this way, it represented three generations of Jordan's female lineage. To make things even more special, we included a blue
Dallas Cowboys Cheerleaders
star (taken directly from Jordan's professional cheerleader outfit) as well as a tiny heart from her then-fiance's NHL gloves. Jordan married NJ Devils player Blake Coleman, who now plays for the
Tampa Bay Lightning
. This set was so multi-layered in meaning, that it is sure to be one of the most treasured heirloom items that Jordan will ever pass down to her daughters. I beam with
pride and love
when I look at these photos. Here is just one more image that we adore with
all of our heart. 
This little patch that reads "Coleman" was taken from Blake's hockey glove and hand-sewn onto the inside of her Venus Pearl garter as a special memento. Isn't this just so unique and special!? Click
here
to read the article that we wrote in dedication to Jordan's garters, with no detail left unmentioned.  But wait until you see this next one....
3. La Gartier bride Genna Rybacki's Custom Dog Collar Wedding Garter Set
If you love dogs, then you are going to freak out over this one. This garter set was created using the bride's dog's puppy collar. Do you see that lycra flash of light pink in the photo above? That was once Genna's dog's collar when she was a puppy. I die. Already, I am resisting the urge to upload 15 different photos of this love-filled garter set for you to see! Not only did we use Genna's dog's puppy collar within her garter set, but we also incorporated a gold vintage "G" pendant to represent her first name, as well as her dog's favorite leopard print bandana as a hidden detail along the inside of her keepsake garter. Keep scrolling down to see more photos of this canine classic! 
Pictured above is a photo of the fabric that we took from Genna's dog's favorite neck bandana, printed in black and grey leopard spots. I adore this little detail almost as much as the pink dog collar itself. Almost. 
Ok, just one last photo and I'll stop. This was the little rubber branding tag that came with the collar when Genna shipped it to us last year. It read "Top Paw" and I think I just started crying. How adorable? Right? If you'd like to see more photos of this truly one-of-a-kind garter set, click
here
to read the full article! Not a dog lover? No problem. Keep scrolling to see the next drop-dead original custom garter set!
4. La Gartier bride Sydney Mann's Re-Purposed Prom Dress Wedding Garter Set
If you were getting ready to marry the man who you had dated in high school and had taken you to prom, what are the chances that you'd love to use your prom dress within your garter set? For our client Sydney Mann, the chances were one hundred percent! This vibrant, jewel-covered garter set was created for Sydney using the fabric from the very prom dress that her now-hubby picked her up in the night of their senior prom. To this day, I marvel at the sheer uniqueness that this set embodies. Honestly, I don't think there has been one single other garter made that it similar to it. No seriously-- google it. I've searched the internet high and low...and I feel fairly certain that Syndey and I created a true unicorn in the world of wedding garters. But wait. Look how gorgeous this next photo is! 
Taken on her wedding day, this is what her custom garter set looked like with her other wedding accessories, including her pearl studded Jimmy Choo heels. Every time I look at this photo, I take a little pause. Can someone say blinded by the beauty?! 
Ok, just one last photo. Promise. This is an image I snapped with my Iphone during the creation process. I will never forget how hard it was to cut into this perfect tulle prom dress! I was so nervous but now that Sydney has the final product in her hands, I just know that we created a true heirloom wedding garter set! Interested to see more? Click
here
to read the blog that we wrote years ago about
Syndey's re-purposed prom dress garter set. 
Ready for the very last custom garter set of the day? Get ready. It's sporty to say the least....
5. La Gartier Bride AbbyJo's Custom Spice Girls Wedding Garter Set
I am not going to lie. When AbbyJo first told me that she wanted to create a custom SpiceGirls inspired garter set, I was unsure of it. I was worried that it would come out cheesy...or lack elegance of some sort. But whoa-- was I wrong. When I look at the photos of her set now, all I see is FUN. In fact, this might be the most fun garter set ever created. (The bride whom it was created for certainly was!)
Pictured above: AbbyJo's custom garter set inside of our signature La Gartier box. We ended up making three different designs for Abby-- one to keep, one to toss and one more to keep and potentially pass down to her daughter someday assuming she has one. My favorite part of designing this set was blasting Spice Girls during the creation process. It was honestly such a return to the 2000s and I was all about it.
Just one last photo. Promise. This is the little hankie that we made in addition to her garters. It read "Two Become One" in homage to the infamous Spice Girls song from their first album. I don't know what it is about this photo. It's just so cute to me with the wording. 
Ok everyone! I think that that is all for today! I could go on forever and ever about some of our past custom designs, however hopefully the five listed above is enough to inspire you to have one made for yourself!
If you are interested in commissioning us to create a truly one-of-a-kind garter for you using your mother's wedding dress, your dog's dollar, the Tiffany Pendant that your fiance bought for you, your high school prom dress, or really anything that you adore & holds meaning, then email us at hello@lagartier.com so that we can help you! 
And now for the fine print:
Currently, as of 3/14/22, we are booked out until May of 2022 for customizations but we have one spot still available in May and two spots in June.