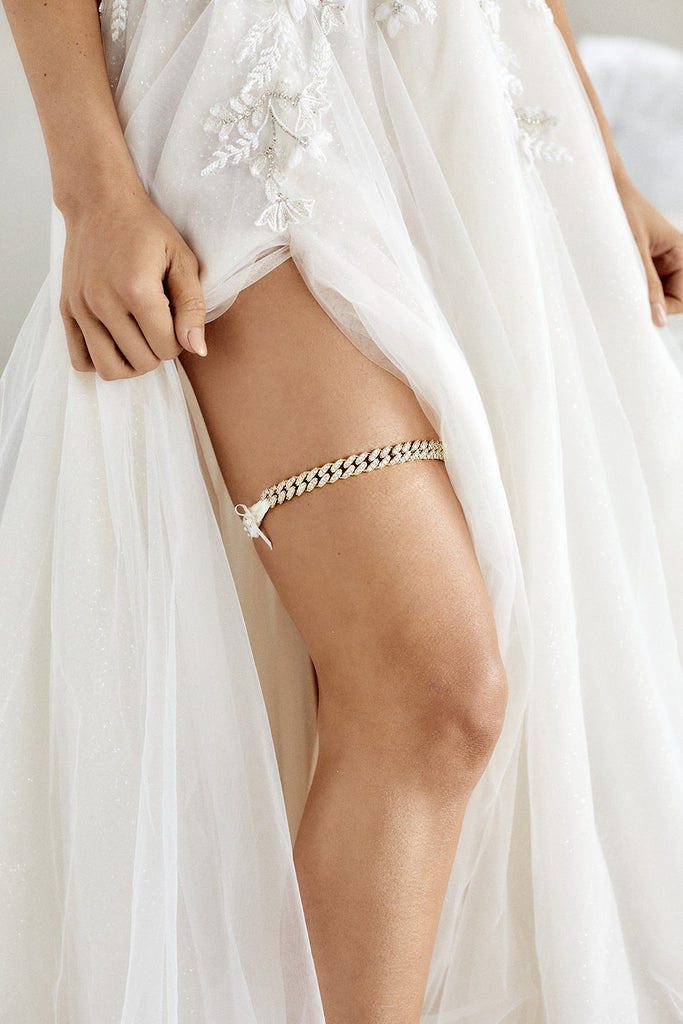 Hold the phone!!! We have a brand new limited-edition garter that was released today! And when we tell you that she is amazing, we mean like Beyonce-Superbowl-halftime-mic-drop-beauty!
There is
very literally nothing
like our new
Oh So L.A. garter
on the market at the moment!
The back story: our new
Oh-So-L.A. garter
was designed for the fashion-forward bride. Never afraid to take risks, this bride is very-well-known for being a trendsetter. ⛓ She
adores
all things edgy and
original
, whether it be in accessories, film, or music. 🎶  More likely than not, this bride adores the style of Hailey Bieber, Ariana Grande, Rihanna, and Gwen Stefani. Rule breaker? Check and check. 🖤
This bride somehow puts a daring and fresh twist on just about everything she does. Some describe her as a trail-blazer. Others describe her as reckless. To her, living life with no regrets and a
great sense of living life to the fullest
are the two most important things in the world. 💗  More likely than not, this bride will be wearing a non-traditional gown on her wedding day. (Please note: if you are a bride who is distinctly
traditional
in style, then this is
not
the garter for you.) 🙅🏼‍♀️
But wait. Bad news: once this garter sells out, she will go #LaGartierExtinct. And extinct means forever. As of today, February 21st, 2022, we have exactly four left in stock. However, by the end of this spring, she will most certainly be gone. If for any reason you are reading this blog at some point in late 2022 or early 2023 and we do not have this design in stock anymore, then feel free to email us at hello@lagartier.com so that we can do our best to help you! 
Love ya'll. Mean it.