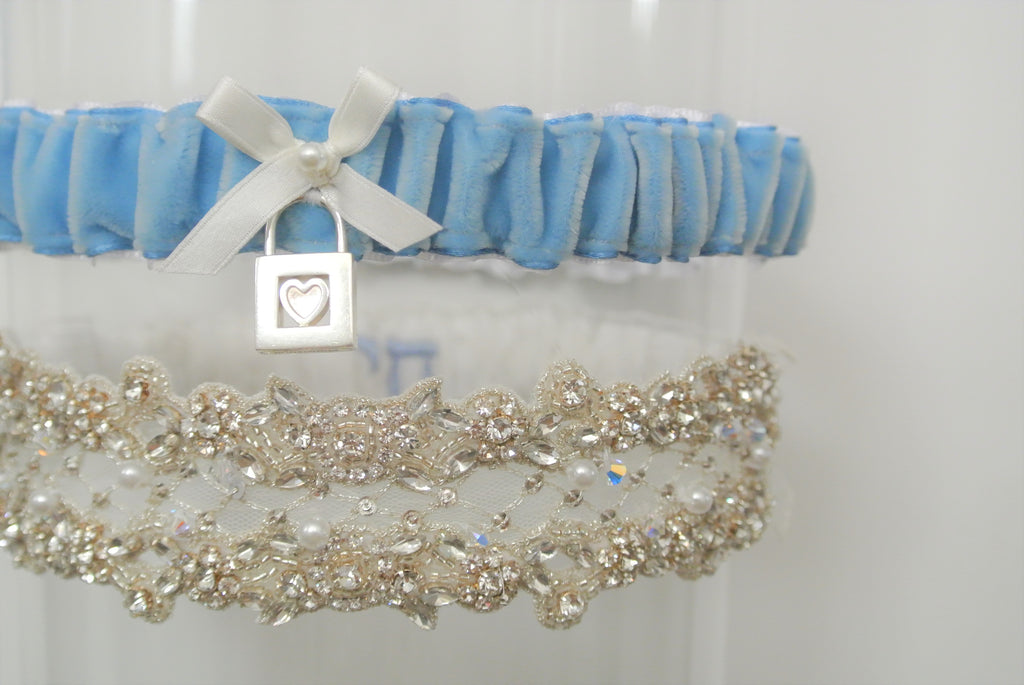 It's pretty rare that I get envious of another person's life. Or, rather, their relationship life. But as soon as I met La Gartier bride Erin Kemp, I was blown away by how absolutely beautiful her life with her soon-to-be hubby truly is. First of all, they are an entrepreneurial couple who owns and runs multiple Hydration IV bars in and around Houston. Second of all, they buy and sell property in Brazil. (My favorite country other than the United States Obrigada!) Then, to top things off-- she's absolutely gorgeous and has impeccable style. In truth-- they both have impeccable style. 
By the time we had finished her phone consultation, I felt the allure of GLAMOUR seeping into my imagination as I realized just how fabulous this blushing bride-to-be's wedding garter set had the potential to be. I felt instantly determined to create a wedding garter set that reflected not only her relationship story but also her high-taste in fashion and her love of unique accessories.
The elements of Erin's design were so multi-layered and UNIQUE that I can't think of anything else to do but bullet-point them! Scroll through the photos below to learn more about deeply meaningful custom wedding garter set. 
The pendant at the center of her blue velvet garter is actually a VINTAGE Tiffany and Company padlock charm. We found it on Etsy and ordered it within minutes of finding it. To make this padlock charm even more meaningful, we ordered a tiny silver key from Israel for the lapel of her fiance's collar. Erin and Gilad's clothier is, as I type, sewing it into his custom suit for their big day. Gilad has the key. Erin has the lock. Seriously, is there anything more romantic?!
Erin's fiance is Jewish and has a tattoo that translates to the number 18 in english. If you have any familiarity with Hebrew, it is called a "chia" and Erin is in LOVE with it. (probably because she is in LOVE with her fiance but also perhaps because she is in the process of converting to Judaism.) So, for her something blue, we decided to embroider this symbol within the inside of her garter. In fact, we included this sacred Judaic symbol on not only her keepsake but also..........---->
On her custom wedding handkerchiefs!! Can you tell that blue is one of Erin's primary wedding colors? It's everywhere within the color story of her garter + hankie set and WE CANNOT GET ENOUGH OF IT. 
At the last minute, Erin decided to have one additional handkerchief made for Gilad's grandmother. She calls him her "sunshine" so we downloaded a special graphic from Etsy to be imported into my embroidery machine. 
The hankie itself is vintage. 
Isn't the Tiffany and Company Padlock pendant so perfect?!
All four of Erin's custom hankies + her wedding garter set. This is what we call bridal TREASURE.
Erin Kemp and her soon to be hubby Gilad. 
Interested in having a custom garter made for yourself? Please email us at info@lagartier.com to book your custom spot. Right now, we are completely booked until July of 2019 but as long as you are not getting married until after August 1st of 2019, then there is still time!! (big congratulations to Erin for marrying the man of her dreams on April 7th in Houston, TX! We wish we could be there with you!)