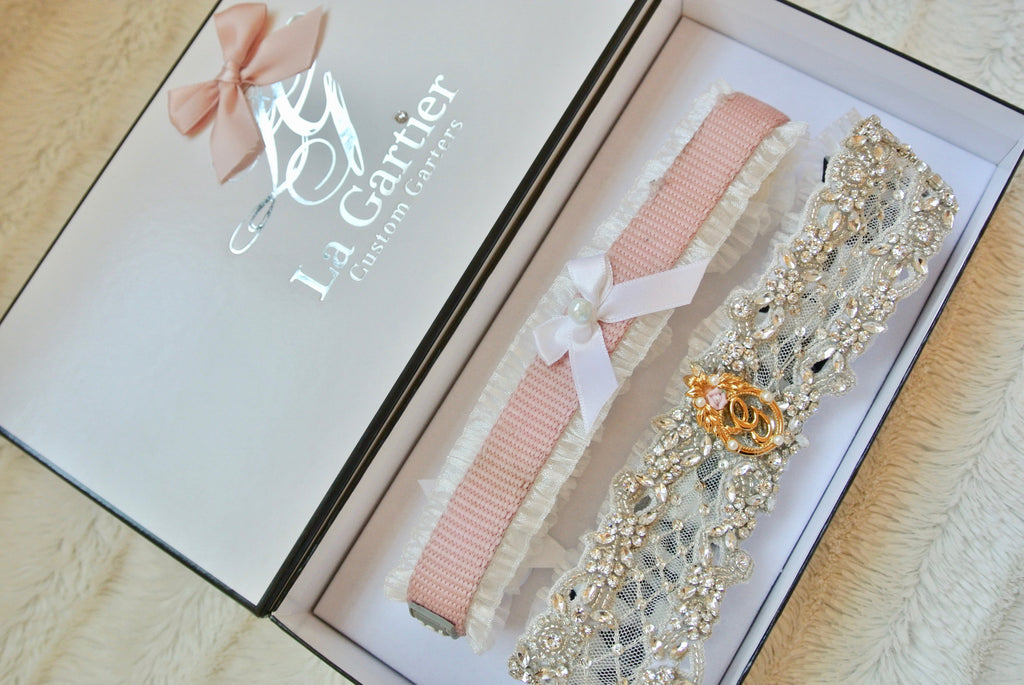 Caution before reading this blog post: 
💗 MUST LOVE DOGS 💗
Never in my wildest dreams could I have imagined encountering a project as special as this!!! 😭😭😭😭🙏🏼✨💗
If you are a dog-lover, then you MUST read about this incredible personalized wedding garter set! This is a wedding garter set made for La Gartier bride Genna Rybacki using her beloved dog's pink collar and her darling cheetah-print hankie!!!!!✨✨💗✨✨✨ Yes, you read that correctly!!! We had the honor of working on a custom garter set for Genna's sister (Sabrina Yannotta) a couple of years ago, and we were so delighted when Sabrina reached out to us in order to create a personalized wedding garter for her sister!
And oh my SUN and STARS⭐️☀️…did she return that favor!!! Sabrina (aka: sister-of-the-year) 
went to great lengths to make sure that her sister's dogs collar (from puppyhood!) and her cheetah-print hankie arrived safe and sound at our studio in Atlanta, GA! Keep scrolling below to see more photos of the finished project!
Interested to see what the design process looked like? Then watch
this reel
to see the creation process from beginning to end!! Special shout out to our muse 
@adella_bella_
 …the coolest pup this side of the Mississippi …and also the only pup in the world who has her very own heirloom wedding garter set!✨💗✨ You are IMMORTALIZED sweetie!!!!!! 😘😘😘😘😘😘😘😘
(Side note: As of December 26th, 2021, we are currently booked out until March of 2022 for customizations. If you are interested in booking one of our monthly spots to commission us to create a garter set for you, please email hello@lagartier.com!)