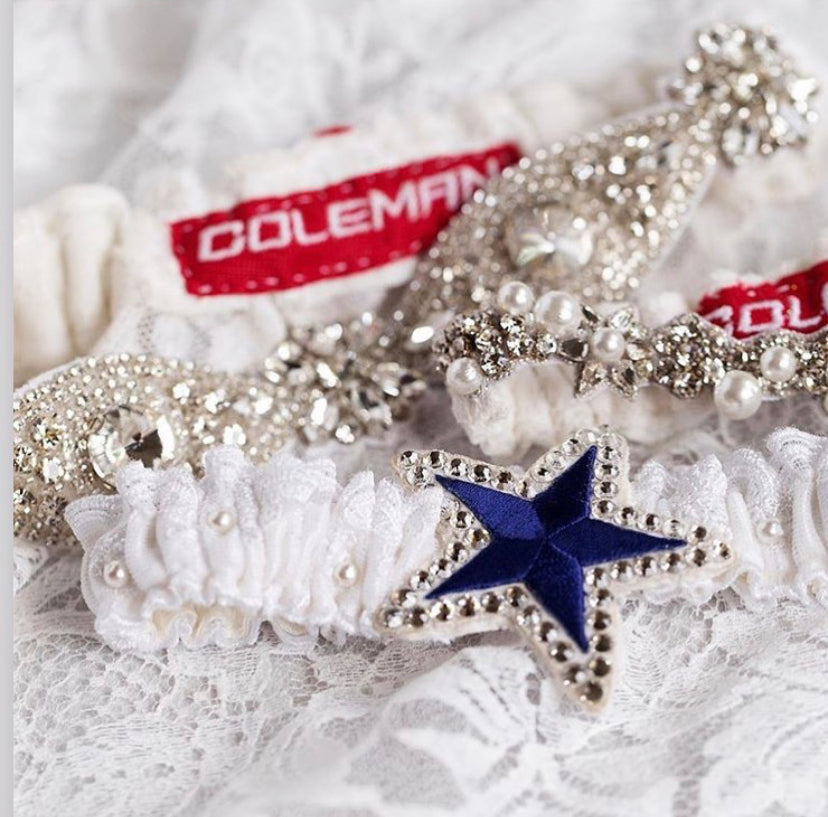 The only thing better than an NHL inspired wedding garter set is an NHL wedding garter set blended with Dallas Cowboys Cheerleader inspiration. That is exactly what happened last year when we worked with La Gartier bride Jordan Coleman. Actually, I take that back. We worked with Jordan as well as her mom Elizabeth, which was an absolute blast. This wedding garter set was so deeply meaningful on so many levels, that we need at least four paragraphs to highlight it's full gorgeousness! Are you ready for this magic?!
When Jordan first reached out to us, she was engaged to NHL player Blake Coleman, who was playing for the
New Jersey Devils.
Currently, he is playing for the
Calgary Flames
, but at the time we did this customization, he was with the New Jersey Devils. Do you see that little red heart at the back of her Vienna garter? That heart was taken directly from his hockey gloves! His
real
hockey gloves!  Ok, I need to calm down. To explain: Jordan shipped up a pair of his New Jersey Devils hockey gloves to be transformed into a wedding garter set and to this day, I cherish the memory of having them in the studio! It was so wild to have a pair of beaten up, well-played in, authentic NHL gloves at the studio among all of our other ultra-girly things. I swear I could almost smell the games Blake had played on them. Talk about magic! 
Did we mention that Jordan was a Dallas Cowboys cheerleader? Jordan danced for the team for four years and met Blake shortly thereafter. When I tell you that this girl can dance, I mean this girl can dance. 
When Jordan told me that she wanted to send us the little blue star from her authentic Dallas Cowboys Cheerleader uniform, I almost fainted with joy. I am a huge fan of cheer and dance myself, so this little star was like a relic to me. 
Fun fact: Do you see all of those sparkling rhinestones around the perimeter of her blue star? Those were added by us, in studio over the course of a full hour. When I look at this set now, I just adore how it represents who both Jordan and Blake are as individuals, but also who they are when they come together as a couple. It is truly beautiful to me to see both of their personalities represented so poignantly within one wedding garter set! 
If you love NHL hockey, then you will know that each of the player's names are embroidered on their hockey gloves. I loved this little detail on Blake's gloves. So did Jordan. Towards the end of the design process, Jordan and I decided to find a way to use this special detail! Using special leather cutting tools, we carefully extracted the "Coleman" name from his gloves and sewed it onto the inside of her back band as a hidden detail. I can't stop staring at the combination of that perfect New Jerseys Devils red with the sparkle of her Vienna garter and her Venus Pearl garter! 
But wait. It gets better. To take this set from a ten to a full-fledged-fifteen, Jordan sent me materials from her mother's wedding gown too! Do you see this gorgeous sequined fabric above? This lace was taken from Jordan's mom's wedding dress! 
Here are a few photos that I have saved in my phone from the actual design process. I am so happy that they are still buried deep in my photo library. I honestly don't want to forget this customization for as long as I live. 
Taken from instagram, this is a photo of what Blake's hockey gloves looked like before we started cutting them up. 
That little sparkling Cowboys star still gets me every time. 
This photo was the very first photo that Jordan posted to her instagram account after the wedding. I actually started crying. It was such an honor to know that that is how much she loved her wedding garters. 
Dear Jordan, if you are reading this: it has been such a pleasure to watch you and Blake grow your family. While it was the upmost pleasure to design for your wedding, I get even happier watching you and Blake thrive in this crazy world. Your children look beautiful and we wish nothing but the absolute best for you. Thank you for trusting us to create so much meaning for your wedding day. 
Are you someone who is interested in having a custom garter made for yourself or someone you love? Then we would love to hear from you! Click here to view our current customization availability! Currently, as of 1/17/22, we are booked out until March of 2022 for customizations but we have one spot still available in April and two spots in May. 
Please feel free to reach out via the contact from here or send us an email at hello@lagartier to inquire about pricing.