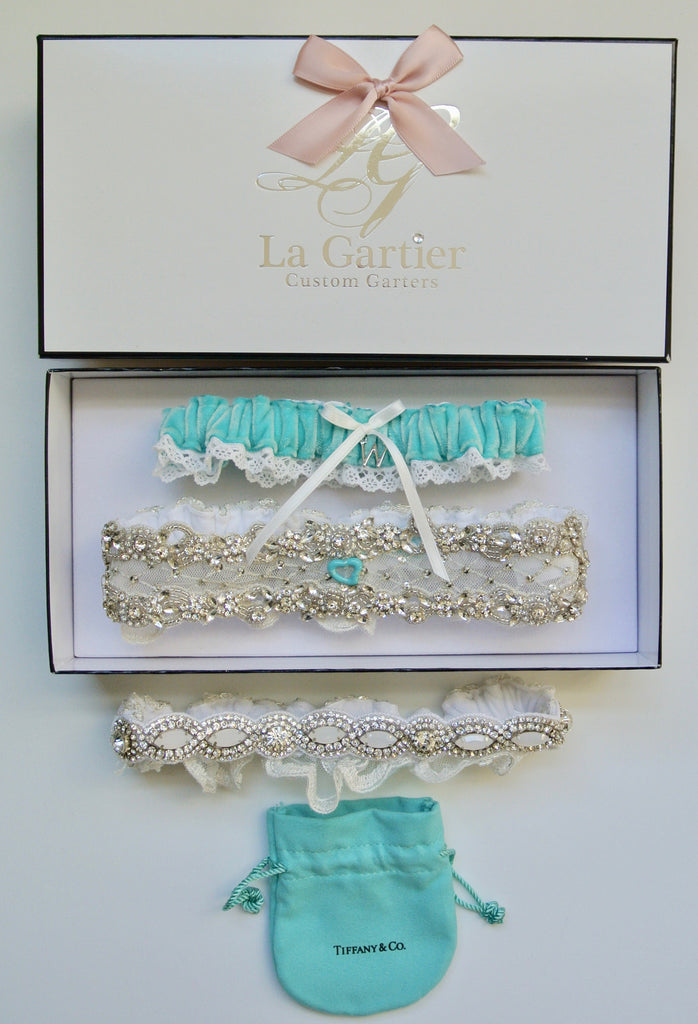 I can honestly say that I will never look at Tiffany and Company the same again. Seriously, after working on this special custom garter, Tiffany and Company will forever be immortalized in my heart as something extra special. Please allow me to explain....
Last month, we had the pleasure of working with a bride named Rachel Bunch who commissioned us to create a
Tiffany & Company
wedding garter set for her ultra-luxurious Jackson Hole wedding, which occurred just last weekend. (I know because I spent almost the whole day watching her stories, trying to catch the first glimpse of her incredible
Berta
gown!)
When Rachel first reached out to us, she knew that she wanted a garter that would compliment her Berta gown well, but wasn't sure exactly how to personalize the design so that it spoke specifically to her special relationship story. After an initial phone consultation, I learned that Rachel's now-husband Joe Wagner (owner of Belle Glos Wines) had given her a tiny turquoise necklace from Tiffany & Company years ago. From listening to Rachel talk, I could tell that this particular pendant was incredibly special to her. Then, once we started following eachother on instagram, I noticed that she was wearing the necklace in almost every single photo that she had posted of herself. When she offered to have a replica shipped to us to be used within her wedding garter design, I was over-the-moon excited with inspiration! 
Once the pendant arrived, we decided to add her wedding date as well as her initials to the inside of her garter using Tiffany Blue embroidery thread. In addition, I decided to create a third toss garter for her using an ultra-soft vintage Tiffany Blue velvet ribbon, with a silver "W" pendant at the center to symbolize the first letter of her new last name. (Wagner)
For her keepsake garter, we chose the Galia garter from our collection as it is a design that is distinctly Isreali in nature. To explain, gown designers such as Berta, Galia Lahav and others have quickly become some of the bridal industry's most popular wedding gown designers. Years ago, we designed the Galia garter to compliment the gowns of Berta, Galia Lahav and others...so once I saw Rachel's dress, I just KNEW that this design was the one for her. To make it special, we carefully sewed the heart-shaped Tiffany's pendant to the center and then embroidered her wedding date to the inside using Tiffany Blue thread. 
The finished product was something that I couldn't tear my eyes away from. And do you know what is extra insane?!!! As a thank you, Rachel sent an entire box filled with Belle Glos wine to our studio in Atlanta, Georgia! Honestly you guys, I dropped down to my knees when I opened it! She told me she was sending just one bottle of wine, and then all of the sudden there were 15 bottles here. My heart is filled with so much love and gratitude when I think about this bride. I honestly believe that she was an angel sent to our company. Not only did she give us the opportunity to make the PRETTIEST Tiffany blue wedding garter set ever made (no seriously. google it. no lies.) but I also had an opportunity to meet an incredible human being. My only wish is that she didn't live on the opposite side of the United States. 
Interested in seeing the creative process? Click here to watch the making of her garters from beginning to end! 
(Side note: As of December 26th, 2021, we are currently booked out until March of 2022 for customizations. If you are interested in booking one of our monthly spots to commission us to create a garter set for you, please email hello@lagartier.com!)