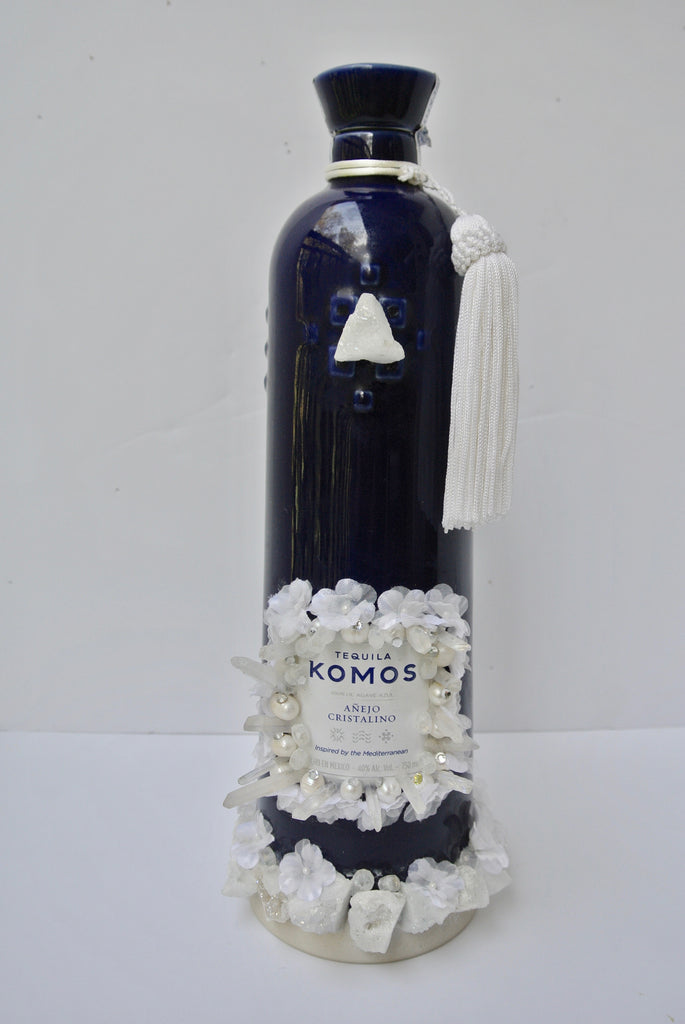 While it's true that our main craft is wedding accessories, we have recently had the pleasure of designing a few custom bottles for brands such as Belle Gloss Wines, and now an incredible tequila company called
Tequila Komos. 
Tequila Komos made it's first big splash last year in 2020, when they released their now-infamous Anejo Cristalino. In recent months, they have expanded their line of ultra-luxury tequilas with the addition of Tequila Komos Roposado and Tequila Komos Extra Anejo. CEO & Founder Richard Betts continues to drive innovation, prioritize sustainability, and combine the highest artistry in tequila-making with inspiration from wine-making techniques. We were honored to have been asked to create a custom bottle design for Tequila Komos last October and look forward to creating additional bottle designs for the
Casa Komos Brands Group
in the future.
To see photos of the first custom bottle that we ever designed for Tequila Komos, please scroll through the photos below! Hint: the entire design concept was inspired by the Mediterranean! 
This particular bottle design was inspired by classic Mediterranean design motifs such as tassels and mother-of-pearl. 
We wanted the bottle to evoke feelings of Mediterranean beach imagery. For this reason, we added organic split-crushed quartz rocks along the base, meant to mimic waves crashing against large, rough rocks on the beach on the Amalfi Coast. 
Because the title of this particular tequila is Anejo Cristalino, we knew that we absolutely HAD TO include crystals in one form or another. For this reason, we added swarovski crystals around the edges of the label and on top of the pearls in an organic fashion. In addition, we spent five hours hand-placing crystal quartz shards around the label at a perpendicular angle, as a further nod to the crystal glamour of places such as Ibiza and the French Riviera.
Our favorite part? At the top of the bottle rests one single triangular quartz stone- rough on the outside and shimmering on the inside. 
Hanging from the neck of the bottle is one single woven silk tassel, purchased from a knowledgeable antiques dealer located in Atlanta who specializes in fine linens and home decor accents sourced in Monaco.
Last, but not least, we added over thirty five laser-cut organza flowers to the outside edges of the label and bottom porcelain edge to feminize the design. I mean, we are...after all...a bridal accessories company so if we don't add flowers, is it really even La Gartier?