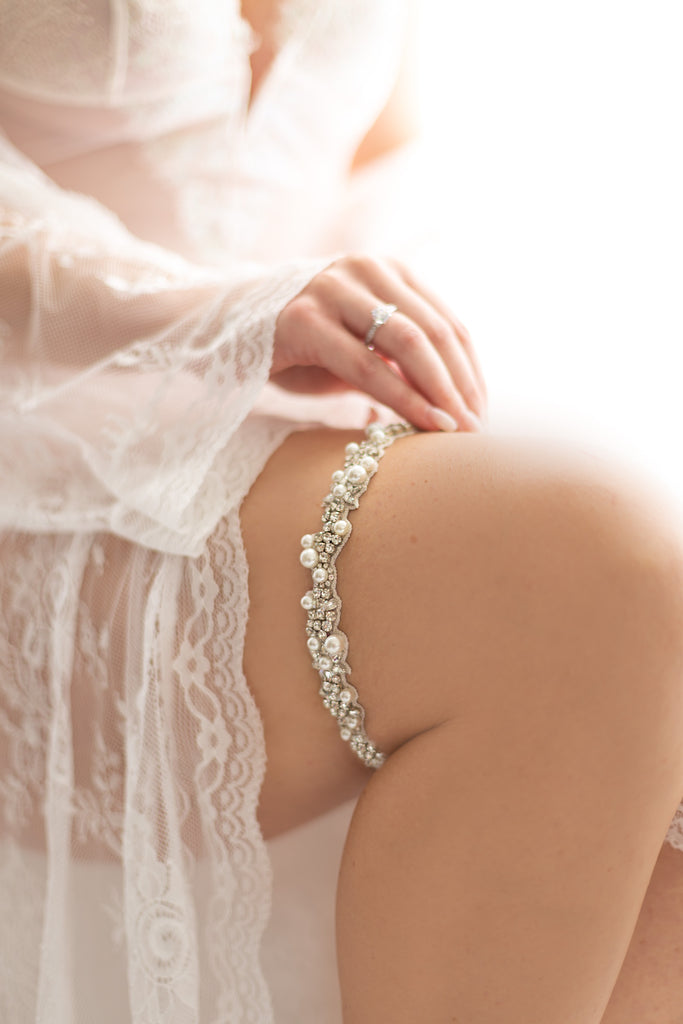 When we first started making wedding garters in 2011, the wedding garter toss wasn't even on our minds. We set out to create an irresistibly cute, undeniably modern wedding garter design that was so carefully crafted, our brides would want to keep it for their entire lives. It wasn't until sometime around 2013 that we realized that we needed to add an affordable, super
simple toss toss
to our collection in order to accommodate all the brides who were sending us emails with questions like:
"Ok, but I need a toss garter too. Do you have one in your collection?"
At that point in time, because we were receiving so many requests for toss garters, we decided to create a simple toss garter that - first of all, wouldn't break the bank......and second of all, was cute enough that it would look lovely in photos but not so cute that our clients wouldn't want to toss it. 
While we
still
offer a few styles of
toss garters
within our collection, we are primarily known for creating extremely unique,
designer wedding garters
that no one would ever dream of tossing. To be totally honest, I am not personally a huge fan of the garter toss, which is ironic due to the fact that I started La Gartier Wedding Garters and love it with every bone in my body.
Disclaimer: if you and your partner are up for the garter toss at your wedding, then please know that I am not discouraging you. In fact, I say go for it! You do you at your wedding! Some couples are really excited about traditions and just couldn't imagine getting married with out doing all the things, including tossing the garter.
And, that's great! You shouldn't feel bad about any of your choices at your wedding - be confident and be excited, because getting married is supposed to be fun! Don't let the garter toss haters get you down - you do what you want to do! It is your wedding, not theirs!
However, if you are interested in finding a designer piece that you can cherish and keep for your entire life (and maybe even pass down to a loved one someday) then you have come to the right place!
Below are five of our most beloved designer wedding garters, created with heirloom integrity in mind, not tossing. 
1. The Athena Wedding Garter
This gorgeous, sparkling garter is so unique that I don't even know where to start. It has been worn by multiple celebrities, including
Kandi Burruss
of the Real Housewives of Atlanta as well as actress
 

Anna Camp

 
from Pitch Perfect. The Vienna has been in our collection since 2015.
That
is how popular she is. If you are interested in seeing more angles, photos, her written description, or her price, then please click
here
to be directed to the
Athena garter
on our website!
2. The Venus Pearl Garter 
Most arguably our most sought-after wedding garter design, the Venus Pearl garter is everything people say she is and more. 
When aiming to find the balance between classicism and modernism, look no farther than the Venus Pearl garter. Set within a sparkling swarovski crystal front band, exactly 22 pearls gleam like eternal moons in an intentionally cluster-like, celestial pattern.  ☪️  The best part? If you look closely, you will see that there are 
exactly three star shapes
 hidden within the band, meant to symbolize growth in life or personal achievements. (no, seriously-- google it. 
Star symbolism
.) 🌟
If you are interested in learning more about this drop-dead gorgeous design, then please click
 

here

 
to be taken to the Venus Pearl listing in our shop!
3. The Ever After Wedding Garter 
Where do we start?? This garter is so magical, that we need at least a paragraph to describe its multi-dimensional components! 💎  First, a little back story: When creating this garter, the first feature that we knew that we wanted to include was tons of sparkle, a distinct 3-D floral element and a distinct "princess blue" color. 💙
As you can see in the photos above, the front band is primarily comprised of clear, sparkling pear-shaped swarovski crystals. ✨  Blooming from within the sparkling band are exactly five flowers: three blue (made of a soft acrylic and a rhinestone detail at the center of each flower) as well as two white flowers (made of gauzy, ethereal organza with a pearl detail at the center.) 🌸
The best part? The inside of the back band is embroidered with the words "Happily Ever After" in princess blue. (something blue? check and check✔️✔️) Other details to note: the back band is created using a lace overlay on the outside which can be admired from behind you was you walk down the aisle or dance the night away on the dance floor). The back band also features 15 sparkling swarovski crystal rhinestone embellishments. (hand-placed for extra sparkle.) ✨
This garter was worn by Lauren Burnham of The Bachelor on her wedding day. 🌹 To see the national press attention it received, please click here to see the story that US Weekly wrote. 🙌
4. The Galia Garter
Created using swarovski crystals and a semi-transparent illusion midline, this garter features jewels set in a symbolic floral pattern along the bottom and top perimeter, making for a stunning organic shape. The back half of this garter is made of a soft light elastic with a ruffled organza overlay. If you look closely at the illusion midline of the garter, you will see a honeycomb crosshatched pattern, specifically made to mimic the iconic design elements found within the gown of 
Galia Lahav
 and 
Berta.
 💗✨ 
If you are ready to take your wedding accessory style from a nine to a full-fledged-fifteen, then click
here.
5. The Glass Slipper Garter
This design was inspired by the character of Cinderella. Thus, the subtle "Cinderella-dress-blue" tones that you see in the jewels above. 
Every detail of this garter was inspired by the bride who adores animals and is well-known for her compassionate nature. More likely than not, this bride is not a very loud person. In fact, she might be one of the quietest people at a party, but she is known for carrying herself with a grace that is unparalleled. 💅🏻  Anyone who knows this bride is well aware of the fact that she believes deeply in acts of service, whether it be volunteering to help abandoned animals or assisting the elderly who have become too old to be able to care for themselves anymore. 💗 🧵
With love and a strong sense of humanity in mind, we created this garter for the bride who is highly in tune with the needs of the people in just about any environment that she finds herself in. We repeat: She is a person who cannot help but LOVING other living things - no matter what their size, shape, color, or origin. 🥰 
Interested to see more unique wedding garters? I am not even kidding you guys. We have the most artistic and rare wedding garters this side of the equator!  Click here to access our entire shop or email us at hello@lagartier.com so we can help you pick yours out!