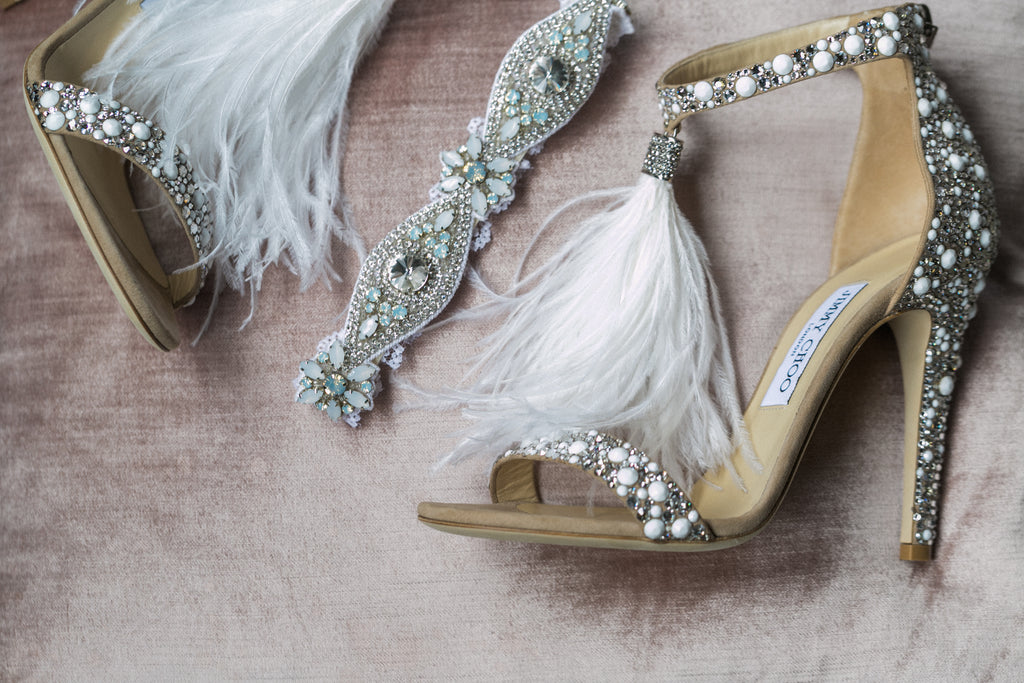 Let me guess. You are on the fence about the wedding garter. When it comes to all of those icky photos that you've seen with the groom's hands (or, sometimes, entire head) up his darling bride's skirt with loved ones watching, you are asking yourself: "What is the point of this? Do I really want to do this?" 
And I have an answer for you: YES. Actually, yes you do. Crazy, right? Allow me to explain:
While it's true that the wedding garter might seem to be a superfluous accessory, let me also point out that there are quite a few other things in life that are absolutely gorgeous that don't really serve a practical purpose. Case in point: your veil. Case in point: chandeliers. Case in point: false eyelashes.
Does this make them any less beautiful and desirable? Absolutely not. In fact, I would go so far as to argue that without them, life itself wouldn't be as fun! 
BUT, wait. Beyond the garters needless beauty, there are actually are a few purposes that you might be interested in. In fact, for the sake of clarity, I am going to list FIVE of them below in order of relevance.
(Side note: all of these opinions are mine...and I have been designing
custom wedding garters
for ten years...so if you want to call be biased, then that's fair--  call me biased. But still --  hear me out.)
1. Wedding Garters Make For An Ultra-Meaningful "Details" Accessory. That is to say, they will take your "wedding details" photos from a ten to a FANTASTIC FIFTEEN in no time. Need proof? Just check out the photo above!
2. The Wedding Garter is the Ultimate Heirloom Accessory
When it comes to accessories that you are going to cherish and potentially past down through generations, there is nothing so perfect as your wedding garter. Your veil is a close second, but the garter reins supreme. Tons of our brides purchase a garter from us with the intention of showcasing it for years to come in a glass box in their home, and then passing it down to their future daughter or loved one. And honestly- it makes perfect sense. Your garter (if they are ours) are a tiny, perfect expression of your personality and the essence of your wedding day style. The chances that it will fit a future loved one are high due to the fact that wedding garters are a one-size-fits-most accessory. When it comes to the question of tossing your garter or not tossing your garter, I am completely neutral. However, when it comes to the question of having a garter that you can have as a gorgeou
s heirloom that you can pass down through generations, I am a

 

passionate

 

YES GIRL.
3. The Wedding Garter is a Must-Have For Your Getting Ready Photos
Ok, so have you ever seen a picture of a bride getting ready with a wedding garter on??? It's pure beauty. The addition of a wedding garter
completely glamorizes
 your getting-ready-outfit! I know this for a fact because I have seen so many of our brides send us pictures after their wedding day. There is just something so Beyonce-worthy about a bride wearing her garter as she sits crossed legged, getting her make up done, her hair up in curlers or whatever it may be. I swear, it's almost like the garter makes our brides look more like a Victoria's Secret Angel as they get ready, even if the room is a total mess behind them. (Case in point: the gorgeous photo at the top of this blog! This is
Manuela Arbelaez
, one of the models on
The Price Is Right
, wearing her custom La Gartier garter while she is getting ready for her wedding! I mean, can someone say beautiful?!  Also, check out the photo below of T
he Bachelor's Nikki Ferrell
wearing her opalescent Athena garter as she sits pretty, preparing for her wedding ceremony!
4. The Garter Toss
If you want to do this, then do it. If you don't, then I don't care. Apologies if I sound crass here, it's just that this is an issue that has been plaguing the existence of wedding garters for year. From my perspective, the garter toss has roughly 10% bearing upon the value of a wedding garter overall, so I am not going to pay too much lip service to this one. The only thing I can say is this: if you decided to do the garter toss, please please please wear an incredible garter. That's all I ask. The best part? We have an entire collection of ultra-cute, bespoke wedding garters for you to choose from. Interested to find the garter that is right for you and your budget? Click
here
to access our shop. (Side note: the garter that you see in the photo above is called the Aurora. And yes-- that is Kandi Burruss from the Real Housewives of Atlanta.) 
5. The Wedding Garter Can Be Used As A Baby Headband After Your Wedding
In recent years, our clients have started to re-purpose their wedding garters as baby headbands. (Mic Drop) I mean, can someone say genius?! The photo above was featured by
People Magazine
after one of our past beloved clients,
Sabrina Bryan of The Cheetah Girls,
had a precious baby girl named Comillia Monroe. To this day, we treasure this photo. Truth fast: we have dozens and dozens of these photos from our clients that are equally heart-warming. I wish I could post all of them here, but I know you are eager to get to the fourth reason wedding garters are incredible beyond just the garter toss. Let's take a look at the next one below!
6. The Wedding Garter Is A Perfect Addition To Your Pre-Wedding Bridal Boudoir Shoot
Are you planning on doing a boudoir shoot before the wedding? Say yes say yes say yes. If so, you might consider wearing a garter along with your super sexy bridal boudoir ensemble. While it is a small detail, it is a powerful one. And if you are looking to blow your look out-of-the-water, I would strongly suggest NOT going without one. Need proof? Here are a few additional photos of our clients wearing their beloved La Gartier Garters during their pre-wedding boudoir shoots! 
I mean honestly-- could this boudoir outfit get any more HOT? And how perfect is her Marilyn garter with her lingerie?! This is why you want one. Forget about the garter toss. Who cares. Not me. 
Last one. Promise. This photo is one of my all-time favorites. Here, blogger
Harrison Sapp
wears our iconic Florentine garter along with a For Love And Lemons lingerie set that people search the world for on Poshmark. I repeat: there are so many other reasons you want a wedding garter beyond
JUST
the garter toss. I mean, how
sexy
is this photo?!
Ok, I think that is all for today's beauties! Hopefully this post will help you answer your question about the purpose of a wedding garter! If you still aren't convinced, then feel free to email us at hello@lagartier.com to get further advice and tips! If you are open to sending us a photo of your gown, we will be more than happy to come up with a few suggestions for you in regards to which garter best compliments your overall look! You can shop through what we currently have available by clicking
here
!