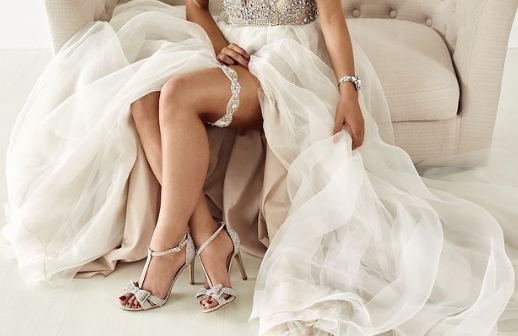 Yes! Wedding garters are still a thing! While most brides these days decide to skip the garter toss, tons of brides today are choosing to purchase a wedding garter for many reasons! In fact, if you have time, I'd love to show you FIVE reason you want a wedding garter beyond the garter toss! Let's take a look at them here:
1. The Wedding Garter is the Ultimate Heirloom Accessory
When it comes to accessories that you are going to cherish and potentially past down through generations, there is nothing so perfect as your wedding garter. Your veil is a close second, but the garter reins supreme. Tons of our brides purchase a garter from us with the intention of showcasing it for years to come in a glass box in their home, and then passing it down to their future daughter or loved one. And honestly- it makes perfect sense. Your garter (if they are ours) are a tiny, perfect expression of your personality and the essence of your wedding day style. The chances that it will fit a future loved one are high due to the fact that wedding garters are a one-size-fits-most accessory. When it comes to the question of tossing your garter or not tossing your garter, I am completely neutral. However, when it comes to the question of having a garter that you can have as a gorgeou
s heirloom that you can pass down through generations, I am a

 

passionate

 

YES GIRL.
phew! i'm saved! i e-mailed the bride blogger right away and offered to make her a wedding garter.
2. The Wedding Garter is a Must-Have For Your Getting Ready Photos
Ok, so have you ever seen a picture of a bride getting ready- wearing a gorgeous bridal robe with a garter? It's pure beauty. The addition of a wedding garter completely glamorizes your getting-ready-outfit! I know this for a fact because I have seen so many of our brides send us pictures after their wedding day. There is just something so Beyonce-worthy about a bride wearing her garter as she sits crossed legged, getting her make up done, her hair up in curlers or whatever it may be. I swear, it's almost like the garter makes our brides look more like a Victoria's Secret Angel as they get ready, even if the room is a total mess behind them. (Case in point: the gorgeous photo at the top of this blog! This is
Manuela Arbelaez
, one of the models on
The Price Is Right
, wearing her custom La Gartier garter while she is getting ready for her wedding! I mean, can someone say beautiful?!  Also, check out the photo below of T
he Bachelor's Nikki Ferrell
wearing her opalescent Athena garter as she sits pretty, preparing for her wedding ceremony!
Now just imagine what this would look like without a garter. Not as good, right? My point exactly. Ok, rant over. Let's look at my
favorite
reason you want a La Gartier garter beyond the purposes of
just
the garter toss....
3. The Wedding Garter Can Be Used As A Baby Headband After Your Wedding
In recent years, our clients have started to re-purpose their wedding garters as baby headbands. (Mic Drop) I mean, can someone say genius?! The photo above was featured by
People Magazine
after one of our past beloved clients,
Sabrina Bryan of The Cheetah Girls,
had a precious baby girl named Comillia Monroe. To this day, we treasure this photo. Truth fast: we have dozens and dozens of these photos from our clients that are equally heart-warming. I wish I could post all of them here, but I know you are eager to get to the fourth reason wedding garters are incredible beyond just the garter toss. Let's take a look at the next one below!
4. The Wedding Garter Is A Perfect Addition To Your Pre-Wedding Bridal Boudoir Shoot
Are you planning on doing a boudoir shoot before the wedding? Say yes say yes say yes. If so, you might consider wearing a garter along with your super sexy bridal boudoir ensemble. While it is a small detail, it is a powerful one. And if you are looking to blow your look out-of-the-water, I would strongly suggest NOT going without one. Need proof? Here are a few additional photos of our clients wearing their beloved La Gartier Garters during their pre-wedding boudoir shoots! 
I mean honestly-- could this boudoir outfit get any more HOT? And how perfect is her Marilyn garter with her lingerie?! This is why you want one. Forget about the garter toss. Who cares. Not me. 
Last one. Promise. This photo is one of my all-time favorites. Here, blogger
Harrison Sapp
wears our iconic Florentine garter along with a For Love And Lemons lingerie set that people search the world for on Poshmark. I repeat: there are so many other reasons you want a wedding garter beyond
JUST
the garter toss. I mean, how
sexy
is this photo?!
Not planning on doing a boudoir shoot? No problem. We still have one more reason you want a wedding garter for your big day! Keep scrolling below...
5. The Wedding Garter Will Make Your Wedding Details Photos Look Even Better
This one is huge. This one is big. When it comes to those special little flat-lays that include your shoes, your rings, your earrings, and perhaps your invitations, you
don't want to
miss out on the inclusion of your garter. Instead of talking you into it verbally, I am going to
show you
why garters make such an excellent addition to any and all wedding details photos. Are you ready for this?! Keep scrolling down. 
Exhibit A: a pair of our bride's Jimmy Choo heels with her Athena garter. <Mic Drop>
Exhibit B: Our beloved Vienna garter alongside the prettiest pair of Bella Belle flats you have ever seen, as well as a vow book and a vintage wedding ring placed in one of those irresistible velvet ring boxes. 
Exhibit C: our Glass Slipper Garter alongside the Ariel Opal Toss Garter shine even brighter when placed alongside the bride's signature wedding nail polish, her ring, her Untamed Petals earrings and her Bella Belle Shoes. I mean, whoa. Just whoa. The beauty here is undeniable. 
So, if you decide that you hate the garter toss, then I understand. I do. But please don't give up on the idea of the wedding garter altogether. If there is one thing that I can tell you for sure, it's that there are so many other fantastic reasons to have one other than the little garter removal tradition that it has so wrenchingly become known for. And would you believe me if I told you that there are even more reasons than just the one listed above? It's true. If you need more convincing, then we are here for it. Simply email us at hello@lagartier.com and we'll be happy to give you an ear full. Until then, I hope that this helps you make your decision. Love you. Mean it.