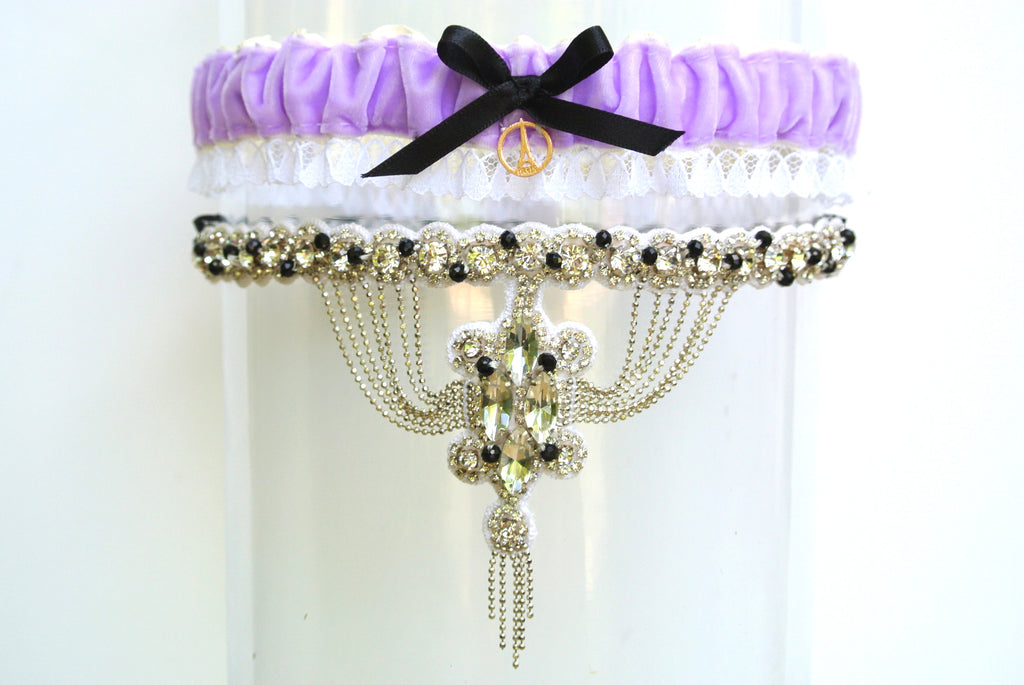 Just finished: La Gartier bride Alicia Relvas's custom electric violet & black crystalline wedding garter set. Alicia's original request was to have a garter that incorporated the color black while remaining classic but edgy. When Alicia told me that her style icons were Gwen Stefani and Audrey Hepburn, my heart broke into a million little inspired pieces and I just knew that her garter needed to come to life. Because her colors were lavender and grey, we created an electric violet velvet toss garter reminiscent of Gwen Stefani's L.A.M.B. line. Then, because her fiancé proposed to her at the base of the Eifel Tower, we decided to include one single "Paris" Eifel Tower pendant underneath the bow as her statement pendant. My favorite part?? When Alicia asked me to bring the color black into her garter, we decided to do it by way of tiny black sparkling beads along the midline of her garter, which lent a dramatic, edgy look to her design....and that matched her personality oh-so perfectly!!
Alicia, creating this set with you was such so much fun!! It's not everyday that I get to work with a bride who loves black (or electric violet for that matter) so working on this set with you was so refreshing!!!! If Gwen Stefani and Audrey Hepburn had a baby, and if that baby was a girl, and if she decided to wear a garter when she got married, then I'm pretty sure that the garter we created would be it. Wait, hang on, is that you??? 
The Eifel Tower pendant at the center of Alicia's toss garter was a gem that symblizes where her fiance proposed to her : at the base of the Eifel tower!!! Isn't this charm dreamy?! We found it in a shop on Etsy called Rudiana that I adore!
Another gorgeous photo of Alicia's "Paris" pendant in rose gold.
We even created a third toss garter for her so that she did not have to throw her beautiful Paris-charmed garter. 
At the center of the bow, Alicia and I decided to place one single greenish-blue heart embellishment for a fun and playful "something blue"