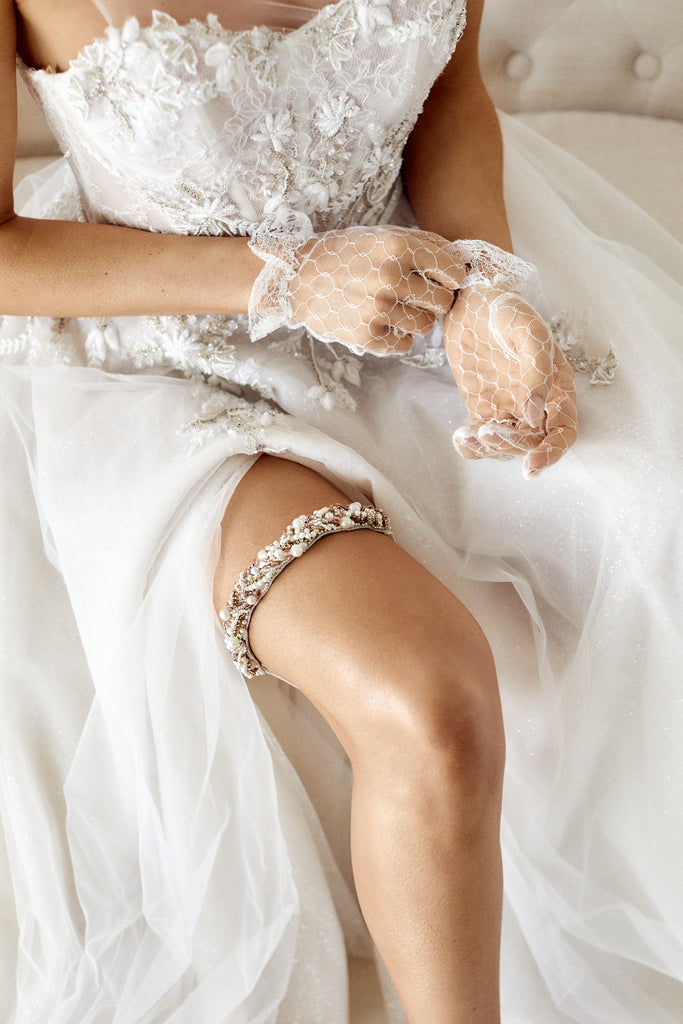 When it comes to wedding traditions you can pick and choose those that mean the most to you – many couples no longer want to wait for the ceremony to see their beloved so choose to have a 'first look', nor does every bride wish to toss her beautiful bouquet. And the same with the classic garter! Some see it as an antiquated tradition with no place in modern weddings, whilst others see it as an accessory that can be saved, cherished, and passed down through generations. (While also getting a few ultra-gorgeous photos on their wedding day!)
If you're not so sure whether to garter or not to garter, read on to learn the history behind the tradition and to see 5 gorgeous garters from our collection that may just help you decide!
I am not even going to lie to you all. I am not a huge fan of the garter toss myself. However, I am a huge fan of wearing gorgeous accessories who express who I am as a person.
....And when it comes to your wedding day, you deserve nothing but the BEST. The garter that you see above is called
The Galia
...and it is a design that would
be perfect
if you are looking to pass an heirloom bridal item down to your daughter one day. Beyond just that, it makes for unbelievably gorgeous getting ready photos (think you. your bridal robe. your garter. BOOM.) 
Click the photo above to see more of this incredible wedding garter full of what I like to call heirloom integrity.
Slim and floral-centered, our Daphne garter is a radical departure from what you usually think of when you think of a wedding garter. The best part? There are tiny swarovski crystals nestled in between the tiny white flowers on this garter, making for just the right touch of sparkle. Click on the photo above to see more of our brand new
Daphne garter
!
To me, the garter toss tradition pales in comparison to getting photos like these. And do you know what is SO WONDERFUL? You have the opportunity to use your garter for photographs on so many different occasions! Here are just a few, simply because I love proving a good point:
~your pre-wedding boudoir shoot
~your getting ready pictures on the day-of
~your bachelorette party night
~your rehearsal dinner outfit (if you wear a dress with a slit!)
~your wedding night (but promise us that you will wear all white/ivory lingerie. Make is sexy. But make it bridal.)
~Your first anniversary (preferably at night, once you get home.)
~Valentine's Day
One of my favorite features of the wedding garter is that it is the only accessory that you will wear on your wedding day that goes underneath your gown. This means that you can really have fun with it. It is THE accessory that can personify WHO you are as a person, without worrying about whether or not it perfectly compliments everything else within your wedding day look (from the outside!)
Above is a perfect example of a garter that has a TON of personality. It is called the Oh-So-L.A. garter and it is truly unlike anything on the planet. The only thing we ask is that you keep it and pass it on to your daughter one day.