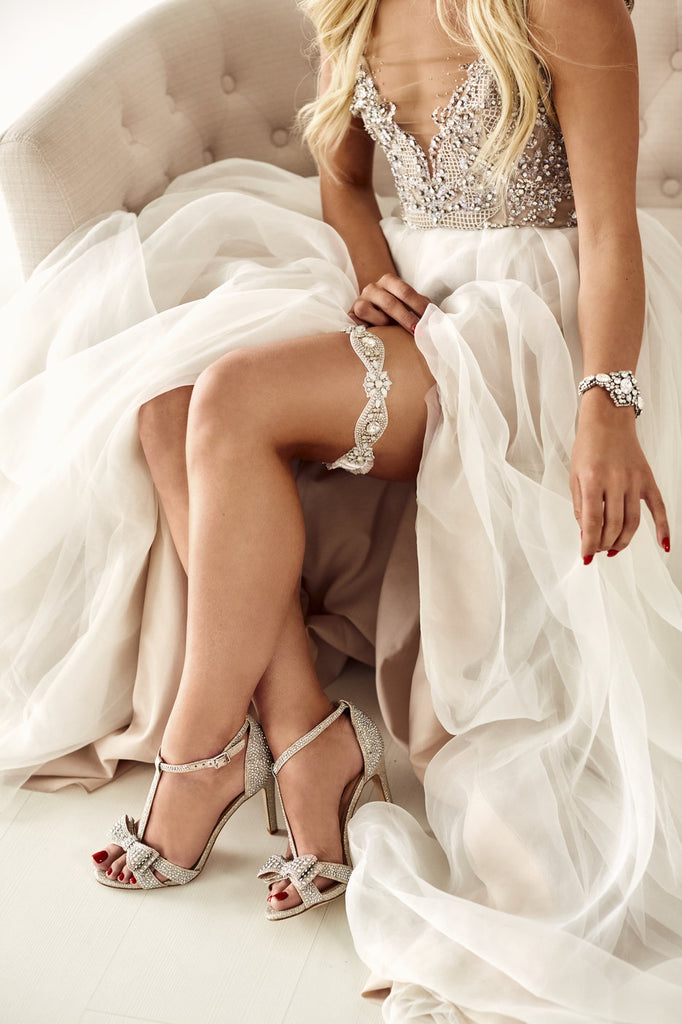 I am not going to lie.
For the bride who loves sparkle, there is no other company like La Gartier. We basically worship sparkle around here and have subsequently built an entire brand around it. Seriously. You should see our studio. When you walk inside, everything glitters from the ceiling to the floor...and when golden hour sets in, it is everything we can do to not simply drop whatever project we are working on and start taking videos of JUST.EVERYTHING. 
If you are a bride-to-be who is looking for an ultra-special, sparkling wedding garter made using swarovski crystals, then you have come to the right place.
Keep scrolling to catch a glimpse of our top five most popular wedding garters made with swarovski crystals!
Created using swarovski crystals and a semi-transparent illusion midline, this garter features jewels set in a symbolic floral pattern along the bottom and top perimeter, making for a stunning organic shape. The back half of this garter is made of a soft light elastic with a ruffled organza overlay. If you look closely at the illusion midline of the garter, you will see a honeycomb crosshatched pattern, specifically made to mimic the iconic design elements found within the gown of 
Galia Lahav
 and 
Berta.
 💗✨ Click the photo above to see more of this beautiful design!
This garter MADE US what we are. If you are a bride-to-be who is known for her glamour, her unique style and her originality...then look no farther. This is the garter for YOU. Always first to the trend, this bride is someone who consistently catches others off guard with her fresh, cutting-edge sense of fashion. 🧵  In short, she does not wait for others to go first before trying something new. If you are a bride who wants nothing less than the best for your wedding day, then this garter belongs to you. ✨  It would also work extremely well for a bride who is wearing a form-fitting gown (ie: mermaid or trumpet) due to the fact that it lies very flat against the leg. This design has been worn by many high-profile brides, including model/actress 
Katherine Webb
 and The Bachelor's 
Nikki Ferrell
. 🌹
Created as a sister garter to our ever beloved Vienna, the Athena garter features both clear swarovski crystals AND opal stones to create just a touch of something blue. Click on the photo above to see ALL THE ANGLES. 
The Glass Slipper garter was designed for the bride who absolutely adores Cinderella. 🏰
Every detail of this garter was inspired by the bride who adores animals and is well-known for her compassionate nature. More likely than not, this bride is not a very loud person. In fact, she might be one of the quietest people at a party, but she is known for carrying herself with a grace that is unparalleled. 💅🏻  Anyone who knows this bride is well aware of the fact that she believes deeply in acts of service, whether it be volunteering to help abandoned animals or assisting the elderly who have become too old to be able to care for themselves anymore. 💗 🧵
The Ever After Garter was created for the bride who believes in happily ever after. Known for her undying belief in true love, this bride is the type of girl who has refused to let past experiences shut down her sparkle or stop her belief in living with an open heart & an undying romantic outlook on life. No matter what circumstances have been thrown her way, she has remained hopeful that she will one day meet her soulmate. (ie: prince charming.) 👑