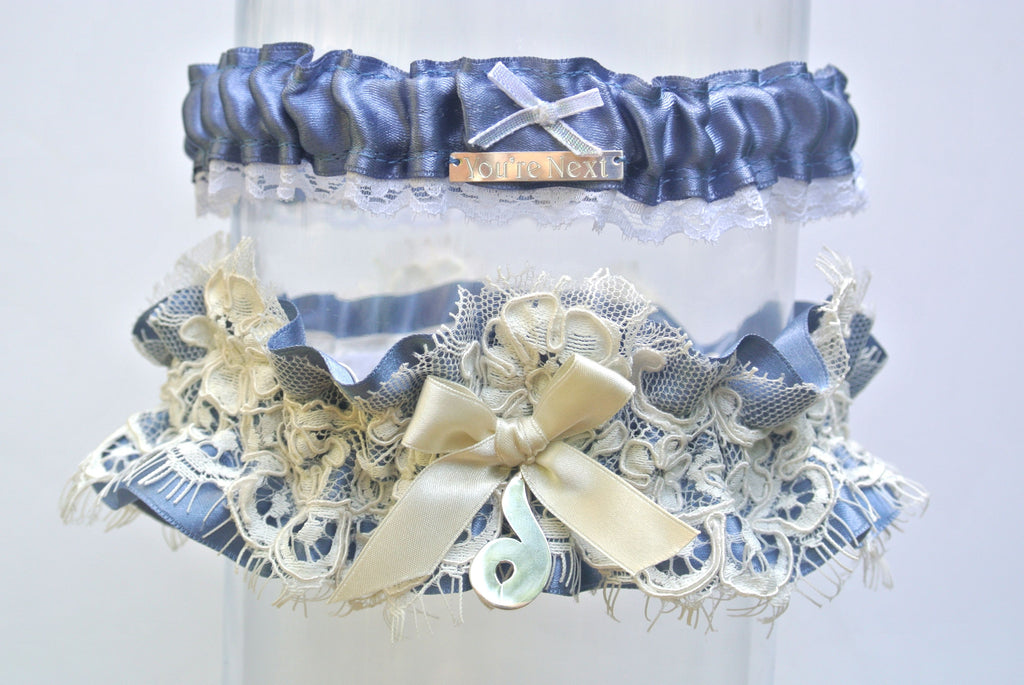 Not all garters are created equal. I realize that, as the spokeswoman for my own business, I should tell you that everyone of our designs are equally beautiful. However, this just isn't true. There are certain wedding garter designs (especially personalized garter designs!) that knock it so far out of the park, that I just can't help but brag about them. One of these designs came last month, when I created La Gartier bride Kama Holtzman's wedding garter set. Kama first contacted me with the hope that I could create a french lace and blue satin garter with heirloom potential for her February 2018 wedding, however once we got started on her design, it took on a life of its own and bloomed into an design worthy of the word MASTERPIECE. Below are photos of all three of Kama's garters: one to keep, one to pass down and one to throw. Underneath each photo is a little bit of written information about each garter, so make sure to read those little babies too!! (And keep in mind that if you are interested in a personalized garter of your own, then we would LOVE to work with you!! Simply email info@lagartier.com or use the contact form by clicking here.) 
Kama's garter were made using the prettiest cornflower blue satin as the base. For her keepsake, we decided to "overlay" this satin with an exquisite (and expensive) ivory french lace. Why? Because nothing says heirloom quite like imported french lace. (To me anyway. But Kama agrees, so that makes two.)
Kama's toss garter might just be the cutest toss garter in the history of man. At the center, just under the bow, is a tiny engraved bar pendant that says "You're Next." That way, when one of the single men at Kama's wedding catches the garter, they will have no doubts regarding its significance. When Kama suggested that we include the "You're Next" saying, my jaw almost hit the floor. If there were such a thing as a "cute idea trophy," then I would award one to Kama with ACDC playing.
On the inside of Kama's keepsake garter, we included her wedding date PLUS her & her fiance's initials. When I think of Kama passing this garter down to her daughter someday, I tear up at the idea that Kama's "something blue" will someday be her daughter's "something blue" (cue the tears)
Kama's original toss garter (which she will never actually toss) was a custom version of our blue pearl garter. But take a look at what we added along the back to personalized it! 
Isn't it amazing? Along the back of Kama's blue pearl toss garter, we included her wedding hashtag #kamjam2018!! Honestly, how did we live before the perfect adorableness of wedding hashtags?! 
Another, close up photo of the wedding hashtag embroidery detail along the back of Kama's blue pearl garter. I can't think of a more modern and sweet personalized detail than the inclusion of her wedding hashtag! Don't you agree?
Kama, I can't wait to see photos of your gorgeous garters with your unbelievably beautiful wedding gown on your wedding day! (Don't worry, my lips are sealed!) Creating this personalized wedding garter set for you has been nothing short of a dream! 
SIDE NOTE: if you love these photos as much as we do and would like to speak with someone about having a custom garter made for yourself or someone whom you love, then please feel free to contact us via email at info@lagartier.com OR you can use the contact form by clicking here. Happy La Gartier everyone!