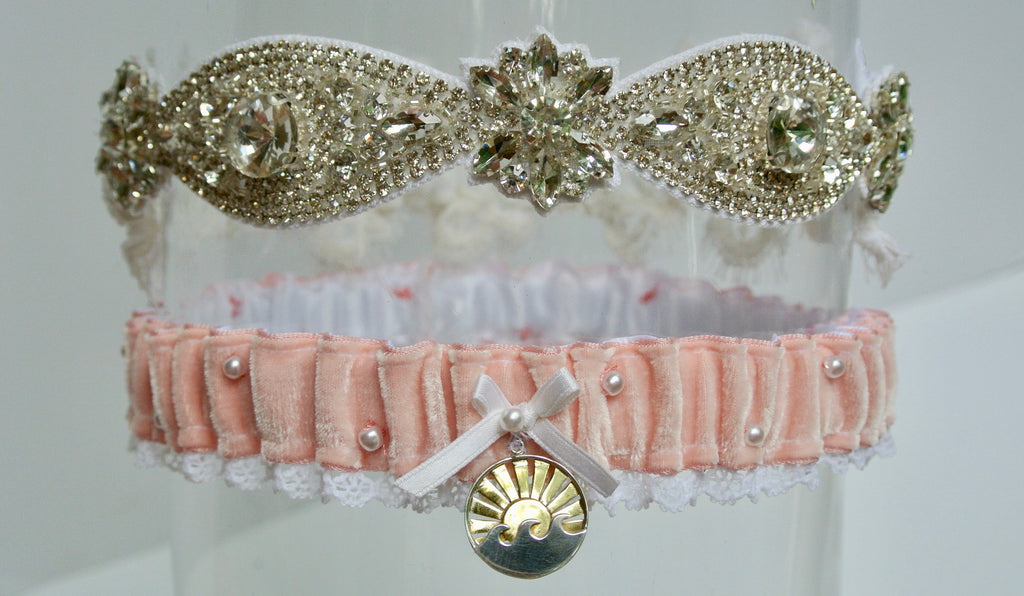 Don't tell anyone, but we haven't blogged about our custom garter designs in almost a year. I am so embarrassed. 2021 was such a busy year for us, that we hardly had any time to sit down and write about our favorite custom designs that we produced between the months of January to December. However, today is a gorgeous (albeit cold) January day in 2022, and I figure it's better late than never. 
Last January, we had the pleasure of meeting a bride named Allie Mallon, who asked us to create a garter for her using her mother's dress material. (Fun fact: her mother actually wanted her to wear her vintage dress on her
wedding day, but Allie wasn't so hot on that idea. Instead, she compromised with her mother and told her that she would incorporate the lace from her gown into her wedding garter...and hire us to do it.)
Interested to see what her mom's gown looked like? See the photo below to see Allie and her mother together. On the left is Allie wearing her mom's 1980s wedding gown. 
After an initial phone consultation, Allie was fast to ship us an entire box of fabric from her mother's wedding gown, which she expertly extracted herself! We then set to work transforming the lace from her mom's gown (as well as a little baggie of pearl embellishments) into a wedding garter set. Interested to see how beautifully it came out? Keep scrolling down!
Do you see all of those tiny ivory pearls scattered across her toss garter? These pearls were taken from her mom's dress and carefully hand-sewn onto her toss garter. The sunset charm at the center was included to symbolize Allie's favorite relationship past time: watching the sunset with her fiance. 
A side view of Allie's custom wedding garters. Here, you can see the vintage heirloom lace from her mother's gown that we used to create the back band for her keepsake garter. There is just something about high-end lace, isn't there? It lends the whole design an element of expensiveness that you just can't get with lower-end laces. 
Interested to see more photos of her incredible heirloom custom garter set? Keep scrolling down!
Allie's custom wedding garters inside of our signature La Gartier box. 
I adore how you can see the lace taken from her mother's gown peaking out just so in this photo!
A close up view of Allie's sunset charm, added to symbolize the number one activity that she and her soon-to-be-hubby love to do together: watch sunsets. Also, how darling are those little tiny ivory pearls taken from her mom's dress??
This wedding garter set was so fun to make for Allie. Sometimes, it blows my mind to be trusted with such love-filled, precious materials like her mom's dress. Dear Allie, from me to you: thank you for trusting us with such a monumental project. I will literally never forget the romance of this project. 
Are you someone who is interested in having a custom garter made for yourself or someone you love? Then we would love to hear from you! Click here to view our current customization availability (we schedule them out on a monthly basis) and send us a message!