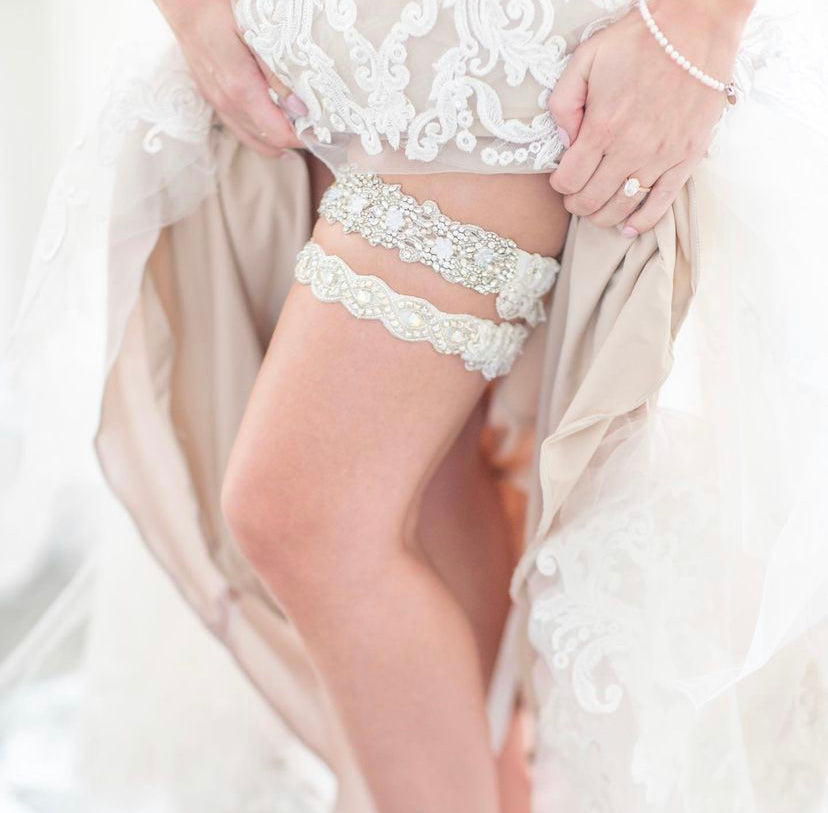 What happens when you take a professional Major League Baseball glove and combine it with your mother's wedding dress and then turn it into a wedding garter? Magic. That's what happens. This is precisely what we did last year when Misty Green (then Goff) contacted us regarding creating a custom garter set for her wedding. Originally, Misty only wanted to send us lace from her mother's wedding dress, however after our initial phone consultation, we decided that it would be so special to include something from her hubby's baseball uniform. When they first met, he was playing professionally and they had to stay apart for quite awhile due to all kinds of circustances in their relationship. After talking to Misty for over an hour, we both decided that we should include something from his baseball glove to symbolize not only his number #1 life passion (baseball) but also the beginning of their relationship story. 
Oh my lord in heaven I will never forget when Misty's package arrived at our studio. She had gone to great lengths to cut a strip of leather from his glove herself, so the tiny leather patch that says "Greenie" was already perfectly small and easy to work with. As before-mentioned, she also sent me lace from her mother's wedding dress. I was floored immediately. I just knew that this project was going to be special and IT WAS. Keep scrolling down to see pictures of the final product!
Misty and I decided to use the little "Greenie" patch from her now-hubby's baseball glove on the back side of her garters! In addition, we used a tiny, authentic MLB patch on her second garter to further emphasize the significance of baseball in their relationship. Do you see all of those sparkling rhinestones around the perimeter of the MLB patch? Those were hand-placed by us in our Atlanta, Georgia studio for extra sparkle!
The front side of her garter set was all about sparkle, femininity and iridescence!
Here is an up-close photo of the details on Misty's primary keepsake garter? All of the tiny ivory pearls were hand-sewed by us. They are heirloom pearls that encapsulate a TON of meaning within her family! Eeep! I tear up when I look over these photos! The memories of creating this garter set are so special to me!
My favorite part? We decided to include the tag from Misty's mother's gown on the inside of her garter! I am obsessed with vintage labels and love how this little detail is hidden on the inside for Misty's eyes only!
The lace and tiny flowers that line the back side of Misty's garters were taken from her mom's dress, with a special cameo from her grandmother's wedding. At the center, we carefully sewed Grant's MLB patch using leather working tools.
Last, but not least, we decided to make one additional garter for Misty. That way, she could use it for tossing...thereby allowing her to be able to keep and cherish her two primary garters for years to come. 
This photo was taken on Misty's wedding day. Can you believe how beautiful they look on her leg? I have a feeling I will never delete this photo from our business photo library. Like ever.
One more photo of Misty wearing her garters! This time, the photo is from the back side, which perfectly showcases the two MLB patches that we included! 
One last photo! Promise! This is Misty glowing on her wedding day. I can barely take my eyes off of the train on her gown. 
This epic bride and this even more epic project was so fun to make!! Dear Misty, from me to you: thank you for trusting La Gartier with such a monumental project. I will literally never forget the romance that we brought to life! 
Are you someone who is interested in having a custom garter made for yourself or someone you love? Then we would love to hear from you! Click here to view our current customization availability! Currently, as of 1/17/22, we are booked out until March of 2022 for customizations but we have one spot still available in April and two spots in May. 
Please feel free to reach out via the contact from here or send us an email at hello@lagartier to inquire about pricing!