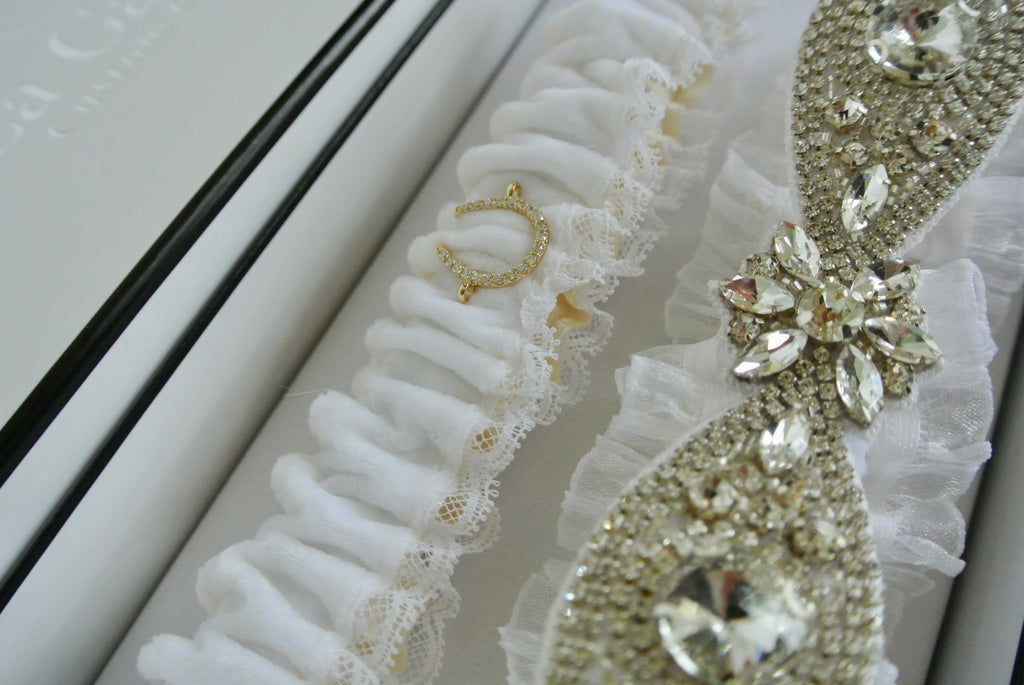 In the world of custom wedding garters, this project was a mega-home-run. Not only did this bride send me fabric from her grandmother's veil but she also sent me lace from her mother's wedding gown to be transformed into a custom wedding garter set. We even made a set of bridal hankies for her that were truly magical. Keep scrolling to see the final product!
When La Gartier bride Alexa Radis first reached out to us in 2019, she told us that she only wanted one thing: to have her grandmother's veil fabric and her mother's dress fabric blended together into one incredible wedding garter set. I was so thrilled that she had reached out, because I learned that she was coming to Atlanta shortly thereafter, which meant that I could meet her in person to pick up her precious heirloom fabric materials! After our initial phone consultation, I learned that she was from a huge horse-loving family, so we decided to incorporate a special gold + diamond studded horse shoe pendant that she had been given as a young girl. Keep scrolling down to watch the magic get bigger and bigger! 
The back band of her keepsake garter was made using fabric from her mother's wedding gown. Do you see the slightly aging lace off to the left? This was taken from her mom's wedding gown and lovingly sewn into an elasticized back band for her sparkling Vienna garter. 
We also created a set of unbelievable heirloom hankies for Alexis. The one you see here incorporated lace from her grandmother's veil as well as tiny pearls taken from her mom's love-infused wedding gown. 
Even now, as I write this, I still can't believe how beautifully everything came out. The best part? Alexis was engaged to a man whose family also loved horses, so the tiny gold horseshoe pendant was doubly meaningful. 
Alexis's garters were deeply meaningful because they represented three generations of women in her family: her grandmother, her mother, and then Alexis herself. I almost faint when I think of how much of an honor it is to be trusted with such love-filled materials. A project of this kind can be described as nothing less than "love craft."
Then, to top things off, Alexis and I decided to make a ring bearer pillow at the last minute. I mean, we still had so much material left over from her mother's gown that it would have been a shame not to use it. This ring bearer pillow stands to be one of my favorites that we have ever made. The lace that you see covering the base of the pillow was taken from her mother's gown, but do you see those ties at the center? Those are literally the straps from her grandmother's wedding gown. I die. Seriously...so much love in one tiny pillow! 
This colossal wedding garter set + ring bearer pillow + hankie set project was so fun to make for Alexis. I know I have said it before, but to be trusted with fabric that is so incredibly significant to two generations of her family is about as touching as it gets. Dear Alexis, from me to you: thank you for trusting La Gartier with such a monumental project. I will literally never forget the romance of this project. 
Are you someone who is interested in having a custom garter made for yourself or someone you love? Then we would love to hear from you! Click here to view our current customization availability! Currently, as of 1/17/22, we are booked out until March of 2022 for customizations but we have one spot still available in April and two spots in May. 
Please feel free to reach out via the contact from here or send us an email at hello@lagartier to inquire about pricing.