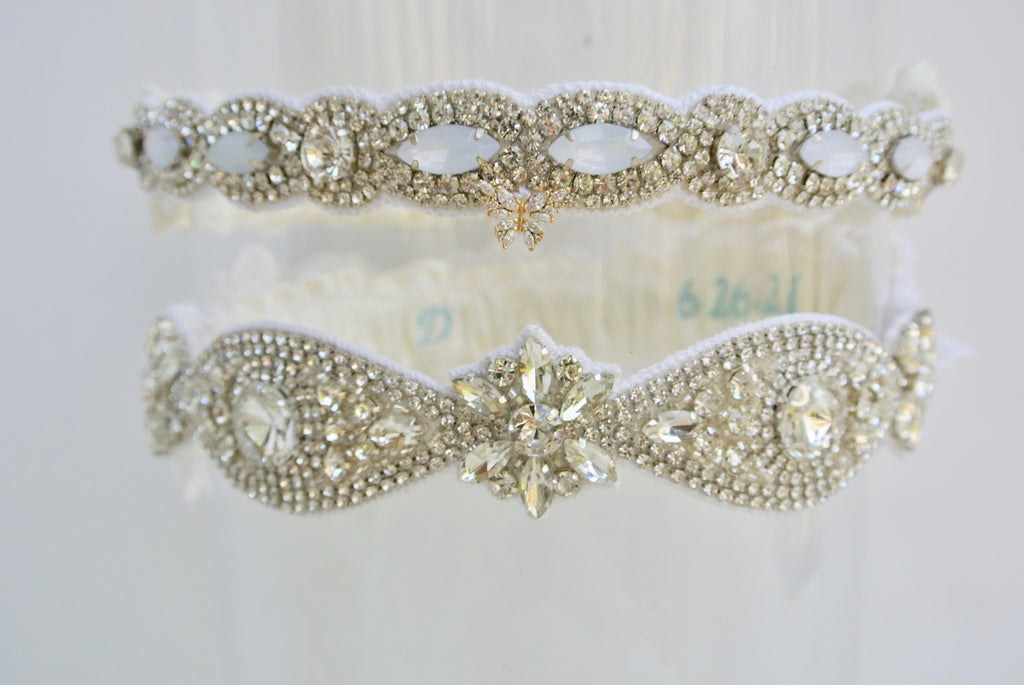 This incredible wedding garter set was made using the bride's mother's wedding gown
as well as
her grandmother's wedding gown. When Tasha Tagliani first contacted us, I was floored for two reasons: one, her request was just the sort of thing that we love doing and two, because she was an editor for Rocky Mountain Bride Magazine. I had long been a huge fan of
Rocky Mountain Bride Magazine
, so I welcomed this project with joy. After an initial phone consultation that went well over an hour, Tasha decided to ship us two very special gowns in order to have us transform them into her wedding garter set. You MUST SEE the creation video!!
Click
here
to watch just a few glimpses of the creation process! 
To see the final photos and to read more about the special details that make this custom garter set absolutely incredible, keep scrolling below! 
Tasha married the love of her life, Kaelan Davis, on June 26th, 2020 at The Tenth in Vail, Colorado. To say that her wedding was classy would be a total understatement. Here, above, you can see what Tasha's wedding garters look like from the front. We decided to use the
Vienna garter
as her keepsake and the
Hayley garter
as her second design, but then customize them by adding her mother's dress fabric and her grandmother's dress fabric. Keep scrolling to see the special custom detailing!
The back band of Tasha's knock-out keepsake garter was made using the lace from her mother's dress. Specifically, what you are seeing here is the lace that was once apart of the sleeve of her mother's gown. My favorite part is all of the little ivory pearls that you see all over the lace. These are 100% heirloom and 100% deeply meaningful.
If you look closely, you will see a dainty 14K gold butterfly pendant at the center of her
Hayley garter.
We decided to include this because butterflies are extremely special to Tasha and her mother. In fact, we also included a butterfly motif on all of Tasha's custom hankies, which we will show off in just a moment!
To take the heirloom-integrity of this set from a ten to a solid fifteen, we also decided to add her wedding date and the first letter of her new last name (D for Davis) onto the inside of her garter in tiffany blue! Isn't that just the prettiest "something blue" detail that you have ever seen?!
An up close look at the heirloom lace taken from Tasha's mother's wedding dress and the pearls from her grandmother's wedding dress. I die.
This photo of Tasha's wedding garters inside of our signature La Gartier box gets me every single time. I just love how our packaging adds that finishing touch to the entire set!
The one and only Tasha Tagliani Davis on her wedding day! 
June 26th, 2020
Vail, Colorado
But wait-- look how utterly classy her veil was! *swooning*
Above is a photo of just one of the custom wedding hankies that we made for Tasha. The base was made using her grandmother's dress fabric and the lace edging that you see was taken from her mother's wedding gown! We than embroidered an intricate blue butterfly onto each one. I still freeze when I look at these. They were so precious and they made for the best gifts for her family! 
My favorite photo is this one! Tasha's photographer managed to capture the moment when she gave her father his special La Gartier custom handkerchief. It is moments like these that keep us going! 
This photo was the very first photo that Tasha sent us after the wedding. I actually started crying. It was such an honor to know
 that

 

that

 

is how much she loved her wedding garters as well as her custom hankie set!
Dear Tasha, if you are reading this: it has been such a pleasure to work with you. In addition, thank you so much for including La Gartier in some of Rocky Mountain Bride's blog posts and magazine features. It was such a blast to make these for you. As I look back over everything we created, it is really realize just how much magic we created in such a short time span! Thank you for trusting us to create so much meaning for your wedding day. 
Are you someone who is interested in having a custom garter made for yourself or someone you love? Then we would love to hear from you! Click here to view our current customization availability! Currently, as of 1/17/22, we are booked out until March of 2022 for customizations but we have one spot still available in April and two spots in May. 
Please feel free to reach out via the contact from here or send us an email at hello@lagartier to inquire about pricing!