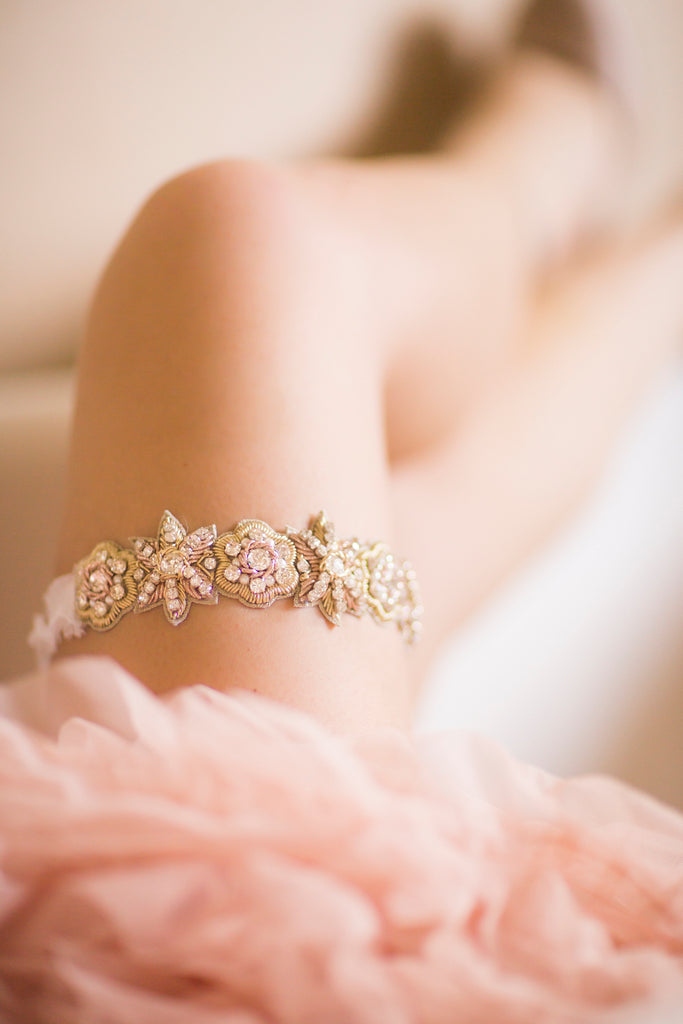 When it comes to gold wedding garter designs, no one does it better than La Gartier Wedding Garters. No, seriously, we have five of them! From the vintage gold look, to the rose gold hue, all the way urban gold, I can honestly say we have the BEST on the market. 
 When we started designing wedding garters in 2011, we were definitely thinking more about sparkle, sparkle, sparkle..however in recent years, we have grown to incorporate more gold into our designs than anything other color other than opal blue. And honestly--- I am so happy we did. I personally love the warm, romantic aesthtic of gold. I always have but, coincidentally, it is trending right now in a BIG way. If you are a bride who is incorporating gold into her wedding day in any capacity, then we have the most perfect blog post for you! 
Below are a FIVE of our most popular gold wedding garter designs! Which one says YOU the most?
1. The Florentine Garter
Mixing both gold and rose gold, this garter was brought to life in 2015, just around the time when rose gold started to make its dramatic entrance into the world of weddings. At this point in bridal history, I was absolutely obsessed with the idea of gold in weddings. Little did I know that the trend would only grow and grow and grow. When the Florentine was born, we knew that we wanted a super glamorous, sparkly design that had a unique silhouette.  When she was finished, I was in awe. For years, she was the only gold garter in our collection. Over the past two years, we have added four additional gold designs, but this one will always remain the garter that is nearest & dearest to our company heart. Not your style? No problem! We have more for you to see! Keep scrolling below!
2. The Lori Garter
The Lori garter has been in our collection for over five years and we are OBSESSED with her!!!  Why? Because not only does it include gold, but it also includes pearls & sparkle! In addition, this gorgeous vintage-feeling-garter lies super flat-to-the-leg, making for a perfect choice if you are wearing a gown that has a skirt that is form-fitting like a mermaid or a trumpet. Love what you are hearing? 
Click here to see more of the Lori and make it yours like yesterday. Not your style? Then get ready. We have more incredible, designer options below! 
3. The Oh-So L.A. Wedding Garter 
Full disclosure: the Oh-So L.A. garter is a limited-edition garter. So, it won't be available for long. If you are reading this blog in, say 2023 or 2024, then this completely original design is most likely no longer available. However, for now, we have it! Eeep!
Created using a jaw-dropping 12mm White Gold Flower Set Cuban Link chain, this garter was designed for the fashion-forward bride. Never afraid to take risks, this bride is very-well-known for being a trendsetter. ⛓ She adores all things edgy and original, whether it be in accessories, film, or music. 🎶  More likely than not, this bride adores the style of Hailey Bieber, Ariana Grande, Rihanna, and Gwen Stefani. Rule breaker? Check and check. 🖤
Click here to see more of her beauty.
Too urban for you? To L.A? Let's move onto the next gold wedding garter style! 
4. The Anastasia Wedding Garter 
This garter is made out of a stunning opalescent & rose gold centerpiece. One single round-cut clear swarovski crystal sparkles at the center, surrounded by marquis-shaped opal stones and clear porcelain beads. Nestled in between the opal stones and clear sparkling gems are tiny ivory pearls, all encased within alluring rose gold settings. To make this design even more special, we have added two aqua glass marble pearls to the left and right side of the design, making for four total pearls. The number four symbolizes love and stability, which is exactly what these four aqua glass pearls represent. 💓
The best part? The band for this garter is made of light ivory stretch elastic, making for a wedding garter design that sits flat-to-your-leg. Fun fact: each design is numbered on the inside via metallic rose gold embroidery thread. (One through fifteen. This is a limited-edition design. Available while supplies last.) 😬
Interested to see more of the Anastasia Garter? Click here to be directed to her listing in our shop! The only thing that we ask is that you tell everyone where you got it. 
5. The Coco Pearl Garter
When aiming to find the balance between classicism and romanticism, look no farther than the Coco Pearl garter. Set within a sparkling swarovski crystal front band, exactly 22 pearls gleam like eternal moons in an intentionally cluster-like, celestial pattern. 💫   The best part? The undertone of gold and blush pink will be sure to compliment any warm, romantic color pallet, making for an unparalleled match to your wedding day and your naturally romantic disposition. 🌹
We are obsessed with this garter, so we can't stop at just one photo! Here are a few more so you can really get an idea of what she looks like!
Ok, beauties! I think that just about does it for all of the gold wedding garters that we currently have in our collection! We hope that this blog post was helpful for you! 
Interested to see more unique wedding garters beyond just our gold styles? I am not even kidding you guys. We have the most artistic and rare wedding garters this side of the equator!  Click here to access our entire shop or email us at hello@lagartier.com so we can help you pick yours out!