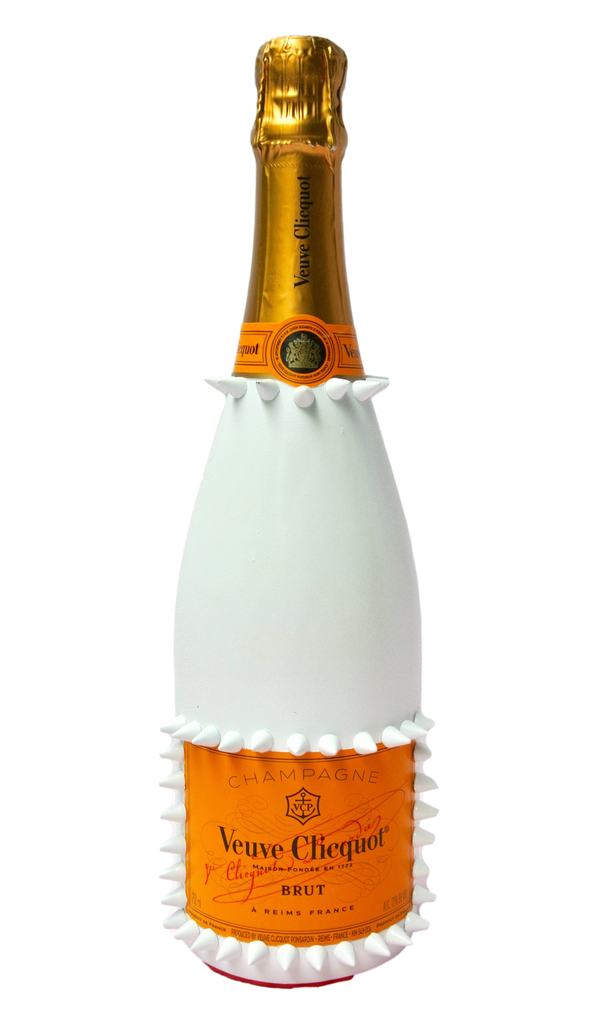 Every once and awhile, when we are not busy creating incredible custom wedding garters, we like to immerse ourselves in inspiring side projects. Recently, we created a stunning 
Veuve Clicquot
bottle inspired by Christian Louboutin's  iconic spikey
 Follies Pumps that, quite frankly, I have been obsessed with since they were released five years ago! If you follow us on instagram regularly, then you'll know that we created this exact bottle design in matte black last year, but due to the fact that we live and breathe the world of weddings, I couldn't help but re-create it in white. White is, after all, the spirit-animal color of weddings, so I just knew that this custom bottle design
 

needed to come to life
!
Interested to see the creation process? Click 
here
 to watch how we made this bottle over the course of seven days!
The inspiration: Christian Louboutin's iconic 
Pigalle pumps in white. 
First, over seventy spikes were painted white and then individually adhered around the signature yellow Veuve label.
The bottom was hand painted red because, well, RED BOTTOMS.
A view from the top of this gorgeous custom bottle. I can't stop staring at it. I am so in LOVE.
Now the only question is: do we replicate this bottle in the multi-color spikes? Say yes. Say yes. Say yes. Say yes.