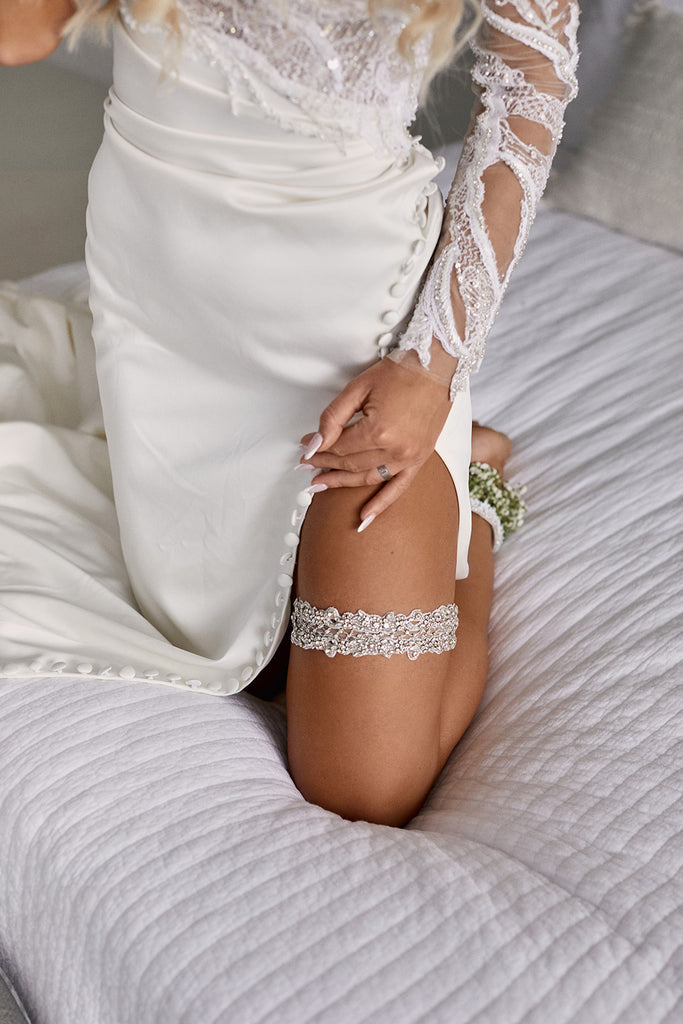 I know what you are thinking. How could a wedding garter possibly be considered designer?! But that is exactly why we started our company ten years ago. We saw the common wedding garter that you've seen at, say, Hobby Lobby or Micheal's and instantly wanted to give what is commonly known as a cheap, insignificant accessory a major facelift. Today, we are honored and proud to say that we are known for making the prettiest wedding garters in the world. (something Queen B. or Hailey Bieber would approve of.) 
Below are a few of our all-time favorites! 
Arguably one of our best-selling designs, the Athena garter sparkles in opal stones and clear, brilliant swarovski crystal stones. The best part? It lies super flat-against your leg, ensuring that there will be no interruption of pure seamlessness under the skirt of your gown. 
Looking for something a little slimmer? Our ivory pearl garter is the perfect choice for the bride who believes less is more. (And if you are a big PEARL lover like we are, then it is even MORE perfect!)
Get ready for some BIG bridal energy. If you are the type of bride who enjoys making an ultra-glamourous statement, then you MUST see our Aurora garter! Dripping in old Hollywood romance and extra sparkle, this garter is sure to catch side eyes in every room that you wear it!
Last, but not least, we MUST take time to introduce our brand new Daphne garter. This garter was inspired by The Secret Garden and features tiny white flowers from beginning to end. The best part? Nestled in between the tiny flowers are itty bitty swarovski crystals, lending just a touch of sparkle. Ultra glamorous garden party vibes? Check and check.