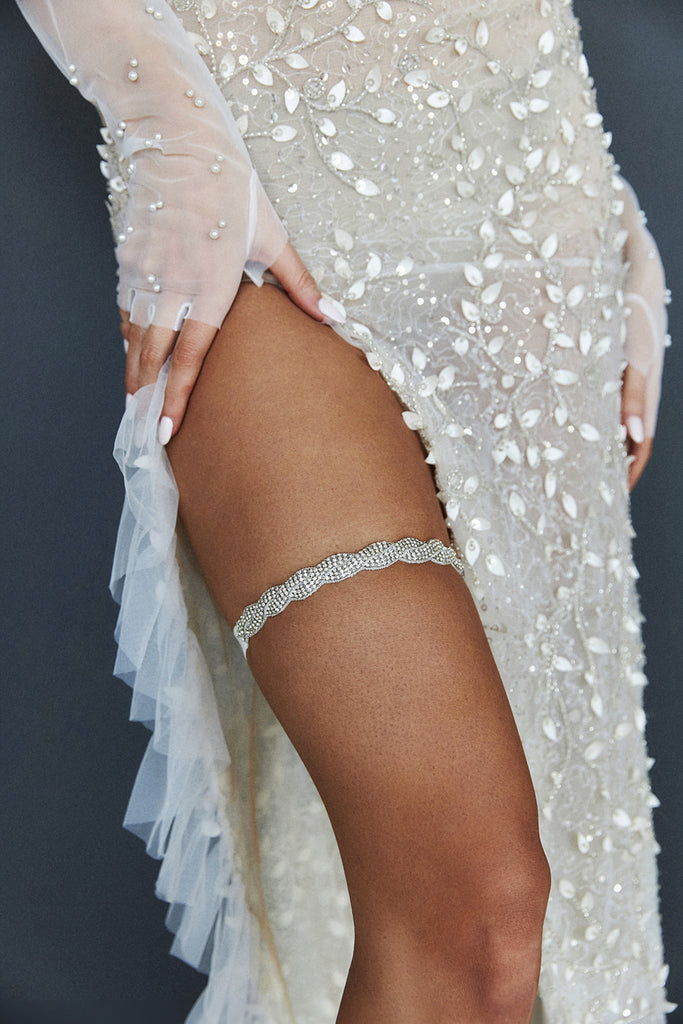 We've waited for years to introduce this gorgeous new garter to the collection. Why? We wanted it to be perfect! Ever since 2017, we have wanted to create a garter that encapsulates never-ending love - the type of love that never dies no matter what the circumstances. Today, we are thrilled to announce that she is finally here! Ladies and gentleman, may we present to you the
Infinity wedding garter! 
When aiming to find a truly unique, sparkling wedding garter design, look no farther than the Infinity garter. Set within a sparkling swarovski crystal front band, two separate bands intertwine together in a braid-like motif, creating a never-ending infinity silhouette. Each tiny rhinestone was set at a different angle on purpose, ensuring that each one will hit the light just right, creating  
max ten level
 sparkle from any angle.  ☪️ 
The best part? The Infinity garter is extremely slim and non-obstrusive, making it the perfect garter choice if you are looking for something subtle and dainty. ✨
Other details to note: this garter is extremely light-weight. We created it this way on purpose so as to ensure that you will not feel it at all as you walk with love and pride.  
As her name suggests, the Infinity garter was made for the bride who believes that her love is limitless. To be specific, she was created for the bride who believes that the love she shares with her partner is never-ending, not just in its size but also in it's life span. Fun fact: the two separate braids of sparkle represent two separate people (you + your loved one) coming together and becoming one complete entity. As you can see in the photos above, the top braided piece supports the bottom one, and the bottom one supports the top one. Without support from either of these two separate entities, the design couldn't viably exist.  Suffice to say, this garter belongs to the bride who passionately believes in the life blood of her relationship as a two-way street. 
Isn't she just so perfect? We are unbelievably excited to introduce this garter into our collection and cannot wait to see who claims her as their own! To learn more about this design, please click here to go to the Infinity listing in our shop! Questions? Comments? Please feel free to email us at hello@lagartier.com!