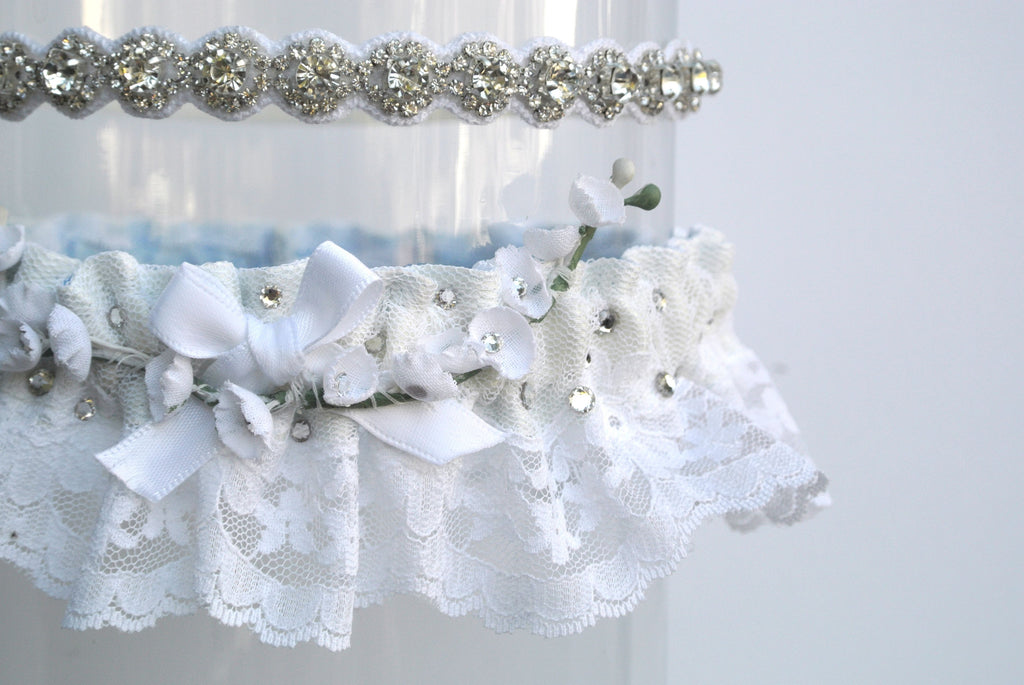 Last week, one of our past clients Madison McCoy wrote the sweetest blog about her experience with La Gartier. I would be lying if I said that her words didn't bring tears to my eyes. Right now, it's pretty much the height of wedding season and any bridal industry professional will tell you that we are entering some of the most challenging summer months in terms of volume and inquiries. Sometimes, it is little things like the blog below that keep you going...and remind you why you do the job you do: because you LOVE IT. Without further adieu, here is exactly what Madison published last week: 
"There is a theory that the wedding garter was regarded as a token of love with "magical powers," which is freaking cool. Although garters are a small part of your wedding day, they are one of the few pieces of wedding day attire that you can store in a small place and look at on a regular basis. They're also another way to incorporate your own personal style, and they're the perfect heirloom to pass down to your daughter or future daughter-in-law.
If you read my "Unconventional Pops of Color for the Bride" post, you'll remember all of the gorgeous La Gartier garters that I featured. I think the best part about planning a wedding is working with so many vendors who are passionate about all of the little details that go into your big day, and that's what drew me to La Gartier.
Not only are their garters handmade, but they also make custom garters as well.  La Gartier has made garters for Jamie Lynn Spears, Katherine Webb, Hayley Paige, Nikki Ferrell, and more. If you check out her insta, you'll see all of the gorgeous brides they have made garters for and a ton more behind the scenes footage of the creative process. Seriously, this account is probably one of my favorites because I'm always wondering what she, Sarah AKA the glitter and sparkle queen, will come up with next.
My personal experience with La Gartier was nothing short of amazing and stress free. Sarah truly takes pride in everything she does, and she works day and night to make sure that the bride is 10000% happy with her garter(s). She sent me regular updates throughout the entire process and always checked in with me before making decisions, even though we were always on the same page.
You can read the story of my garter on La Gartier's blog! It's definitely one of my most special accessories for my wedding day, and you'll see why.
I put my name on the list for my custom garter in late fall of 2016, and I received it early February. Sarah took that time between fall and February to find the perfect lace, flowers, and velvet for my surprise toss garter, that perfectly matched my vision. To this day, it blows my mind she put so much time and effort into my garter!
If you go the custom route, she includes a beautiful toss garter made from Swarovski crystals, but because she had some extra fabric, she surprised me with a complementary third garter. *mind blown*
When I opened the bright pink, bubble wrapped package, I literally gasped. Sarah had wax sealed the sweetest hand written note and added a few extra flowers from my garter for that little special touch. I was literally screaming, and I hadn't even opened the box with my garters yet. When I finally composed myself enough to look inside, I immediately noticed that the fabric and materials she had used were not the kind you'd find in any store. They are so high quality, and she even went as far as to include a sweet La Gartier charm inside the garter. I die.
I truly couldn't have asked for a more pleasant experience with Sarah and La Gartier, and I would recommend her to any and every one in search for the most perfect garter."