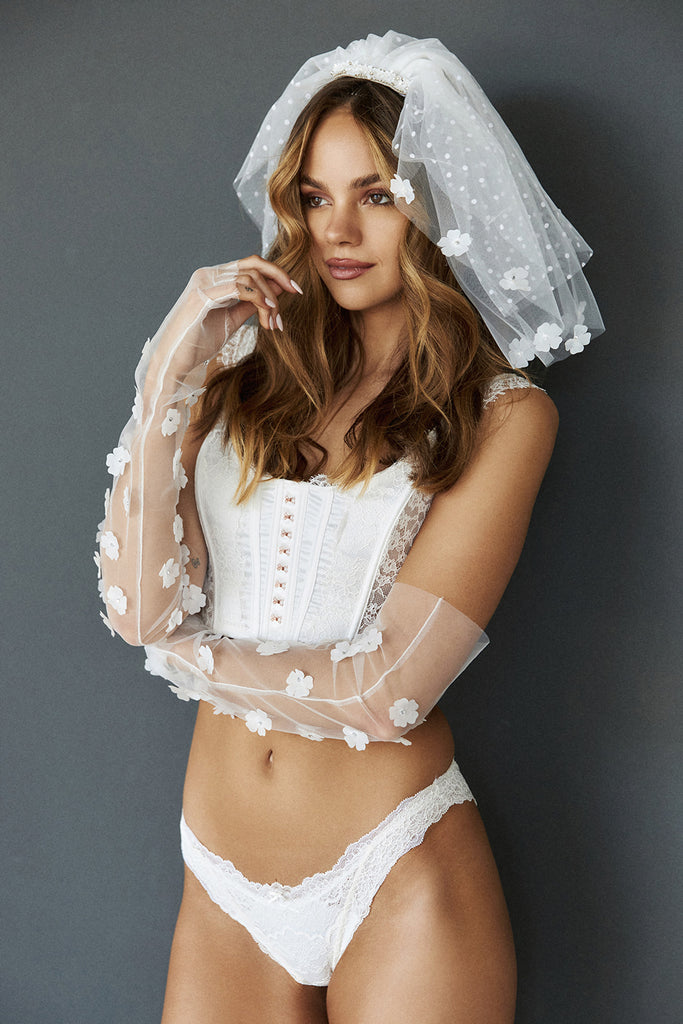 Hi friends! Happy almost-Friday to you! Over the past week, quite a few of you have been asking us to link Kathryn's bridal boudoir outfit essentials on instagram, so we have decided to dedicate an entire blog post to it! If you are looking for an irresistibly cute and undeniably modern bridal boudoir outfit, then here is what you need to re-create her look! (keep scrolling!) 
Interested to get Kathryn's full look? Below is a short, well-linked list of everything Kathryn is wearing in the photo above! 
(The only thing that we ask is that you tell everyone where you got your outfit idea!)
2.
Her White Lace Panties: We actually layered two different types of bottoms for this shoot, however if you'd like to buy just the one that she is wearing on the outside, then please click
 

this link
to be directed to the listing on the Victoria's Secret website!
4.
Her garter:
La Gartier Atlantis Garter
 (again, this is a brand new item in our shop! If for any reason seashells are not your things, then please click
here
to shop around for something that is more YOU!) 
5.
Her shoes:
Nina Freyja Silver Dreamland Heels
 (truth be told, we purchased at a local Macy's in Atlanta, Georgia...... however we did some research and these are also available online at various places! Just click the link above and prepare to be floored by the affordable price!) 
An up close and personal photo of our new
Floral Sheer Gloves
with the
Nina Dreamland heels
. In my opinion, it is important to choose a pair of heels that are neutral and do not distract from the rest of your look! 
Picture above: the back part of Kathryn's Parisian Bubble Veil. I personally believe that incorporating a veil into your bridal boudoir shoot is JUST the finishing touch that you need, so click
here
to make it your own!) 
This little corset top from Victoria's Secret was the PERFECT FIND for our shot. And it fit Kathryn like a glove. While we don't sell this on our site, we do have a link for you! The best part? It is in stock right now! Click
here
to make it yours! 
Last, but not least, the GARTER. This is an absolute must-have if you want a completed, modern look for your wedding or bridal boudoir shoot! Here, Kathryn wears our brand new
Atlantis garter
, which you can check out by click
here! 
Ok lovers! I think that that is all for today! Hopefully this post helped you gain some clarity regarding what Kathryn is wearing from head to toe! Please feel free to copy it verbatim if you are unsure of what to wear for your upcoming bridal boudoir shoot! Questions?  Comments? Feel free to shoot us an email at hello@lagartier.com with your styling questions!