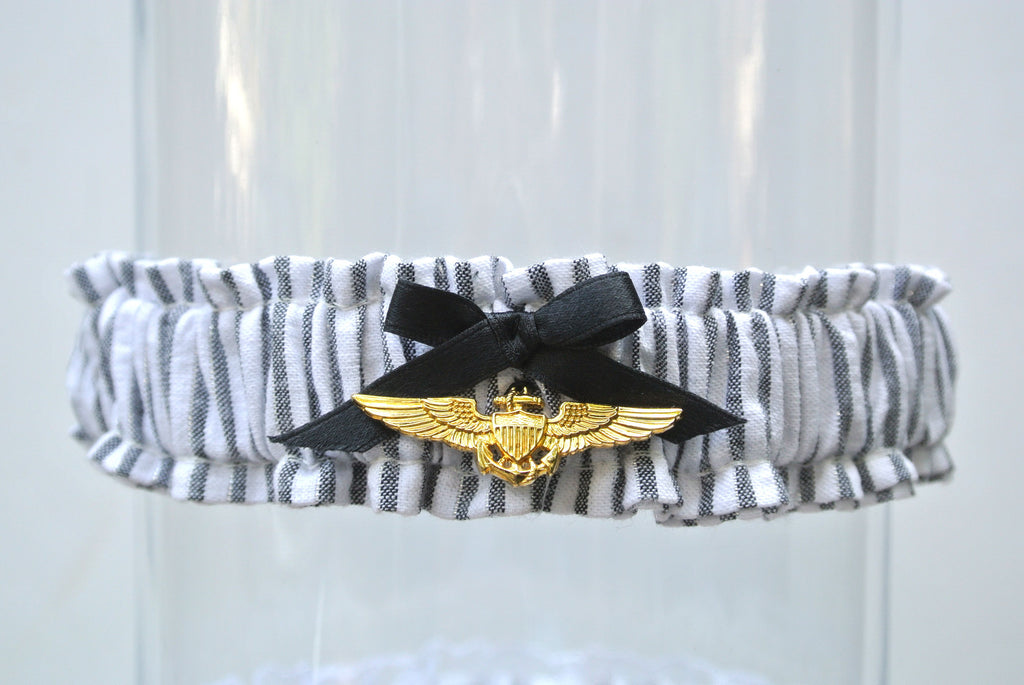 Just finished: La Gartier bride Melanie Smith's custom
Air Force Wings
& Rose Gold sparkle wedding garter set. Oh, did I mention black striped seersucker too? That too. This garter set was so incredible on so many different levels. I barely know where to begin. Here is the story behind what is possibly the prettiest Air Force-inspired wedding garter set EVER created: the wings that you see on Melanie's toss garter (that she will of course never actually toss!) were taken from her fiance Matt's actual Air Force uniform. (His wings protecting her as she walks down the aisle? I die.) Then, because Melanie's engagement ring is a stop-the-show-rose-gold-stunner, we decided to create her keepsake using a sparkling rose gold jeweled front piece, with a 3-D floral back band to compliment the floral-detailing on her gown. (I would tell you the name and designer of her gown, but then I might have to kill you.)
 My favorite part? For her "something blue" we included the latitude and longitude coordinates of her wedding venue in NOLA via navy blue embroidery. (Another nod to both Melanie's fiance's Air Force roots) ✈️✈️
Lastly, to bring in a touch of Melanie's personal style (I did some creeping on her Instagram. Sorry, not sorry) we decided to use a black metallic sparkle seersucker fabric for the base of her toss garter. All in all, this set is a gem of originality. Melanie- I am bragging shamelessly for us both when I say that I am fairly certain that we just made the prettiest (and most preppy!) Air Force-inspired wedding garters to ever grace this great land of liberty. Working on this love-infused project with you fills me with pride for not only this beautiful garter set we made together, but also our gorgeous country in all its sparkling strength.
Below are detailed photos of Melanie's unbelievably special wedding garter set! If you love this set as much as we do, then read the captions below each photo to learn more about the details that make this design so meaningful!! Interested in a custom garter set of your own?? You can contact us by clicking
here.
The rose gold detailing on the front of Melanie's keepsake garter matches her unbelievably pretty rose gold-set diamond engagement ring.
I know that is is hard to tell in this photo- but the latitude and longitude coordinates that we included on the inside of Melanie's keepsake garter were done in a deep navy blue, thereby allowing Melanie to check off her "something blue" in a unique and totally original way. These coordinates correspond to her wedding venue in NOLA. Can someone say meaningful?!?
The wings on Melanie's toss garter are real. They were taken by Melanie (on the sly...while her fiance wasn't looking) and mailed to our studios here in Atlanta. I literally tear up at the thought of Melanie's daughter wearing this garter down the aisle in 20 or 30 years, protected by her father's wings and her mother's love.
The seersucker that we used on her toss garter was such a delight to work with! In fact, it has given us an idea for our winter limited edition garter that we have a feeling you all are going to love! Stay tuned!