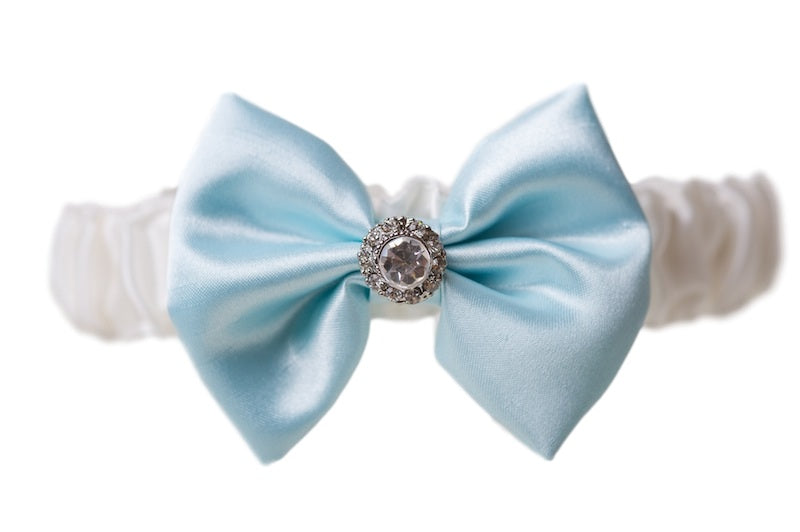 When it comes to something blue wedding garter, our garters are hands-down the best on the market. And while I realize that I sound like a huge braggart right now, the truth is....well, it really is #FACTS. 
I have spent countless hours googling phrases such as "dusty blue wedding garters" and "garters with a hint of blue" and there really isn't anything else out there that compares to the craftsmanship, the quality, and the pure artfulness that we put into our pieces. 
If you are looking for an heirloom-worthy "something blue" wedding garter, then here are five our our most popular styles, listed in order of popularity! 
1. The
Arendelle Garter
, inspired by the movie
Frozen,
was released just last month as our newest limited-edition design. The hints of blue within the ice-opal-jewels are subtle, sparkling, and beguiling. The back band is make using a soft vintage blue velvet ribbon that you have to see to believe! If you are looking for a rare, something-Frozen-blue wedding garter, then please click
here
to be directed to the
Arendelle
listing on our website! 
2. The
Blue Evelyn garter
is a design that has been in our collection since 2015! She features a glistening blue silk satin bow at the forefront with one single sparkling rhinestone at the center! If you adore bows, then this garter would be perfect for you? The best part? She won't break the bank! Click
here
to see more of our oh-so-popular Blue Evelyn garter!
3. The
Ever After garter
is, well, just impressive. This garter is pure luxury, mixed with tiny dusty blue acrylic 3-D flowers that are truly unlike anything you have ever seen. Worried that there isn't enough blue? We have great news for you! Embroidered on the inside of this garter is a secret message. It says "Happily Ever After" in dusty blue embroidery thread, making for two gorgeous blue elements within one celeb-worthy design! Interested to see the inscription on the inside? Click
here
to access the
Ever After garter
listing on our website!
4. The
Athena garter
is your design if you want a touch of blue, but nothing too much. In fact, it is one of our most subtle "something blue" garters within the collection. Fun fact: this garter has been worn by multiple celebrities over the past years including actress Anna Camp from the movie Pitch Perfect, as well as Cheetah Girls star Sabrina Bryan. To see more of this ultra-luxurious wedding garter design, click
here
!
5. The
Ivory Lace Toss Garter
featuring our signature blue bow is a perfect option for you if you are looking for something simple and affordable. In fact, it is our most-moderately priced design in the shop, priced at only
$37.50.
I would highly recommend this garter if you are doing the garter toss and don't want to spend too too much on something that you will be tossing away. The best part: it is simple and dainty, which means that it won't take away from your overall wedding style. Interested to see more? Please click
here
to access the listing on our website! 
Ok friends! I think that is all we have on deck for today! Hopefully, this blog post helped you to find your spirit-something-blue-wedding-garter! Truth be told, we actually have two more in our shop that feature blue elements, but I wanted to keep it super short and sweet for you because I know how hectic wedding planning can be! 
If you have any questions at all...or if you would like help picking out a garter that works best for you and your gown, please email us at hello@lagartier.com!