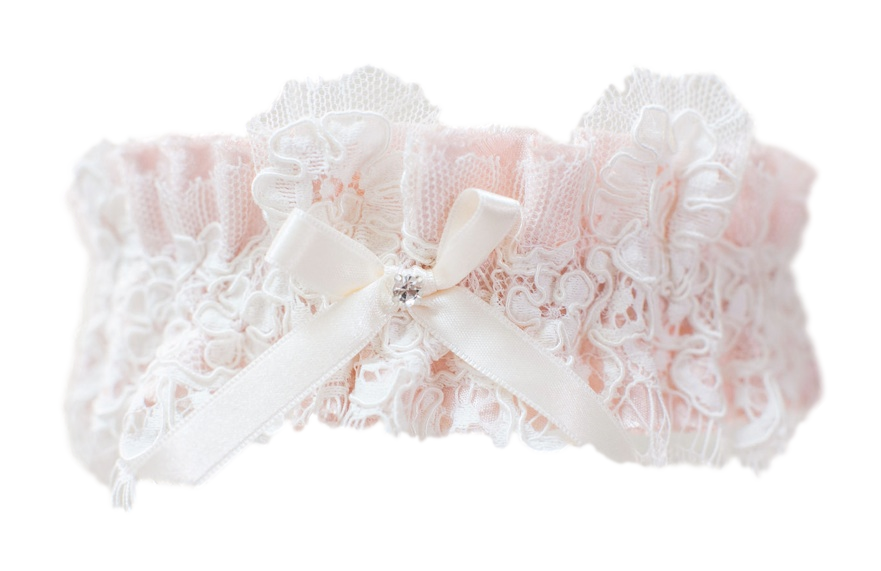 If peach is the tropical cousin of pink, then blush pink is the uber-feminine little sister, constantly redesigning her bedroom and always speaking in a soft voice. Seriously, it makes sense to me that blush pink is an
extremely
popular wedding color. It embodies romanticism so effortlessly, so easily....that's its almost suspicious. Here at La Gartier, we offer quite a few different pink options within our collection, but none of them are as
gorgeous
as our
Blush Pink Sweetheart
garter. (see photos below for a visual). This garter is absolutely stunning not only for the fact that the base color is blush pink (a statement in itself), but also because it has a french lace overlay and a tiny tiny rhinestone at the center of the bow. (for the bride who wants a touch of sparkle but not too much!) The best part? We are able to custom make this beauty to fit your leg perfectly as long as you do not mind leaving us your leg measurement in the "comments" section of your check out! Below are multiple photos of our infamous
Blush Pink Sweetheart
garter as well as a leg measurement guide for all of you that want a perfect fit for your garter!
Thank you for staying so loyal through the years and please let us know if you have any questions at all by using the contact form
here
. Happy La Gartier everyone!
Front view- blush pink silk underlay with a exquisite french lace overlay. At center: one single light light ivory satin bow with sparkling rhinestone detail in the middle.
Side view- the eyelash detailing at the bottom of the lace is one of my favorite precious details on this garter.
The Blush Pink Sweetheart garter inside of our signature La Gartier box. Currently, we have a much prettier box than the one in the above photo. (this was our old box. It got us through for years but we upgraded in 2016 to a box that will blow your mind. Everything about it screams luxury. To see a photo of it, please click
here
and click through the photos.)